Arbitrator rules against Lubomir Visnovsky, trade to Islanders will stand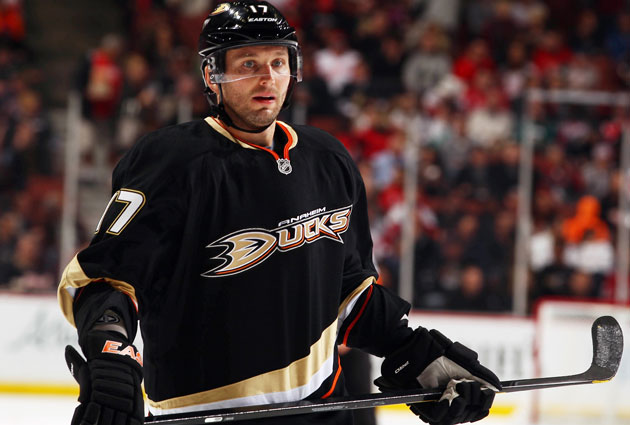 Visnovsky will have to swap that sweater for another. (Getty Images)
Lubomir Visnovsky will be a member of the New York Islanders after all.
Visnovsky, who was dealt from Anaheim to the Islanders earlier this summer, had filed a grievance regarding his no-trade clause. The defenseman believed that he still had one since he didn't invoke the clause when he was traded to the Ducks.
The case was heard by an independent arbitrator and the result was in favor of the Islanders, meaning the deal goes through.
It's a welcome bit of good news for the Islanders, who always seem to get beat at every turn when making moves. They just never seem to win and it was hard to shake the feeling that they might lose out on Visnovsky because of the grievance. Not the case.
Visnovsky, 36, was a monster point-producer not long ago. It was just two seasons ago with the Ducks that he had 18 goals and 50 assists from the blue line, a career high in offensive output. His numbers dropped significantly last season with Anaheim -- just 6 goals with 21 assists. The hope for the Islanders was that a change of scenery and more ice time would help the veteran regain his form.
They really need Visnovsky to bring his A game with him to Long Island. There is a definite need for experienced and established help in the defensive corps, a pretty gaping hole for the Islanders in recent years. That's of course assuming he shows he can still play at a high level.
It's a pretty expensive risk for the Islanders as Visnovsky is due $5.6 million on his contract. But the good news for them is that it's only for one more season.
For his part Visnovsky denied in the past that he was trying to nix a deal to the Islanders, he was just fighting for what was right. His quote at the time to Arthur Staple of Newsday was as follows: "This is my first choice, to play for the Islanders."
While that's what he said, it was hard not to think it was a fib. It's not like players are lining up and taking numbers to be the next member of the Islanders.
In return the Ducks will receive a second-round pick from the Islanders in the 2013 draft.
More from Eye on Hockey
Visnovsky files grievance against trade
Visnovsky OK after crashing Ferrari in race
For more hockey news, rumors and analysis, follow @EyeOnHockey and @StubitsCBS on Twitter and like us on Facebook.