NHL lockout: Your daily hockey fix for Day 46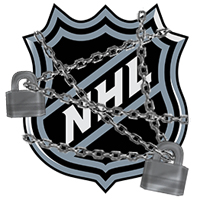 This is Day 46 of the NHL lockout, 2012 edition. Every day, we'll serve up some CBA talk and help you get your hockey fix. Let's begin, shall we?
CBA roundup
• The lockout has eaten up a total of 423 games -- 97 preseason games and 326 regular-season games after the league announced the cancellation of the entire month of November. The good news is that we probably won't have any more games canceled for a few weeks.
• Games have been canceled, and your favorite players are overseas, but you can still see how your team would be doing. PredictionMachine.com utilizes its play-by-play technology to simulate each game from the original schedule and predict the outcomes. Just because the NHL isn't playing on the ice doesn't mean we can't play the games. So, here are the "results" from the games that were scheduled for Wednesday night, or game in the case of Halloween night.
Wednesday night's schedule
Winner
Winner record
Loser
Loser record
Capitals 4
5-5-0
Penguins 0
7-2-1
• Perhaps my favorite Halloween hockey tradition -- and no, it's not players dressing up with blackface -- is the annual Halloween party put on by Canadian writer Sean McIndoe. And by "put on," I mean made up in a way only he can. This year's underlying theme? Jeremy Jacobs is a real monster. (Down Goes Brown)
• As early as Thursday, the NHL is expected to announce the cancellation of this season's Winter Classic in Ann Arbor, Mich. Losing that game means the NHL isn't only playing with fire among its fans, but with its sponsors, too, who tie a lot into the one game just like the NHL does. There is a lot to lose for the league with no Classic, David Shoalts writes.
It is difficult to estimate the revenue the NHL will lose, as many of the event sponsors also have overall marketing deals with the league. Brian Cooper, the president of S&E Sponsorship Group, whose clients include corporations with NHL ties, told The Canadian Press he estimates there is about $3-million in corporate sponsorships directly related to the Winter Classic.

When ticket, merchandise and other sales are added, the league is looking at the loss of at least $15-million. While the host Red Wings get a share of that revenue, most goes into the NHL's hockey-related revenue. (Globe and Mail)
• It feels like everybody who can skate in the NHL has already found another league to play in, but obviously they haven't. However, you can add yet another name to the growing list as Devin Setoguchi has found other employment, but he's not going far. The Wild forward will play for Ontario in the ECHL. Why more guys don't tag along in the ECHL is a surprise to me (assuming there are still spots left with the restrictions). (@CraigCustance)
• Whether he is to blame for all of this, everybody seems to be the most angry with commissioner Gary Bettman in this lockout. Perhaps it's because this is the third time that he has had a work stoppage in his tenure. As a result, a gun range in the Vancouver area is giving shooters a chance to aim at Bettman for target practice -- note, it is all in fun and there are no targets actually on Bettman.
"It seems to be one of our more popular targets. It's actually been a pretty big hit for us," said Yen. (Puck Daddy)
Hockey fix
Considering this is Halloween and all, we're going to give you two treats for the hockey fix with one that's so much about hockey. Enjoy this video from a few years ago of an intermission dance off in Calgary turning into a flash mob Thriller performance starring Harvey the Hound.
Considering the most well-known mask in the Halloween world belongs to Jason Vorhees from Friday the 13th (I'd argue that's bigger than Michael Myers from Halloween) comes from hockey, we're going to give you a look at the history of the mask and the first man to wear the Vorhees look, Jacques Plante. As big of a contribution as it was to pop culture with Vorhees, Plante obviously had a much bigger impact on hockey as the first goalie to wear a mask.
For more hockey news, rumors and analysis, follow @EyeOnHockey and @StubitsCBS on Twitter and like us on Facebook.