CBSSports.com Hobey Baker Award Watch: Week 13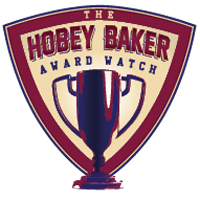 Every week this season, Eye on Hockey will be tracking the best players in college hockey as they compete for the ultimate individual prize, the Hobey Baker Memorial Award.
The Hobey Baker Watch is a collaboration between Eye on Hockey blogger Chris Peters and CBS Sports Network Hockey Analyst Dave Starman.
Just when it seemed like the Hobey picture was beginning to clear, more players seem to keep making a case for consideration. Though that may be the case, this week's Hobey Watch has mostly familiar faces.
Johnny Gaudreau returned to the top spot after his three points in his return to Boston College from the World Juniors. Ryan Walters got bumped to No. 2 this week, while Kevin Goumas makes his return after helping UNH knock off BC last weekend. Corban Knight, who extended his point streak to 17 games at North Dakota, comes in at No. 4.
Among those to watch closely this week that didn't make the top four is Montreal Canadiens prospect Danny Kristo. The senior forward has been going off of late and has a big series in his home state against the University of Minnesota.
As a side note, the Hobey Baker Memorial Award first phase of fan voting is underway on the award's official site. You can vote for your favorite candidates here.

1. Johnny Gaudreau -- Boston College
Position: Forward
Class: Sophomore

Comment: Gaudreau added a few more clips to his highlight reel in Boston College's 5-2 win over New Hampshire last Friday. Showing his immense skill, Gaudreau scored on what is beginning to become his signature backhand shot and delivered a pair of dazzling passes for his two assists. He has 17 points in his last nine games and leads the nation with 1.62 points per game.
2. Ryan Walters -- Nebraska Omaha
Position: Forward
Class: Junior

Comment: Though UNO came out with a loss and a tie against Denver, Walters continued his eight-game point streak and extended his national scoring lead to 36 points, five more than the next closest player. Walters also has a nation-best 15 goals. If Omaha can find a way to get a few more in the win column it will go a long way to buoying Walters' candidacy.
3. Kevin Goumas -- New Hampshire
Position: Forward
Class: Junior

Comment: The Wildcats have had a surprising run of success this season and Goumas really has been a major catalyst for it. He has gone without a point in just three of his 20 games this season. By himself, Goumas accounts for nearly 16 percent of the Wildcats' point production. UNH is looking like a surefire postseason team and Goumas will certainly get a lot of accolades for being the guy to help take them there.
4. Corban Knight -- North Dakota
Position: Forward
Class: Senior

Comment: When it gets to decision time for the Hobey, Knight's biggest competition might be his own line mate in Danny Kristo. Knight has been the picture of consistency and has points in each of his last 17 games. Knight (and Kristo) has a big chance to bolster his candidacy with a strong performance in the last WCHA regular-season meeting between North Dakota and rival Minnesota.
Others to Watch:
Danny Kristo -- F -- Sr. -- North Dakota
Drew LeBlanc -- F -- Sr. -- St. Cloud State
Brett Gensler -- F -- Jr.--– Bentley
Carsen Chubak -- G -- Jr. -- Niagara
Kyle Flanagan -- F -- Sr. -- St. Lawrence
For more hockey news, rumors and analysis, follow @EyeOnHockey and @chrismpeterson Twitter and like us on Facebook.