There have been plenty of fun minor league jersey themes already this season. We've seen Dorothy from the Wizard of Oz, Jaws, Mr. Rogers, the Miracle on Ice, Ninja Turtles and Rugrats, among others.
The Norfolk Tides, Triple-A affiliate of the Orioles, are the latest club to produce a jersey promotion. On August 7, the team will wear SpongeBob SquarePants jerseys. Check it out: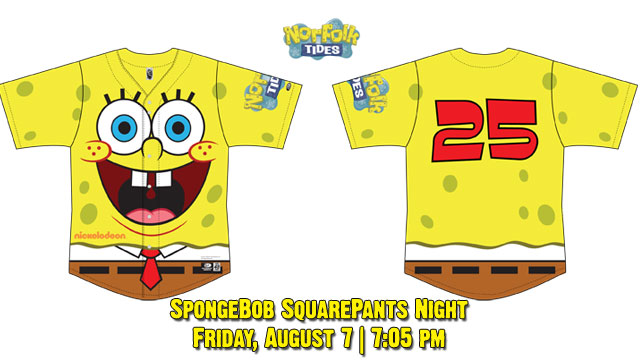 The promotion is for a good cause as well. Here are the details from the press release:
On Friday, August 7, the Norfolk Tides (Triple-A affiliate of the Baltimore Orioles) will be wearing one-of-a-kind SpongeBob SquarePants themed jerseys. These will be worn by the Tides during their game against the Indianapolis Indians (Pittsburgh Pirates Triple-A Affiliate). During the game the Tides will have a silent auction for the jerseys with the proceeds going to the United Way of South Hampton Roads. Winning fans will get the jerseys off the players back immediately after the game. 

Costumed characters (SpongeBob SquarePants and Patrick) will be on hand during the game to interact with fans on the concourse. Throughout the game there will be SpongeBob themed music and video clips played as well as SpongeBob trivia. After the game will be a post-game fireworks extravaganza.
"The Norfolk Tides are excited to be involved with Nickelodeon and are elated to be the first Minor League Baseball Club to wear these unique and fun SpongeBob SquarePants jerseys" said Tides GM Joe Gregory in a statement.
Something tells me the SpongeBob promotion will be quite popular with the kids. Get your tickets now, parents.