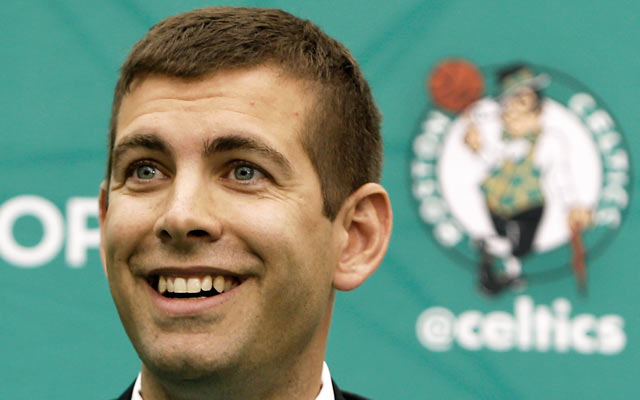 The Boston Celtics formally introduced their 17th coach in franchise history Friday. He's also the youngest -- in both Celtics history and currently in the NBA.
Brad Stevens, 36, who built a sterling reputation in the college game while at Butler, called the opportunity "an honor and a privilege." He also said the security and confidence of the six-year deal offered by Boston to coach the team played a role in his decision to leave Indiana, a state he's lived in his entire life. Stevens signed a 12-year contract with Butler in 2010.
Celtics general manager Danny Ainge said Stevens was his first choice, the first phone call he made on June 25, once Doc Rivers had left for the Los Angeles Clippers. The Celtics, a franchise in flux, also recently traded longtime veterans Kevin Garnett and Paul Pierce to the Brooklyn Nets. Ainge also thanked Stevens' wife, Tracy, who doubles as Stevens' agent. Calling it a "big leap of faith" for the Stevens family to make, Ainge was flanked at the press conference table by three other members of Boston Celtics management. 
"I certainly have a lot of thanks to dole out, starting with my family," Stevens said. "I'm very thankful to the Boston Celtics leadership team and ownership. ... I am absolutely humbled to be sitting in this room and looking around me with the banners that hang. As any young basketball fan was or is, I'm just in awe of the Boston Celtics."
With a slight catch in his throat, Stevens thanked people at Butler and said he was very emotional over the past couple of days in making the decision. Despite Ainge first making the call to Stevens more than a week ago, we learned Boston brass flew to Indianapolis on Wednesday morning to meet with Stevens. He was offered the job that day, and by dinner time the news was official.
Stevens said the similarities in culture to success in Boston and what he helped build at Butler made for something of an easier decision.
"One of the things I am so thrilled about it the opportunity to work in a place with such a high standard but also a great culture," he said. "This is a great, great opportunity and opens up great doors for the next person (head coach) at Butler," Stevens said.
Ainge cited Stevens as the best coach in college basketball and said he was a "man with great integrity and character."
The one big question that hangs for Stevens and the Celtics related to all-star point guard Rajon Rondo. There's uncertainty -- or public speculation -- as to whether Rondo will want to play in Boston long-term. Stevens addressed that situation on Friday.
"There is no bigger fan of Rajon Rondo than me," he said when asked how he'd handle the enigmatic and talented Celtics guard who'd reportedly been in past clashes with Rivers. Stevens added he'd already talked to Rondo on the phone and has plans to meet with him soon.
Stevens spent 13 years in the Butler program, the past six as head coach of the Bulldogs, where he won an NCAA record 166 games in his first six seasons.