Bryan Brothers complete Golden Slam with Wimbledon doubles title
Brothers Mike and Bob Bryan won the Wimbledon doubles championship in four sets on Saturday, making them the reigning title holders for all four Grand Slams and the Olympics.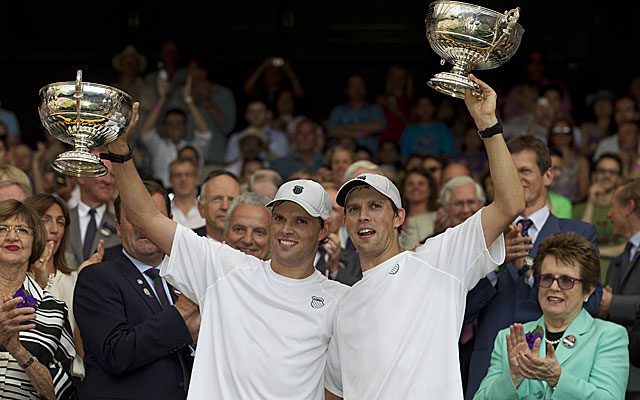 Identical twins Mike and Bob Bryan completed the Golden Slam on Saturday with a 3-6, 6-3, 6-4, 6-4 victory in the Wimbledon finals, cementing the California natives as the reigning champions of all four Grand Slams as well as last year's Olympic gold.
They became the first men's doubles team in Open-era history to hold all four Grand Slam titles simultaneously.
Tennis players don't get much more accomplished than that. About the only thing left for the brothers to achieve is to catch Australians Ken McGregor and Frank Sedgman, who together won seven straight Grand Slams over 1951 and 1952, then in the pre-Open era. 
"It feels pretty sweet. We never dreamed that we'd put up this type of career," Mike said to ESPN following the brothers' victory over Marcelo Melo and Ivan Dodig. "We got out there and we didn't think we were gonna be nervous, but I've never whiffed a ball. I whiffed a ball on the second game, but we kept our energy strong," he said. 
Their nerves were apparent after the duo lost the first five games of the match.
The brothers now own 91 career doubles titles, 15 Grand Slam championships, three Wimbledon championships and are currently riding a 24-match winning streak.
When they took the final point of their championship match, which came in just under two hours, the two 35-year-old brothers enacted their customary chest bump.
"This has been the best period of our career by far," Bob said. "Doubles takes a long time to figure out and we feel like we got it now. We wanna do this for as long as we're having fun. You'll probably see us out here when we're 50." 
Let the truth set you free, sir

The poor kid never even saw it coming

The burglars that Childress fired at were carrying military-grade weapons on them, the cops...
'Kong Infinity' and 'Happy Ending' headline two additions to the ultimate endurance course...

Nik Kayler's body has been found after going missing last week during a fishing tournament

Florida officials are still searching for Nik Kayler after his boat didn't show up