Clint Dempsey joins MLS's Seattle Sounders
Clint Dempsey will return to the United States and play for the Seattle Sounders of the MLS, the team announced Saturday.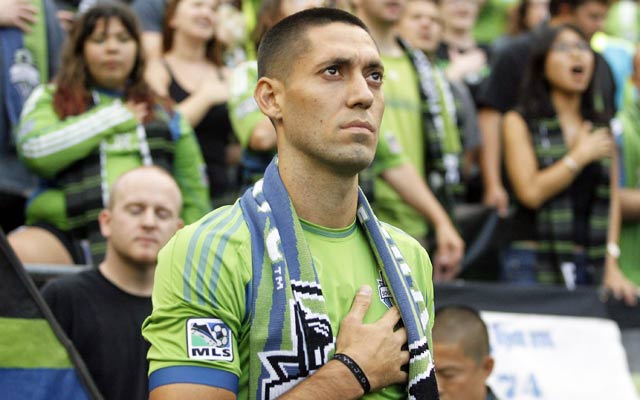 After announcing earlier this week that the MLS has sights on expanding to 24 teams by 2020, American soccer fans got more encouraging news when reports dropped Friday night that native son Clint Dempsey will be returning to U.S. soil.
Dempsey's former club, Tottenham Hotspur, announced early Saturday that the Texan had indeed been sold back to the MLS. Prior to the Sounders game Saturday against FC Dallas, the team introduced Dempsey to the fans in Seattle.
"I think we'll accomplish some great things here, so thank you," Dempsey told the boisterous crowd.
"This is a historic day for Sounders FC and our fans," Sounders majority owner Joe Roth said in a press release. "Clint is a world-class soccer player who can take this club to a higher level. We have been consistent in our message to the fans that we will spare no expense to win trophies."
Terms of the deal are not yet known -- no one from the Sounders will discuss the transfer -- but some reports have Dempsey due to receive $32 million in base salary. Also, according to NBC Sports, Seattle will pay a $9 million transfer fee -- the highest in MLS history.
Dempsey, 30, began playing overseas in 2007 and has accumulated 57 international goals. He also spent three seasons in the MLS early in his career with the New England Revolution, winning rookie of the year honors in 2004.
Ledecky had been absolutely dominant at worlds before losing the 200 freestyle

Blaney will be Penske's third driver in the Monster Energy NASCAR Cup Series next season

Phelps on the backlash over his race with a CGI shark: People weren't paying attention
Spoiler alert: Ledecky won the 1,500-meter freestyle at worlds

The fighter has dealt with several public issues the past year, including allegations of steroid...

12 drivers have already secured their chances at a Monster Energy NASCAR Cup Series title