Floyd Mayweather gets unanimous decision over Marcos Maidana
CBSSports.com is at the MGM Grand in Las Vegas, reporting live from the pay-per-view event headlined by the welterweight rematch between Floyd Mayweather Jr. and Marcos Maidana.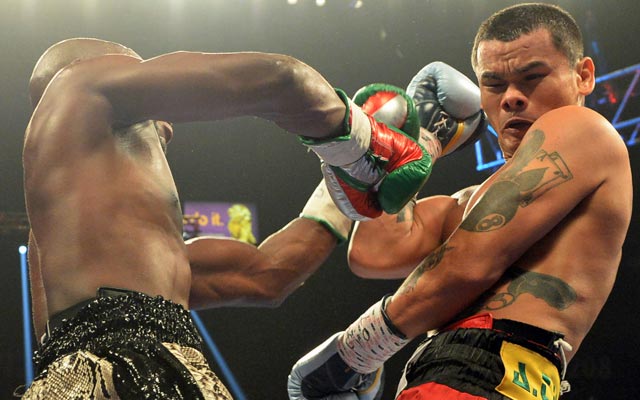 Floyd Mayweather Jr. fought what the fans interpreted as a less engaging fight, but it was a successful one for him as he emerged with a unanimous decision over Marcos Maidana in their second fight in four months for the WBA and WBC welterweight championships at the MGM Grand.
Attendance was 16,144.
The 37-year-old improved to 47-0 in an 18-year pro career with official scorecards of 115-112 and 116-111 twice. The first card matched that of CBSSports.com, which had it 115-112 for Mayweather as well, or seven rounds to four, with one even.
"I give myself a C, C-minus," said Mayweather, who used more movement than the first fight in May and did a better job either smothering Maidana's charges to the ropes or spinning away from them. "I'm better than that. I got him with some shots that I shouldn't have gotten hit with."
The fight spun toward the bizarre in the eighth round, when Mayweather broke from a clinch claiming Maidana bit him on the left hand, which he claimed numbed his fingers for the remainder of the fight. Maidana initially claimed he didn't bite anyone, but then relented a bit, saying "Maybe he had his glove in my mouth, but I don't think I bit him."
Asked by Showtime's Jim Gray about the perpetually desired Manny Pacquiao fight, Mayweather was as optimistic as he's ever sounded.
"If the Manny Pacquiao fight presents itself, let's make it happen," he said. "He's got a guy in front of him (Chris Algieri in November). Once he gets past that task, we'll see what the future holds."
Maidana said he thought he'd won the fight, and claimed he "wouldn't waste time" pursuing another rematch with Mayweather. Asked by Gray what he was aiming for next, he said, "I just want to go home."
According to punch-count statistics, Mayweather landed 166 to Maidana's 122. He threw far fewer, though, only 326 to Maidana's 572. Mayweather connected with 58 percent of his power punches -- 108 of 177 -- compared to Maidana's 26 percent, 87 of 335.
12:06 a.m. ET: Mayweather, "I give myself a C, C-minus."
12:05 a.m. ET: Maidana on the biting allegation, "He was ruibbing my eyes with his glove. Maybe he had his glove in my mouth, but I don't think I bit him."
12:03 a.m. ET: Mayweather's biggest statement, "If the Manny Pacquiao fight presents itself, let's make it happen."
11:58 p.m. ET: Jimmy Lennon Jr. reads them off. Unanimous decision. 115-112, 116-111 twice for Mayweather. 
11:56 p.m. ET: Maidana's last round makes the final tally 115-112 for Mayweather on the CBSSports.com card. Official word to follow. Anything less than 47-0 would be surprising.
Round 12: It'll be interesting to hear what Team Maidana thinks of Bayless if the decision doesn't go their way, which chances are good that it won't. Maidana doesn't offer glove touch, Bayless takes his left arm and does it for him. Mayweather moving laterally and avoiding engagement, "Chino" fans not happy. Stops moving to jump in with left hand, Maidana counters to body. Maidana misses with overhand right. Crowd whistling loudly. Maidana lands right as Mayweather moves. Mayweather covers up in corner, forces clinch. Final 30 seconds, Mayweather still moving, must feel good about scores. Bell sounds as two fighters exit tie-up. Maidana looks frustrated. 10-9, Maidana
Round 11: Replays showed Maidana shoved Mayweather with a forearm under the chin, causing him to fall and prompting the point deduction. Mayweather lands good left hook to the body that backs Maidana up. Maidana complains about low blow, gets rest time from Bayless. Fight resumes, Mayweather lands vicious left to body and follow-up right to head. Left hand to head by Mayweather. Left and right to the body. Mayweather much better offensively, again, in fight's second half. Maidana flurries, Mayweather replies in exchange to bell. 10-9, Mayweather
Round 10: Mayweather lands precise shots, spins out of corner. Showtime card has Mayweather up, seven rounds to two. Mayweather down along the ropes after a tie-up. Bayless deducts a point from Maidana. Maidana charges, Mayweather moves laterally. Maidana corners him, but misses with two swinging right hands. Maidana jab is answered by counter right over the top. Maidana flurries in corner, lands two left hooks to the body and a grazing overhand right. 9-9, Even
Round 9: Suddenly, things are a bit more tense. Maidana charges out to begin round. Seems re-energized. Replays showing the alleged biting didn't clearly show anything. Maidana was bent over with Mayweather's left glove near his face. Mayweather recoiled in apparent pain. Mayweather lands clean left hook as Maidana lunges in. Mayweather lands left hand again as Maidana charges. "Chino" chant reappears. Mayweather snaps Maidana's head back with a jab, misses an overhand right. Lands hook at the bell, Maidana again goes to wrong corner. 10-9, Mayweather 
Round 8: Mayweather lunges in with body shot. Maidana leans over his back on a clinch. Not nearly as rough as first fight. Maidana has slowed in last several rounds. Mayweather backed in corner, spins out and counters. Maidana clips Mayweather with overhand right, but champion takes it well. Mayweather jumps in with left uppercut. Mayweather complaining about left hand. Delay, officials on ring apron. Mayweather saying Maidana bit him. Fight resumes. 10-9, Mayweather
Round 7: Mayweather scores with uppercuts to body and head. Maidana goes to wrong corner at the bell. 10-9, Mayweather
Round 6: Mayweather more comfortable again, landing precise shots. Maidana less active, but is landing with single shots more than in first fight. 10-9, Mayweather
Round 5: Mayweather comfortable again, though not throwing a ton of shots. 10-9, Mayweather
Round 4: Tight round. Maidana starts fast, Mayweather finishes with precision. 10-9, Maidana
Round 3: Maidana aggressive throughout. Lands jab and right hand at bell that wobbles Mayweather in corner. 10-9, Maidana
Round 2: Mayweather cornered in first 30 seconds. Moves away. The two engage and Mayweather is grazed with a looping right. Maidana thuds the body with a left hand during a clinch. Maidana scores with a jab at 1:45. Gets to ropes and throws the overhand clubbing shots that were so prevalent in the first fight. 10-9, Maidana

Round 1: Fight in center of ring for first minute. Mayweather jabbing. Almost no punching from Maidana. Mayweather misses with a left hook and slips to the floor. He's moving more this time. Lands a left hand at 2:15. Maidana much more tentative. 10-9, Mayweather
10:47 p.m. ET: Now, Argentina.
10:46 p.m. ET: It's anthem time. First, Mexico.
10:41 p.m. ET: And there's the "ole, ole, Chino!" chant that was so prevalent four months ago. It cranked up -- for the first definitive time all night -- from a section at one end of the arena, but slowed soon after. Not nearly the decibel level so far that there had been at this point in May.
10:30 p.m. ET: And now, we wait. No chance Mayweather and Maidana arrive in the ring before 10:45 p.m. ET, and it's likely to be far longer even though the PPV started an hour earlier than last time. 
10:25 p.m. ET: "I come do what I've got to do. I do my job," Santa Cruz said. "I know the fans want (fellow 122-pound champion) Guillermo Rigondeaux and I'm calling you out, I'm not afraid to fight you."
10:20 p.m. ET: And sure enough, it's over. Santa Cruz flicks a left hand that misses, then drills Roman with a right hand that lands on the left side of his neck and sends him tumbling to his knees. He was slow to react to referee Robert Byrd's count and was officially waved off at 55 seconds of the second round.
10:19 p.m. ET: Unless he can come up with something to weaken Santa Cruz's resolve, it looks like it will be a painful night for Roman for as long as it continues. The champion landed several hard shots to the body in the opening three minutes and had Roman on his back foot for the round's duration.
10:15 p.m. ET: The final undercard bout, between WBC 122-pound champion Leo Santa Cruz and former sparring partner Manuel Roman, is under way.
10:13 p.m. ET: Bey was the IBF's No. 10 contender coming in to the fight, but he's already taken verbal hold of his new status. "I'm No. 1 in the lightweight division," he said. "He was No. 1, and now it's me." Bey had been slotted No. 42 entering the fight by the Independent World Boxing Rankings, which list all active fighters in a weight class regardless of where they're positioned by sanctioning bodies. Vazquez had been No. 1 in the same ranking. 
Hoyle scored every round for Bey but the fifth. Julie Lederman gave Bey the third and fourth, and then every round from the eight on. Adalaide Byrd, who scored for Vazquez, gave Bey the third, fourth, eighth, 10th and 12 rounds.
10 p.m. ET: Well. Two judges call it nearly down the middle, going 115-113 in either direction. But the final card of Robert Hoyle goes 119-109 for Bey, giving him a split decision and a new championship belt.
9:58 p.m. ET: And with the final bell on Vazquez-Bey, the PPV is 22 rounds into a possible 46 for the night. There was action in brief spurts, but the crowd voiced its collective displeasure when it ended. Call it a close one for the champion, just like Smith said, 115-113. Official word to follow.
9:50 p.m. ET: True to the words of his handlers, Maidana is 157 pounds in the locker room, eight pounds lighter than the first fight and 11 more than Friday, according to Showtime's Chris DeBlasio. Mayweather refused to be weighed.
9:45 p.m. ET: The tedious match is three-quarters complete, and, from his seat alongside the press section, Bey's Mayweather Promotions stablemate, Ishe Smith, is concerned. "There are too many close rounds," he said. "You know they're going to give the close rounds to the champion. He's been champion for four years." 
9:30 p.m. ET: Fifteen minutes and five rounds in, and the crowd still doesn't seem enthralled. Bey is acquitting himself well with his quick hands. Vazquez has been bleeding from the nose. Nothing conclusive from either man yet, however.
9:15 p.m. ET: Two well-conditioned, skilled and tactically proficient fighters, to be sure. But through one round, it's not exactly a fan-friendly matchup. Being met with general indifference in the house.
9:05 p.m. ET: One of Mayweather Promotions' top prospects, Mickey Bey, enters the ring for his IBF lightweight title shot against champion Miguel Vazquez. It's the seventh defense for the widely unappreciated Vazquez, who has three losses in his career -- two to Canelo Alvarez and one to Tim Bradley.
8:56 p.m. ET: De La Rosa (23-2) gets the nod by big and justifiable margins, winning by 98-90, 96-92 and 99-89 on the three cards. A pro-Angulo crowd isn't pleased, but it seems more because their guy got beat, not because they thought the verdict was unfair.
Angulo has lost three straight and four of his last six to drop to 22-5.
8:54 p.m. ET: Angulo steps on the gas in the 10th, but a gutty De La Rosa escapes to get it to the scorecards. Could be a tight one. CBSSports.com calls the upset for De La Rosa, 96-92. Should be a interesting call.
8:50 p.m. ET: Big ninth from Angulo, who was in need of a momentum-changer. He landed a clubbing right that sent De La Rosa reeling across the ring and he managed to keep him on the run for the last 45 seconds, but never got a knockdown.
8:41 p.m. ET: De La Rosa is hit low in the final 10 seconds of round seven and Mora takes a point from Angulo, which could be a vital element if this last three more rounds. Coupled with the knockdown in the second round and the closeness of many of the rounds, the jobs of the three judges just got a bit more challenging.
8:39 p.m. ET: A good, tough fight continues through six, with each guy taking turns landing brief series of shots, then withstanding a volley in reply. Meanwhile, Mayweather is shown arriving on the video screens to mild response, not nearly the anti-Floyd sentiment that greeted him in May. Truth told, though, there are still large blocks of empty seats.
8:29 p.m. ET: Best round of the fight in the fourth, with Angulo taking a series of whistling shots from the faster and more nimble De La Rosa, before rallying with clubbing retorts of his own in the final 30 seconds. The two slapped gloves at the close of the session, acknowledging the effort of the other.
8:24 p.m. ET: The night's first "ole, ole, Chino!" soccer chant for Maidana is met by a "no way" from the same guy who yelled boring 10 minutes ago. Stay tuned.
8:22 p.m. ET: Some surprise in round two, as the swarming, pressuring Angulo was being his signature self along the ropes when he was caught with consecutive left hands and dropped into the ropes, drawing a count from referee Russell Mora. De La Rosa looks a lot more confident to start round three than he had three minutes prior.
8:14 p.m. ET: If you're scoring at home, the first call of "borrrrinnng" came exactly 38 seconds into round one. Tough room.
8:10 p.m. ET: The PPV portion of the show begins with veteran 154-pounder Alfredo Angulo, last seen being stopped in a one-sided 10 rounds by Canelo Alvarez in a March PPV main event. It's Angulo's maiden voyage as a middleweight and he faces unheralded 26-year-old James De La Rosa, who's lost two of his last four bouts.
8:05 p.m. ET: The stat sheet for the Soto-Molina bout reveals just how rugged it was. Soto landed 195 power punches to Molina's 142, including 35 to the body, and several in the last few rounds that could be described as "borderline." In fact, Molina was penalized for low shots in rounds six and seven, while Soto lost a point for the same infraction in round 10.
7:55 p.m. ET: Another 85 minutes and another two fights in the books.
First, cruiserweight Andrew Tabiti got to 8-0 as a pro and scored his eighth straight stoppage, halting Caleb Grummett (3-2) in the final round of a scheduled six-rounder. Then, to round out the pre-PPV portion of the night, veteran Humberto Soto outpointed John Molina Jr. by a rugged unanimous decision over 10, taking the cards with scores of 96-91, 95-92 and 95-92.
Soto, a former world champion at 130 and 135 pounds, boosted his record to 65-8-2. Molina, who was coming off a KO loss to Lucas Matthysse in April, is 27-5. "He's a veteran and he did dirty stuff in there," Molina said.
6:30 p.m. ET: So much for blue corner unbeaten streaks. Junior welterweight Damian Sosa (8-1) was a surprise loser in his ninth pro bout, falling via unanimous six-round decision to Armando Lopes (5-3). Sosa is the first loser in Mayweather's corner, but he's trained by Robert Garcia, who also trains Maidana. Go figure.
5:35 p.m. ET: The first paid-for punches have been thrown at the MGM Grand, where middleweights Kevin Newman and Azat Umarzoto went four rounds to a draw in their shared professional debut. They were quickly followed by Fabian Maidana (3-0), who scored one for the family name with a first-round erasure of welterweight foe Jared Teer (2-3).
4:55 p.m. ET: Mayweather has been the WBC's welterweight champion since 2011 and won the WBA title with the initial defeat of Maidana. Predictably, both of those belts are up for grabs tonight, with the winner getting possession of the pair.
Also being contested, sort of, is Mayweather's WBC reign at 154 pounds -- labeled by the sanctioning body as "super welterweight." He won the title from Alvarez last September.
He'll retain that championship with a victory or draw tonight, but the title will be declared vacant if he loses, according to Showtime's Chris DeBlasio.
Mayweather is also the WBA's "super" champion at super welterweight (confused yet?) and has been since 2012, thanks to a defeat of Miguel Cotto. But his status with that organization will not change regardless of tonight's outcome, according to DeBlasio.
4:15 p.m. ET: For those who keep track of such things, Mayweather will occupy the blue corner tonight while Maidana takes the red. Each of the 10 fighters -- including Mayweather -- who came out of the blue corner on the May 3 card were winners, including six by stoppage. All four fights on that PPV show went the distance, a total of 44 rounds.
Mayweather will be preceded in the blue corner tonight by Kevin Newman, Fabian Maidana (Marcos's brother), Damian Sosa, Andrew Tabiti, Humberto Soto, Alfredo Angulo, Miguel Vazquez and Leo Santa Cruz. Their combined pro record is 203-15-3. The composite red corner record is 130-24-5.
2:45 p.m. ET: The doors at the MGM Grand are scheduled to open at 4:30 p.m. ET.
A live countdown show to the Showtime pay-per-view event will begin at 7 p.m. ET, and the PPV card starts an hour later and will include three bouts before the Mayweather-Maidana main event. In all, eight bouts will precede the headline fight, which is not expected in the ring before 11 p.m.
The walks from locker room to ring when the two men fought in May did not begin until after midnight ET, and the fight did not end until after 1 a.m. The PPV show this time begins one hour earlier, which could have a timing impact at the back end. 
Kenny Bayless takes over as referee after Tony Weeks worked the first fight, and only Dave Moretti returns as a judge. The other two official scorers for the rematch will be John McKaie and Guido Cavalleri. Bayless worked Mayweather's last pre-Maidana fight -- one year ago Sunday -- against Canelo Alvarez.
1:15 p.m. ET: It's a tough way to make a living.

But for the guys on the top rung of the ladder, oh what a living it is.

Floyd Mayweather Jr. will pocket a guaranteed $32 million for tonight's MGM Grand rematch with Marcos Maidana, according to figures provided by the Nevada State Athletic Commission.

It's the same guarantee he received for the first bout with Maidana on May 3, which he won by majority decision. Mayweather's take will rise based on the success of the pay-per-view broadcast, which will be carried by Showtime beginning at 8 p.m.

Maidana earned a $1.5 million purse for the first fight, but will receive $3 million for the second fight.

World Boxing Council (WBC) super bantamweight champion Leo Santa Cruz is the best-paid fighter on the undercard and will earn $750,000 for a title defense against Manuel Roman.

Both main event fighters made the welterweight division limit at Friday evening's official weigh-in. Mayweather tipped the scales at 146 1/2 pounds, while Maidana was slightly lighter at 146.

Maidana put on more than 18 pounds between weigh-in and fight night in May and entered the ring at 165, according to figures provided by Showtime's Chris DeBlasio. Mayweather reached the ring the last time at 148.
* * * *
LAS VEGAS - He's no politician, but Floyd Mayweather Jr. can clearly do some waffling, too.
He's spent the week going back and forth on two issues – one boxing-related, one not – while passing the hours until Saturday's pay-per-view rematch with Marcos Maidana at the MGM Grand in Las Vegas.
The two men fought at the same venue on May 3, when Mayweather emerged with a majority decision victory and improved to 46-0 after two judges gave him eight and nine of 12 rounds, respectively. The other judge saw it even at six rounds apiece. The loss was Maidana's fourth in 39 career fights.
Only one original judge, Dave Moretti, returns for the second fight. His card matched the scorecard tallied by CBSSports.com that saw Mayweather as a 116-112 winner, or eight rounds to four.
But while the fight with Maidana was the central theme for Mayweather's appearance at the final fight-week press conference at the MGM, he spent at least part of his time there addressing a pair of items he'd discussed during less-formal media gatherings earlier in the week.
First, after insisting on Tuesday that he'd retire in 2015 after the Maidana rematch and the final two fights on the six-fight PPV contract he signed with Showtime last year, he's now implying that 49-0 might not have to be the end of the line, particularly if Showtime approaches him with a new offer.
Mayweather will turn 38 in February, three months before he expects to fight again in May.
He had his first professional fight in October 1996, when Maidana, now 31, was 13 years old.
"I can't really say," Mayweather said. "They may come with another contract, which I'm pretty sure they will. It's not hard to stop right now. But I feel good, I feel strong."
As for the other issue, his backtrack was perhaps equal parts PR and personal reflection.
Mayweather said on Tuesday that the NFL should have stuck to its word and maintained a two-game suspension on former Baltimore Ravens running back Ray Rice, even after claiming that it hadn't previously seen recently released footage of Rice and his wife, Janay Palmer, in an Atlantic City elevator.
Rice was suspended indefinitely by the league and released by the Ravens after the new footage became public.
Incidentally, Mayweather spent time in a Las Vegas jail in 2012 after a domestic violence incident with a former girlfriend. He was sentenced to six months, but wound up being released in less than three.
At the press conference, after saying he was sorry, he tried to steer attention back to the fight.
"All I can say is if I offended anyone, I apologize," Mayweather said. "I apologize to the NFL. I'm not perfect. I strive to be a perfectionist. But no one is perfect. I don't condone what happened, of course not. I don't condone what happened. My main focus has been on this fight. I'm not focused on no one else's problems. I got this tough, rugged fighter in front of me. that's what I need to focus on."
Mayweather will risk both the World Boxing Association (WBA) and World Boxing Council (WBC) versions of the 147-pound championship in the rematch. He entered the first fight with the WBC belt and captured the WBA title that Maidana had won five months earlier from Adrien Broner.
The main event will top a four-bout Showtime pay-per-view card that will go live at 8 p.m. ET.
Preceding Mayweather and Maidana on the broadcast are a 10-round bout between 160-pounders Alfredo Angulo and James De La Rosa, a 12-rounder at 135 pounds matching Miguel Vazquez against Mickey Bey and a 12-rounder at 122 pounds between Leo Santa Cruz and Manuel Roman.
Showtime will also air a 10-round bout at 140 pounds, matching John Molina Jr. and Humberto Soto, on a pre-PPV countdown show. Mayweather and Maidana are expected in the ring after 11 p.m. ET.
Mayweather is again a significant favorite, though at slightly lesser numbers than the first fight.
It'll take a $750 wager to return $100 on him this time at VegasInsider.com, while a $100 outlay on Maidana would return $475 for an upset. In May, it took $1,000 on Mayweather to recoup $100, while a $100 bet on Maidana would have raked in $650 if he'd have walked away with the decision.
Tale of the Tape
 
Floyd Mayweather Jr.
Marcos Maidana
Record
46-0, 26 KOs
35-4-1, 31 KOs
Height
5'8"
5'9"
Reach
72"
69"
Weight
147*
147*
Age
37
31
Stance
Orthodox
Orthodox
Hometown
Grand Rapids, Mich.
Margarita, Argentina
Rounds
351
181
*NOTE: Official weigh-in is Friday.

How does Mayweather win?
As he's said many times in pre-fight run-up, all Mayweather feels he needs is to go out there and "be Floyd Mayweather." Presumably, being "Floyd Mayweather" will indeed be enough to get it done again. It was rough and competitive in the first go-round in May, but he still won eight and nine rounds on two of the official scorecards. Precision and defense would serve him well in the second meeting, too.
How does Maidana win?

Maidana is what Maidana is. He's going to come forward. He's going to throw tons of punches from less-than-textbook angles. And for as long as he can maintain a pace, he's going to make things difficult for anyone he's in with. He faded noticeably in the back half of the first fight in May, which was when Mayweather established himself. If the Argentine can stretch the zeal over 12 full rounds, who knows?
Prediction: Mayweather by 10th-round TKO
Rematches are studies in adjustments. A little tweak and a slight switch can often have a profound impact. And unless every indication is faulty, the fighter with more capacity for adjustment for the second fight is Mayweather. He's seen Maidana up close and can alter his approach. Maidana, as stated earlier, essentially is what he is. And this time, he'll not be able to offset Mayweather's precision.
CBSSports.com will have live coverage of Mayweather vs. Maidana 2 on Saturday, Sept. 13. Come back for full fight results and analysis.
The video game takeover continues

What to know to catch a top-10 water polo matchup on Saturday

Everything you need to know to tune in for this week's critical Big East showdown
Everything you need to know to tune into this weekend's action

Justin Gallegos has a goal to finish a half marathon in under two hours, and Nike wants to...

Jody Demling cashed his trifecta and superfecta at the Pennsylvania Derby