In his last days, Ultimate Warrior scripted his own happy WWE ending
WWE legend the Ultimate Warrior was inducted into the Hall of Fame on Saturday. Three days later, he died. Denny Burkholder reflects on his final days.
Legendary WWE wrestler the Ultimate Warrior died on Tuesday at the age of 54.
He was inducted into the WWE Hall of Fame just three days prior. He made his first WrestleMania appearance in 18 years the same weekend.
The night before he died, Warrior made his final trip to the ring on WWE's Monday Night Raw, giving a short interview thanking his fans and soaking in their cheers.
In his heyday, the Warrior's ring entrances were a frenetic, neon-colored blur. He sprinted to the ring and shook the ropes wildly, with his theme music blaring over the loud speakers, the tassles around his arms flying in every direction. He entered the arena as if he was late for something and furious about everything. He meant business.
His final entrance on Monday was far more subdued. He walked. He smiled. He goofed around, donning a long jacket with his image airbrushed on it and a mask based on his iconic warpaint. He had seemingly reached a great place in his life, burying old grudges with WWE and some of his peers and finally getting a chance to take a proper, final bow before his fans.
The next day, he'd be gone.
For years, the legacy of Warrior (which was his legal name, having changed it from James Hellwig in 1993) had been marred by his public feuds with WWE as much as it was bolstered by his colorful interviews and over-the-top superhero gimmick. He resisted working with the wrestling company where he'd made his name and even fought them in court. In the summer of 2013, that all changed. Warrior talked it out with Vince McMahon and Paul "Triple H" Levesque, mended fences with WWE and inked a multi-year deal to work with the company as an ambassador.
It's unclear what finally changed in 2013 that made Warrior open up to the idea of working with WWE again. Maybe the Warrior finally got tired of fighting. Maybe he just wanted to pursue happiness. Or maybe he sensed that his own time was growing short.
Whatever the difference maker was, it afforded him the chance to script his own happy ending in the wrestling business. Not only did Warrior reconnect with his fans and bury the hatchet with foes, but he made his last impression on the business a positive one. To borrow a phrase from pro wrestling jargon, he sent 'em home happy.
In his Hall of Fame speech, Warrior said his character should be remembered for the exciting, fun stuff. And there certainly was plenty of that.
For example, some have forgotten that Warrior was the original pitch man for Slim Jim in the '90s, before Randy "Macho Man" Savage assumed the role.
He also once made the greatest entrance in the history of the Arsenio Hall show.
Dig this outfit.
Come to think of it, Warrior had a knack for wearing outfits on talk shows that only he could pull off. If you're going to show up for an encounter with Kathy Lee Gifford wearing neon orange spandex, you'd best bring a stuffed toy in your likeness as a peace offering.
Here, he advises us not to smoke in the most Warrior of ways.
He's been on the cover of Mad Magazine...
Starred in his own comic book...
Been the marquee talent for classic Nintendo video games...
And sold tons of merchandise bearing his likeness, from action figures to posters to home videos, breakfast cereals, trading cards, T-shirts and Halloween makeup.
A life well lived, indeed.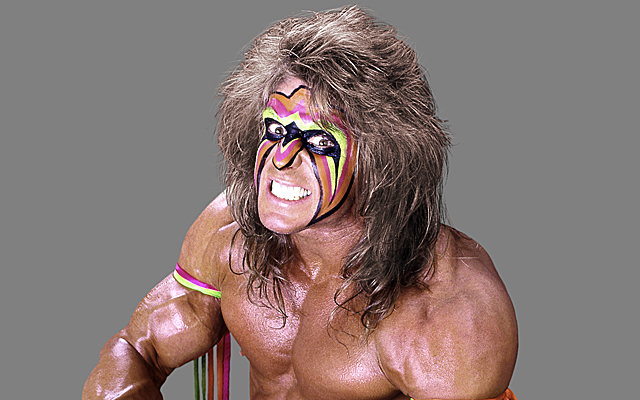 Follow Denny Burkholder on Twitter: @DennyBurkholder.
The Cowboys QB spent his summer helping kids, including on in particular who suffered from...

The video game takeover continues

What to know to catch a top-10 water polo matchup on Saturday
Everything you need to know to tune in for this week's critical Big East showdown

Everything you need to know to tune into this weekend's action

Justin Gallegos has a goal to finish a half marathon in under two hours, and Nike wants to...