Marion Bartoli captures women's Wimbledon title in straight sets
Marion Bartoli earned her first-career Grand Slam major on Saturday, dispatching 23-year-old Sabine Lisicki 6-1, 6-4.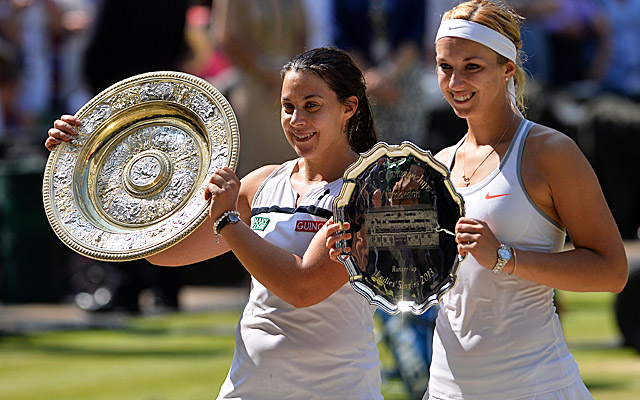 France's Marion Bartoli closed out her first career Grand Slam championship at Wimbledon on Saturday with a convincing 6-1, 6-4 victory against 23-year-old Sabine Lisicki. 
Perhaps most impressively, No. 15 seed Bartoli didn't concede a single set throughout the entire two-week tournament. 
"I dreamed about this moment for so long, and I was there in 2007, and I missed it, and I know how it feels," Bartoli said on Center Court after the tidy, one-hour and 21-minute match. "It's been my dream since I was six years old." 
Bartoli, whose only other Grand Slam final appearance came at Wimbledon in 2007, overpowered the young German with consistent returns, and it appeared that she was able to rely on her prior major experience to quell any potential nerves. 
That wasn't the case with Lisicki, who was moved to tears as the second set slipped away from her. Numerous double faults down the stretch alluded to her inexperience, but from a big picture, the tournament was undoubtedly a success for her. She did, after all, take down No. 1 Serena Williams. 
Tears aside, Lisicki didn't blink when trailing a set and facing a 5-1 deficit in the second. She battled back to 5-4, fending off three championship points in the process as the All England Club began to get behind her. But in the end, Bartoli eventually overtook the first-time finalist. 
"I was just overwhelmed by this whole situation. Credit to Marion who's been in that situation before and she handled it perfectly. She's been on tour for so long, she deserves it. I hope that I'll get the chance one more time as well," Lisicki said following her defeat. 
Bartoli, 28, was in disbelief following her victory, racing across the Centre Court to embrace her family in the stands. 
New England native will start from the rear of the field in Sunday's playoff race

A playoff driver could join Martin Truex Jr. in the Round of 12 with a win on Sunday

Denny Hamlin and Kevin Harvick will look to build off momentum in order to catch Martin Truex...
The team of children agreed among themselves to follow Colin Kaepernick's stand against in...

Did Elliott cheat to finish second in the NASCAR playoff opener? You be the judge

Kahne has been with Hendrick Motorsports since the 2012 season and is currently in contention...