U.S. men's soccer settles for 2-2 draw vs. Mexico
The U.S. men's national team took on Mexico in a Wednesday night friendly in Phoenix.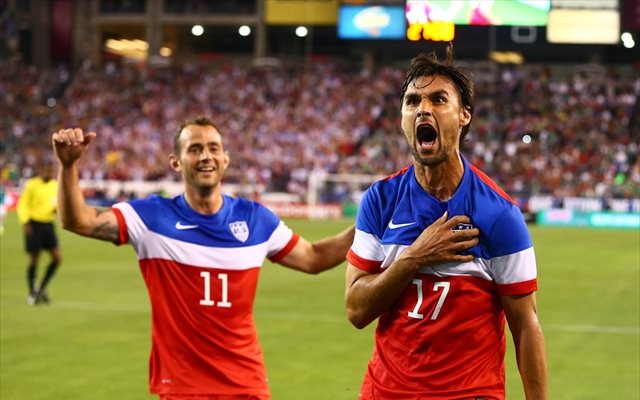 Calling a soccer match a "tale of two halves" is a cliche as old as the sport itself. But sometimes, it's just too appropriate not to apply it.
The U.S. Men's National team drew with old archrival Mexico 2-2 in a Tuesday night friendly, keeping coach Jurgen Klinsmann undefeated against El Tri in five tries. The U.S. dominated the first 45 minutes, with Michael Bradley everywhere in midfield and scoring off a Graham Zusi corner kick in the 15th minute to put the U.S. up 1-0.
The Americans looked to be well on their way to the win when Chris Wondolowski -- the prolific MLS striker who needed a big performance to boost his World Cup roster hopes -- capped a crisp U.S. passing sequence with a 25th-minute goal.
But Mexico roared back after halftime, Rafa Marquez scoring on a corner kick after 49 minutes and Alan Pulido tucking away a rebound off the post 18 minutes later. By the time the final whistle had blown, Mexico had outshot the U.S. 17-9. 
But the U.S. had the best chance of the final 20 minutes, Eddie Johnson slipped in on goal by Clint Dempsey and scoring past Moises Munoz, only to be called back for a questionable offsides.
Our CBSSports.com liveblog ran throughout the match; it's below, starting with some knee-jerk ...
1:30 a.m.: TAKEAWAYS: 
1. On the balance of play, a 2-2 draw was a fair result. On the balance of "Eddie Johnson was clearly onside," the U.S. will feel substantially aggrieved. The good news: unlike the 2-2 draw vs. Slovenia in the 2010 World Cup in which Maurice Edu's perfectly good goal was disallowed, this one doesn't really matter. Much.  
2. What will worry Klinsmann going forward is that Omar Gonzalez and the U.S. defense continues to look rock-solid in stretches ... and then in stretches like the start of the second-half, look like facing the likes of Cristiano Ronaldo, Toni Kroos, and Asamoah Gyan can only end in the grisliest of fashions. The bevy of substitutions didn't help, but neither Omar Gonzalez nor Clarence Goodson played will enough to ensure Geoff Cameron won't move inside into one of their spots come Brazil.
3. What will encourage Klinsmann? Michael Bradley and Clint Dempsey -- two of the three playrs, along with Landon Donovan -- that absolutely must be on top of their games for the U.S. to succeed -- looked like their moves ot MLS have done nothing but help their form. Give Dempsey another couple of months to get his touch welll and truly back, and the U.S. attack should be in good shape. (It'll help if Graham Zusi can continue to look more like Landon Donovan than Donovan did tonight.)
4. OK, so Julian Green didn't set the world on fire. He's got time. And if he does take up a roster spot without being ready to really deserve it (see the preview below), Graham Zusi showed that the attacking wing spot is so deep the U.S. can afford to let him ride the Brazilian pine.
1:12 a.m.: Nope, Dempsey's low free kick rolls wide without the second touch he seemed to be hoping for. Ends in a draw, dos a ... dos.
1:10 a.m.: Rimando holds a Luis Montes shot with a minute to play, but the U.S. can't get anything going. One last Mexico counter ... and now a U.S. counter and free kick for which there didn't appear to be time. Any last-second miracle? 
1:07 a.m.: With the U.S. pouring forward in search of a winner, Mexico has acres of room on the break. Edu and Goodson have been solid, but some worrying moments. Final minutes now.
1:05 a.m.: And now Green goes down on the edge of the box after a slick move ... no penalty! Suffice it to say the Americans will go home much less satisfied with the Panamanian officiating crew than their green-clad counterparts.
1:02 a.m.: Dempsey finds Johnson in behind the Mexican defense, he buries it, wheels way to celebrate ... and is called offside. Replay says: terrible, terrible call. Absolutely should be U.S. 3, Mexico 2. 
1 a.m.: Green slips, allowing a terrifying Mexico cross to be delivered, and gets up holding his shoulder. Seems OK, but it won't help him overcome what's been a somewhat shaky debut so far. It's like he's only 18! (Which he is.)
12:55 a.m.: Dempsey nearly pulls off an outrageous flick with his heel, sliding the ball into the box and nearly catching up with it before it's cleared for a corner (which Eddie Johnson eventually wastes with a wayward header). Win or lose, that one of the U.S.'s three or four most important players -- and genuine potential game-changers -- has finally looked like himself will be a note of ample encouragement for Klinsmann.
12:50 a.m.: More U.S. subs: Yedlin for Beltran, Edu for Beckerman. Yedlin, in particular, was expected to get the start. If he can settle the suddenly sieve-like U.S. back line, there may be a few questions asked of Klinsmann as to why he didn't. But as rampant as Mexico have been lately, it's a big if.
12:44 a.m.: Goal Mexico! Rimando can't quite get to another stinging low shot, and it rebounds off the post to substitute Adam Pulido. Frankly, it's hard to begrudge Mexico the tie score -- they've been just about as dominant the past 20 minutes as the U.S. was in the final 20 of the first half.
12:42 a.m.: Eddie Johnson on for Wondolowski, who once again showed that whatever limitations he might have, no one in the U.S. pool is a better out-and-out goal poacher.
12:40 a.m.: Mexico celebrate the start of the Julian Green era by forcing Rimando into another save, and then a dangerous low cross is cleared by Bradley. Credit where it's due: it has been all El Tri this half so far, with Layun particularly threatening.
12:37 a.m.: As promised by Klinsmann at halftime, here comes a triple-substitution: Donovan on for Zusi, Green on for Davis, and Goodson on for Besler. Let the Julian Green era begin!
12:33 a.m.: Mexico has come out of the locker room with vastly more focus and energy and has earned several set-piece chances, one of which forced Rimando into his most impressive save of the night on a looped header from 10 yards. 
Oh, and replay shows Gonzalez let himself get picked too easily, to use the hoops term, on the corner kick.
12:30 a.m.: Goal Mexico! Rafa Marquez -- of course it's Marquez -- is totally unmarked on a corner kick, and his free header is rifled into the side netting. So much for that 389 minutes business. Game on.
12:25 a.m.: Coming out of the locker room, Klinsmann says Julian Green will debut at the 60 minute mark, and U.S. fans everywhere reach for their drool towels. Meanwhile, here's Bradley's first half, visualized:
o_O RT @PCarrESPN Michael Bradley led #USMNT with 54 first-half touches, all over the field: pic.twitter.com/nXuCzv9VsQ

— Ryan Rosenblatt (@RyanRosenblatt) April 3, 2014
12:20 a.m.: Mexico has now gone scoreless for 389 minutes against the U.S., or more than four consecutive games. "No bueno" is the phrase, I think?
12:10 a.m.: That wraps up 45 delightful minutes for the Americans, who after the first goal were the better team by a factor of whichever large number you'd like and thoroughly deserved the 2-0 lead. Bradley was imperial, Dempsey something approximating his pre-2013 self, Gonzalez and Besler solid enough, and even Beltran settled down ass the half progressed. Hard to pick out any weak spots -- and given that the number of missing starters means there should be weak spots in several places, Klinsmann has to be over the moon.
12:05 a.m.: Mexico loses the ball inside the U.S. box, and the Americans -- starting with Gonzalez -- confidently string an entire series of passes out of the back, across the midfield, and into the attacking third, with no fewer than six or seven players involved. The ball was lost outside the Mexico box, but if you want to know why U.S. soccer fans will follow Jurgen Klinsmann to the cracks of Mount Doom and beyond, sequences like that one -- entirely nonexistent before his arrival -- are why.
11:55 p.m.: Rimando is coming to punch/claim any cross within his zip code, and doing so with confidence. Tim Howard will start in Brazil, but he could stand to learn a bit from his understudy on this one aspect of the game.
11:50 p.m.: Terrific team goal from the U.S., with a series of passes -- the last from Dempsey, already having his best U.S. game in quite some time -- springing Beltran. His cross found the head of Bradley, making a Bald Bull-quality charge into the box, whose header found the foot of Wondolowski at the back post. Brilliant.
11:49 p.m.: GOOOAAAAAAAAALLLL USA! Chris Wondolowski doing Chris Wondolowski things!
11:47 p.m.: Best player on the field:
What's better than beast mode? Because that's what Michael Bradley is in now. #USAvMEX

— Alexi Lalas (@AlexiLalas) April 3, 2014
11:45 p.m.: Match now wide, wide open as both teams have settled down and found their attacking groove. Mexico's Layun fizzes a 20-yard shot just over Rimando's right post, and a moment later both Gonzalez and Besler flub clearances to put the U.S. goal under pressure. Seems doubtful the half ends without another goal for one side or the other.
11:40 p.m.: Mexico responds with a couple of threatening-looking attacks, but a well-timed Matt Besler intervention breaks up the most dangerous one. Bradley is completely owning the midfield at this stag, lock, stock, and barrel, and Dempsey has a shot from 10 yards blocked. 
11:35 p.m.: Graham Zusi whips in a brilliant corner to the back post, Omar Gonzalez screens off Mexico goalkeeper Moises Munoz, Bradley makes a sharp run and somehow ends up with an un unmarked tap-in from two yards out. 
When you have an unmarked tap-in from two yards out on a corner kick, you have executed your training ground plans very, very well indeed. Point Jurgen Klinsmann.
11:30 p.m.: GOOOOOOOALLL USA! MICHAEL BRADLEY!
11:25 p.m.: The U.S. enjoys a nice spell of midfield possession anchored primarily by Bradley, but it comes to nothing and Mexico breaks down their right, lofting a cross which Nick Rimando snares easily. Nothing of real danger for either side yet.
11:20 p.m.: Not a whole lot going on just yet as both teams are a touch sloppy in the midfield. El Tri appears to be trying to exploit the U.S.'s right hand side and surprise right back starter Tony Beltran, who wasn't even on the roster before Brad Evans pulled out with an injury. Beltran had an ugly early giveaway that led to a but rebounded a few minutes later with a strong tackle.
11:15 p.m.: And we're off! The U.S. is wearing their new away kits, and unlike the home whites, they're every bit as terrible on TV as in their promotional shots in this blogger's very humble opinion.
11:10 p.m.: The American Outlaws fan group raises a giant tifo in the crowd with an image of Mexico's American savior Graham "San" Zusi (i.e. Saint Zusi):
St. Zusi says, "De Nada".... pic.twitter.com/1avVYVpJFF

— Brian Straus (@BrianStraus) April 3, 2014
11:10 p.m.: In case you're wondering, Mexico's side is -- like the U.S.'s -- not their strongest, but far from their weakest, with five players in the starting lineup who also started in the New Zealand playoff that got them to the World Cup. They'll be led by borderline legendary El Tri defender Rafa Marquez, who U.S. fans will most fondly remember from his red card against the U.S. in the Americans' 2002 World Cup Round of 16 victory.
(Of course, with that squad vs. New Zealand missing several European-based stars like Chicharito Hernandez, you could argue that team wasn't Mexico's strongest, either.) 
10:45 p.m.: Apparently Mexico had some traffic problems, which, if you've ever visited University of Phoenix Stadium, isn't a huge surprise. They've arrived now, but still:
Still no sign of the Mexican National Team, which was stuck in traffic apparently. The traffic getting here is insane but That's still bad

— Ives Galarcep (@SoccerByIves) April 3, 2014
10:30 p.m. ET: Jurgen Klinsmann has thrown quite the curveball with his starting 11 (which, yes, differs dramatically from the Wednesday afternoon projection below). Lining up in a diamond 4-4-2, the Americans will go with Nick Rimando in goal; Michael Parkhurst, Matt Besler, Omar Gonzalez and late roster addition Tony Beltran across the back; Kyle Beckerman and Michael Bradley in central midfield; Brad Davis on the left wing, and Graham Zusi on the right; and Clint Dempsey and Chris Wondolowski paired at forward.
Beltran's and Davis's inclusions are surprises, but you'll notice that lineup does not include Landon Donovan, and that's an out-and-out shock. Given that he, Bradley and Dempsey have seen precious little time on the field together since Klinsmann took over, and that tonight's match represents one of the last four chances to have them work as a unit in a competitive setting before the World Cup, it's quite the head-scratcher. 
It also makes this quote even more over-the-top (just as the quote makes his absence all the stranger):
"This game will the most important national team game against Mexico, outside a qualifier or World Cup game, ever" - Landon Donovan

— ESPN FC (@ESPNFC) April 3, 2014
-----------------------------------------------
PREVIEW (3 p.m.): Here's the major storylines:
We, for one, welcome our new German-American teenage overlord. (Please.) You could forgive U.S. soccer fans for being on the skeptical side when it comes to Julian Green, the 18-year-old Bayern Munich forward who recently pledged his national team future to the U.S. over Germany. From Jovan Kirovski to Freddy Adu, over the past 25 years American soccer has seen an entire procession of teenage messiahs fail to deliver either the USMNT or the sport's national profile to an imagined promised land. (Landon Donovan, you're notably excepted.)
But U.S. soccer fans aren't skeptical anyway. Because on paper, Green -- ex-member of Germany's national youth sides, star prospect for the current best club side in the world, an unqualified success with Bayern's youth team in the German regional division -- is the most talented prospect to ever enter the U.S. player pool. Whispers are rampant that Jurgen Klinsmann may have promised a World Cup roster spot to Green (the son of an American father and German mother) to secure his commitment to the U.S. -- a move that the majority of U.S. fans would likely agree with even if Green isn't actually ready to contribute as soon as this summer.
But given Green's talent, it's entirely possible he's ready already anyway. We collectively start finding out against Mexico.
Clint Dempsey: still Clint Dempsey? The Texan suffered through arguably the most disappointing stretch of his career over the past eight months, failing to make the expected impact after his big-money move to Seattle Sounders last August, stringing together multiple lackluster performances for the U.S., and looking -- quite frankly -- dangerously close to "spent force" territory during an awkward two-month loan to Fulham.
Dempsey flashed some of his old attacking spark in the early 2014 MLS season, though, before a two-game suspension kept him on the sidelines the past two weekends. Klinsmann won't bump his captain out of the starting lineup unless he feels he has no choice, but after he jettisoned long-time top assistant Martin Vasquez this week, it's clear that come Brazil, Klinsmann isn't going to let sentiment get in the way of picking his best 11. Dempsey would be advised to prove that 11 still includes him on the field, starting Wednesday.
Tickets here! Get your World Cup tickets! Even if you assume Green isn't auditoining for his spot on the plane to Brazil -- and he very well could be -- there's still plenty of other players on the roster who will view this game (the U.S.'s last before their summer "send-off series") as their last best chance to earn a World Cup roster spot. Defensive midfielder Maurice Edu is back after a lengthy U.S. absence and could give Klinsmann something to think about if he outperforms position-mate Kyle Beckerman; Chris Wondolowski and Eddie Johnson might be competing for the same slot at forward, particularly now with an attacker like Green around; and Dempsey's Sounders teammate DeAndre Yedlin should get a golden opportunity at right back with Brad Evans out injured. 
For those players, a big showing in Glendale is a must, and even for some players who you'd expect to make the final cut -- Beckerman, defenders Clarence Goodson and Michael Parkhurst, goalkeeper Nick Rimando -- it's an opportunity that can't be wasted. Between that factor and the opponent, motivation for the Americans shouldn't be an issue.
PROJECTED STARTING LINEUP: From the available U.S. roster, controversially shorn of DaMarcus Beasley and Michael Orozco after they weren't released by their (*cough*) Mexican club Puebla:
GK: Nick Rimando
Defense (R to L): DeAndre Yedlin, Omar Gonzalez, Matt Besler, Michael Parkhurst
Defensive midfield: Michael Bradley, Maurice Edu
Attacking midfield (R to L): Landon Donovan, Clint Dempsey, Julian Green
Forward: Eddie Johnson
(Don't be surprised to see Graham Zusi replace Green or Johnson in the 11, mind.)
Should see time: D Clarence Goodson, MF Kyle Beckerman, MF Graham Zusi, F Chris Wondolowski
Keselowski passed Ryan Newman on the final lap to clinch his spot in the NASCAR Playoffs Round...

NASCAR Playoffs Round of 12 contender sits in 7th place heading into this weekend's race at...

Things escalated very quickly and both drivers were detained by police
Junior revealed on Instagram that his first child will be a girl

What does it take to compete at the CrossFit Games? Check out 'Fittest on Earth' on CBS Sports...

Keselowski passes Ryan Newman on the final lap to claim the checkered in a wild, crash-filled...