2013 Team Preview: Colorado Rockies
It's the Colorado Rockies' turn in our series of team previews for the 2013 MLB season.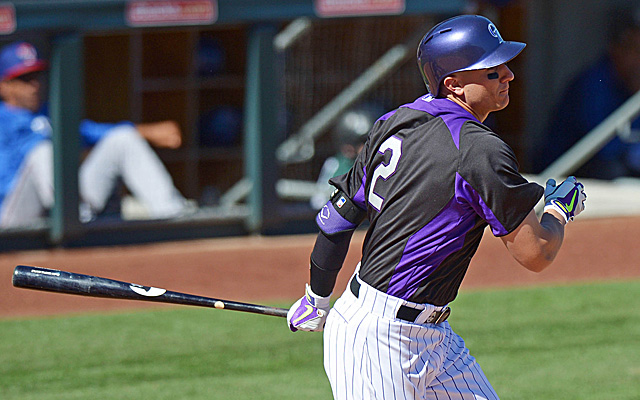 Spring training coverage | Rockies: Camp report | Likes, dislikes | Prospect watch
The Rockies' 2012 season was a disaster in many ways. Superstar shortstop Troy Tulowitzki appeared in only 47 games as injury limited him. Free-agent signee Michael Cuddyer was a disappointment and appeared in only 101 games. Trade acquisition Marco Scutaro was terrible, and to make matters worse he excelled for the Giants after a midseason trade and ended up with a World Series ring.
And then there was the debacle that was the pitching situation. Not only did the Rockies use 14 different starting pitchers -- including 49-year-old Jamie Moyer -- but things got so bad they went to the "piggyback" method midseason. That is, they limited starters to 75 pitches and relied heavily on middle relievers.
It's a new season now, though. The piggybacking is gone, Tulowitzki and the starting rotation are more healthy, and some youngsters appear ready to step in. Plus, new manager Walt Weiss brings some fresh life to the bench.
Probable lineup
1. Dexter Fowler, CF
2. Josh Rutledge, 2B
3. Carlos Gonzalez, LF
4. Troy Tulowitzki, SS
5. Michael Cuddyer, RF
6. Todd Helton/Tyler Colvin, 1B
7. Wilin Rosario, C
8. Chris Nelson, 3B
Probable rotation
1. Jorge De La Rosa
2. Jhoulys Chacin
3. Drew Pomeranz
4. Juan Nicasio
5. Jeff Francis
ALT: Tyler Chatwood
Bullpen construction
Closer: Rafael Betancourt
Setup: Wilton Lopez, Matt Belisle
Long: Josh Outman, Chris Volstad
Notable bench players
C Ramon Hernandez, IF Jordan Pacheco, OF Eric Young Jr. and either Helton or Colvin.
Under-the-radar offseason transaction
On Dec. 4, the Rockies sent pitchers Alex White and Alex Gillingham to the Astros in exchange for reliever Wilton Lopez. Many may not have noticed due to how bad the Astros have been, but Lopez was great the past three seasons. Last year, he had a 2.17 ERA, 1.04 WHIP and 54 strikeouts in 66 1/3 games. He had 10 saves and nine holds with three blown saves while stranding 28 of the 37 runners he inherited. Don't expect many to discuss the Lopez-Betancourt duo as one of the best eighth-ninth inning combos in the league, but they have that capability.
Fantasy breakout candidate: Drew Pomeranz
"While Jhoulys Chacin, Juan Nicasio and Jorge De La Rosa have all shown some degree of promise, 24-year-old Drew Pomeranz -- who was acquired as part of the 2011 Ubaldo Jimenez trade -- could be the ace emerging from this group. A top prospect heading into last season, Pomeranz had a career 1.96 ERA in 30 minor league starts before being given a shot in 2012. He was promptly kicked around in five appearances, sent back to the minors and called up again in July, where his childhood dreams of being a member of an experimental four-man rotation finally came true. With the piggyback strategy behind him, Pomeranz is no longer a strikeout pitcher burdened by pitch counts (which might have led to him pitching to contact and seeing his strikeout numbers dip). Instead, he's a strikeout pitcher entering his second season, and was surprisingly unaffected by the thin Denver air in 2012 (his home and road splits were nearly identical). Let your fellow drafters focus on Chacin, Nicasio and De La Rosa. Pomeranz should be a much better value on Draft Day and could end up being the best pitcher on the staff." - Nando Di Fino [Full Rockies team fantasy preview]
Biggest strength
Not surprisingly, coming from a team playing in Coors Field, the Rockies' strength is extra-base power. The Rockies ranked second in the NL in doubles, second in triples, fifth in homers and second in slugging percentage last season. This is with injuries limiting Tulowitzki, Cargo and Cuddyer to different extents. Increased playing time to Rutledge, Nelson, Colvin and Rosario would amount to an improvement as well, should those all come to fruition.
Biggest weakness
Though there stands to be improvement over last season -- when the rotation went 29-68 with a 5.81 ERA and 1.63 WHIP (oh the humanity) -- it's still the starting pitching. If De La Rosa rounds back into pre-Tommy John form, youngsters Pomeranz and Chacin live up to previously sky-high expectations and Nicasio takes a huge step forward, the Rockies won't have a bad rotation. It's just that there are far too many question marks here to consider this anything but a weakness at this point. Maybe that changes, but until we see that change, the Rockies' rotation appears very sub-par.
Best-case scenario
If everything I mentioned in the paragraph directly above happens to the front four members of the Rockies' starting rotation, the offense stays healthy and the younger players show measured improvements, the Rockies can get back above .500 and maybe push the Giants and Dodgers for the first four to five months this season.
Even then, though, much of the pitching staff leaves a lot to be desired in the immediate future and the Rockies have their work cut out for them to make a miracle playoff run in 2013. Then again, they've shocked us on this front before.
Worst-case scenario
The starting pitching again has the potential to be a disaster, and the lineup contains some injury-prone players in addition to youngster who always have a shot at a sophomore slump. Remember, even though the Rockies seem a bit better, we're talking about a 98-loss team that didn't do much to change the roster in the offseason. A worst-case scenario shows them losing 100-plus games and sporting the worst record in the NL (I still can't see them losing more games than the Astros, who now reside in the AL).
Most likely scenario
I like the offensive potential along with the back-end of the bullpen. While I do firmly believe the starting pitching will be better, I can't see enough of an improvement to expect a major different in the results. The Rockies are going to have to outhit teams in the first seven innings before handing the ball over to the underrated Lopez-Betancourt combo. And they can probably do that a decent amount of times at home.
Then again, they have to play 81 games on the road. Check out the splits last season:
Home: .306/.367/.500, 486 runs, 174 doubles, 38 triples and 100 home runs
Away: .241/.291/.371, 272 runs, 132 doubles, 14 triples and 66 home runs
That's unreal.
Again, there are reasons to believe the Rockies improve this year, but I'm not seeing how they are well-equipped to outhit teams on the road. They can't possibly finish better than third, and it's far more reasonable to believe they come in last place again.
For more baseball news, rumors and analysis, follow @EyeOnBaseball on Twitter, subscribe to the RSS feed and "like" us on Facebook. Also, individually interact with us on Twitter: @MattSnyder27, @daynperry and @mikeaxisa.

The Nats will host the All-Star Game in 2018

The Orioles are looking to trade Machado heading into his walk year

The Cardinals have been linked for a while to the Baltimore star
Gallardo spent the first eight years of his career in Milwaukee

MLB revenues are at a record high right now, but teams aren't spending it on players

Chicago added Tyler Chatwood earlier this offseason but might not be done adding to the ro...