2013 Team Preview: San Diego Padres
We continue our series of team previews with the San Diego Padres.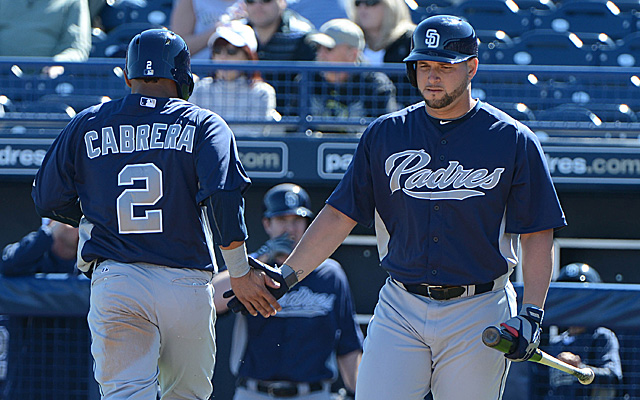 Spring training coverage | Padres: Camp report | Likes, dislikes | Prospect watch
The 2012 Padres entered the season with modest-at-best expectations and ended up a mediocre 76-86, good for fourth in the NL West. And then this past offseason, they did very little, other than losing a promising young catcher for 50 games. Still, the Padres are a somewhat popular selection to exceed expectations in 2013. Let's check 'em out.
Probable lineup
1. Everth Cabrera, SS
2. Logan Forsythe, 2B
3. Chase Headley, 3B
4. Carlos Quentin, LF
5. Yonder Alonso, 1B
6. Will Venable, RF
7. Cameron Maybin, CF
8. Nick Hundley, C
Probable rotation
1. Edinson Volquez
2. Clayton Richard
3. Jason Marquis
4. Andrew Cashner
5. Eric Stults
ALT: Freddy Garcia
INJ: Cory Luebke
Bullpen construction
Closer: Huston Street
Setup: Luke Gregerson
Lefty: Joe Thatcher
Notable bench players
C Yasmani Grandal (suspended for 50 games), OF Mark Kotsay, OF Chris Denorfia
Under-the-radar offseason transaction
It's kind of cheating to say this is a transaction, but I'm going with the Petco Park fences being moved in. Since opening in 2004, the stadium has been an extreme pitcher's park and killed the power numbers of Padres offensive players (while making their pitchers look great). For example, the Padres hit 74 homers on the road last season, 47 at home. Only two players on the team were in double digits in homers. Things will be closer to neutral from now on. Obviously this hurts the pitchers a bit, but it's not like they are going to be pitching in Coors Field. Meanwhile, the hitters won't feel like every fly ball will end up nestled in an outfield glove. I think this move will be a net positive for the ballclub.
Fantasy sleeper: Carlos Quentin
"Quentin has become a sort of forgotten man for the Padres. In 86 games last year, he hit 16 home runs and managed an .877 OPS -- the second-highest OPS of his career. And this was while he was returning from knee surgery and then battling issues that arose throughout the season with the same knee. But with Quentin looking like he's healthy heading into 2013, we could see a power-hitting renaissance from the 30-year-old. Quentin has never seen 500 at-bats in a season, but has put up campaigns of 36, 21, 26 and 24 home runs. He's also a threat to hit 30 doubles. His average, which could float anywhere between .250 and .270, is nothing to get excited about, but he should pop up in games with a good amount of runners to drive in. For a late-round pick, Quentin could return a lot of value to a Fantasy owner willing to take an optimistic view on his health." - Nando Di Fino [Full Padres fantasy preview]
Biggest strength
Team speed. Yes, the power will improve with the fences being moved in, but the team construction remains -- and this is a group that can make some serious noise on the basepaths. Cabrera led the NL with 44 steals last season, even though he only appeared in 115 games. Maybin and Venable combined for 50 stolen bases as well, and the Padres finished second in the NL with 155 steals. Their ability to take the extra base is a major asset.
Biggest weakness
The front end of the rotation. The Padres actually have good starting pitching depth -- especially when Lubke returns from injury -- but Volquez and Richard aren't close to being ace-level starters. Volquez was 11-11 with a 4.14 ERA and more than 100 walks, for example, and his numbers were significantly better at home (2.95 ERA, with him sporting a 5.60 road ERA) and those fences are coming in. It's possible by the end of the Lubke and Cashner form a strong one-two punch, but we're far away from that entering the season.
Best-case scenario
The Padres grind through the first two months of the season around .500 and then take off. Cashner and Lubke settle in atop the rotation, Grandal comes back from suspension and has an excellent second half, while the now-well-rounded offense hits for a lot more power along with its good speed.
There's enough talent here to become the surprise team of 2013 and push the Giants and Dodgers atop the NL West.
Worst-case scenario
The rotation is again a mess, with Cashner again unable to stay healthy and the other arms feeling the effects of the now-neutral Petco Park. Headley can't live up to his monster 2012 season, Quentin again falls injured and the likes of Grandal and Alonso take steps backward in their sophomore seasons.
There's enough downside here to envision the Padres regressing and ending up in last place in the NL West.
Most likely scenario
As I've mentioned above, I think the moving in of the fences is a net positive for the team -- just based upon the mentality of the offense. Overall, though, there isn't a lot to like about the rotation right now and the lineup still lacks punch in several spots. Not only that, but a few of the higher upside players (Cashner, Lubke, Grandal) are either going to be delayed a bit or will miss significant time. Don't expect the Padres to be awful, and it's possible they push .500, but the breakthrough to contention is likely one year away.
For more baseball news, rumors and analysis, follow @EyeOnBaseball on Twitter, subscribe to the RSS feed and "like" us on Facebook. Also, individually interact with us on Twitter: @MattSnyder27, @daynperry and @mikeaxisa.

The lefty starter is coming off a terrible season

After acquiring Ian Kinsler and Zack Cozart in recent days, the Angels are trending upward

Cozart's coming off a big season as the Reds' shortstop
The veteran slugger spent the last eight seasons with Cleveland

The Padres may be poised for an active winter

Yes, Bryce Harper is going to make a lot of money next winter