3 to Watch: The Josh Beckett Fresh Start Edition
Knowing Josh Beckett, he's going to get awfully tired of the Fresh Start questions very quickly. By my unofficial count, he's already been asked some form of that question several dozen times in his first 24 hours in Los Angeles. ...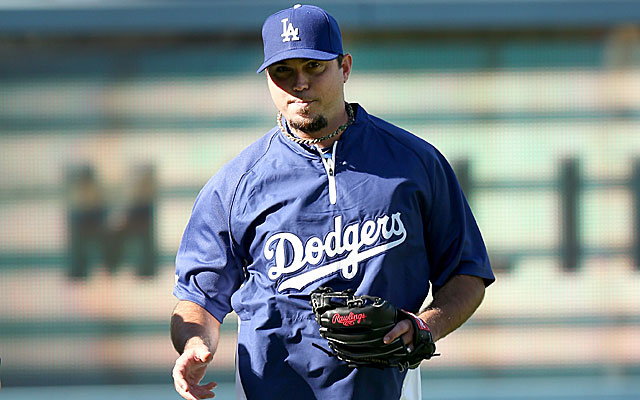 Josh Beckett was 5-11 with a 5.23 ERA before the Red Sox dealt him to the Dodgers.
(Getty Images)
LOS ANGELES -- Knowing Josh Beckett, he's going to get awfully tired of the Fresh Start questions very quickly. By my unofficial count, he's already been asked some form of that question several dozen times in his first 24 hours in Los Angeles.

"I'm excited to be here," Beckett says. "I'm excited about this new chapter.

"Who doesn't want to come to Hollywood and play baseball?"

Carlos Lee, for one, he was told.

Beckett grinned, then chuckled. Even a cantankerous old (32) soul like himself had no acerbic comeback for that one.

Ah, ain't honeymoons grand?

It's not every pitcher with a 5-11 record and a 5.23 ERA, ears pinned back by boos for much of the season, who gets a mulligan. But that's just Beckett's good fortune.

It was Lee who who rejected a trade to the Dodgers in June, invoking his no-trade powers, and the Astros subsequently shipped him to the Marlins.

And that, actually, was a prelude to the Beckett-Adrian Gonzalez-Carl Crawford monstrosity the Dodgers and Red Sox pulled off. Because if Lee had accepted the deal to LA, then the Dodgers wouldn't have been in the market for an expensive first baseman, and Beckett and Co. would have had the escape hatch opened in Boston.

That Beckett and Crawford each waived no-trade powers absent any kind of inducement tells you how badly they wanted out. Most of the time, it takes some sort of financial incentive to induce a player to waive a no-trade clause. Not ewith these guys.

Beckett said it doesn't bother him that his reputation arrives with baggage that even a Fresh Start doesn't completely obscure.

"I don't think the right people are talking about me," he shrugs. "If you ask my teammates, they'll tell you something different.

"I'm apparently not nice to the right people."

Or, mostly, he hasn't pitched well enough this year to prevent his vinegar personality from overshadowing his game in the fried chicken aftermath of last September.

So now he gets a chance to change all that with the Dodgers, beginning right away, which is why he's the easy choice to lead off this week's 3 to Watch:

1. You might think that Denver's thin air would be the last place a pitcher would want to debut, but when Josh Beckett squares off against Jeff Francis in Dodgers at Rockies, Monday night (8:40 ET) at Coors Field, history is on his side. No, he didn't pitch in Coors when the Red Sox won the 2007 World Series there, but he's 3-0 with a 3.60 there in four career starts. Even Beckett isn't expecting to revert back to the dominant pitcher he was circa 2003, when he pitched the Marlins to a World Series win, but he thinks it's realistic to return to his 2011 form (13-7, 2.89). The problem so far this year? "Balls are up," he says. "Balls have been getting hit hard. Even ground balls." What needs to be fixed? "Timing," he says. "I have to get back on top of the ball." When he's not on top of the ball, there is little movement and it comes in flat. Wearing Dodger blue, he can take steps to fix that in this Fresh Start special. And with Chad Billingsley on the DL with a sore elbow, Beckett just became an even more important piece to the Dodgers.

2. The Pirates, 7-0 losers to the Brewers on Sunday, have dropped five of their last six and are threatening to turn a great story into ashes for a second consecutive season. Now would be a good time to reverse course, and Clint Hurdle's Buccos face what might be their best and last chance as their biggest series since the early 1990s kicks off in Cardinals at Pirates, Monday night (7:05 p.m. ET) at PNC Park. The Bucs, who have fallen eight games behind the Reds in the NL Central, trail the Cards by two games for the second NL wild-card slot. They love their Pirates again in Pittsburgh: Sunday's game was the 16th PNC sellout of the season. It's up to A.J. Burnett (15-4) to the Bucs off in the right direction, but he faces Kyle Lohse (13-2).

3. The Rays had a rare Sunday off because the Republican National Convention needed Tropicana Field as the site for its welcoming party before the convention kicks into full gear Tuesday in Tampa (delayed a day by Hurricane Isaac). They get back to the business of growing larger in the Yankees' rear-view mirror Monday in Texas, and it's that final game that is causing manager Joe Maddon to think about his rotation. As of now, Cy Young candidate David Price and James Shields are scheduled for the first two in Texas, followed by Alex Cobb (8-8). Which leaves rookie Matt Moore (10-7) set to open .Rays at Blue Jays, Thursday night (7:07 ET) at Rogers Centre. Moore hasn't lost in a month, since July 22, going 4-0 with a 1.69 ERA over his past six starts. Maddon is considering flip-flopping Cobb and Moore, shuffling Moore to Wednesday in Texas and giving Cobb an extra day's rest by moving him to Thursday in Toronto. Key decision, because the Rays' lifeblood is pitching. They lead the majors with a 3.24 ERA, and the past four clubs to post an ERA as low have played in the World Series: The 1990 Athletics (3.18), 1989 A's (3.09), 1981 Yankees (2.90) and 1978 Yankees (3.18). Two of the four -- '89 A's and '78 Yanks -- wound up winning the World Series.
Baseball players forced to take pictures usually lead to fun for all of us

One of the most celebrated programs in baseball is looking to continue its run

A closer look at the teams in the Cactus League and Grapefruit League
Spring training baseball gets underway Friday

Christopher Crawford weighs in on all things prospects

Pawol is expected to umpire in the minors again come the regular season