A-Rod's career numbers and what could have been
Let's ponder what Alex Rodriguez's career numbers might look like if he'd never been suspended for his role in the Biogenesis scandal.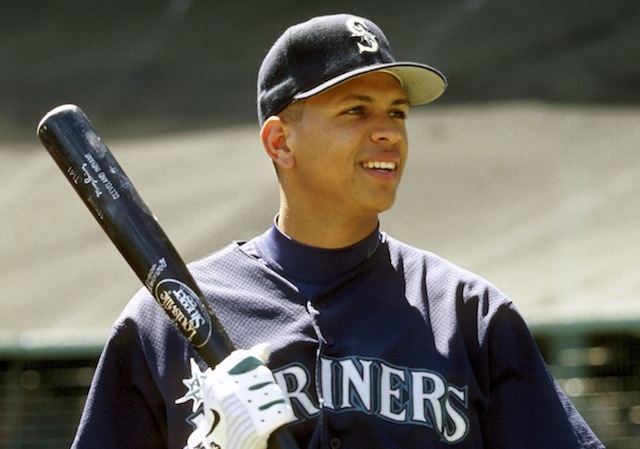 MORE: A-Rod suspended 162 games | Last of A-Rod? | Yanks now have cash, clarity
Lay aside the raft of baggage that's now an indelible part of Alex Rodriguez. Lay aside the fact that he's not going to play another major-league game until the start of the 2015 season. Now consider what might have been.
Rodriguez, of course could never play again and still have some of the most impressive numbers anyone's ever seen (again, we're talking about these numbers in a vacuum). At present, Rodriguez has to his credit 2,939 hits (32nd all-time); 654 home runs (5th all-time); 1,969 RBI (7th all-time) and 1,919 runs scored (10th all-time). He's also a career .299/.384/.558 hitter (143 OPS+), and he's done that while having logged almost 11,000 defensive innings at shortstop -- a premium position that A-Rod played with aplomb. Like him or not, he's one of the five or 10 best players ever from a numbers-at-face-value standpoint.
But what might have been? What if A-Rod had never entangled himself with Biogenesis and thus never lost a full season to suspension?
To get a better handle on what kind of career numbers Rodriguez might have wound up with absent a suspension, we'll use a pair of tools. First, the Steamer projection system available at FanGraphs will give us an idea of what Rodriguez might have done in 2014 absent that full-season suspension. Then we'll use that rough estimate as one of our inputs into Bill James's "favorite toy" tool.
The favorite toy is a somewhat crude instrument that, using recent performance history, can be used to project a player's career totals and his chances of reaching a specific benchmark. Keep in mind that this is mostly a rough "thought experiment" and not any kind of authoritative statement what A-Rod's numbers would have amounted to.
As for Oliver, it projects that a suspension-free A-Rod in 2014 would have tallied 117 hits, 18 home runs, 65 RBI and 66 runs scored. Now, using those figures as A-Rod's 2014 numbers and also plugging in his 2013 and 2012 totals and seasonal age into the favorite toy, here's what we get …
Career length
Per the favorite toy (FT), we can expect 1 1/2 more years of baseball for A-Rod after 2014, which means he would effectively play until midway through the 2016 season. Again, we're talking about an alternate reality in which he's not suspended for his role in the Biogenesis scandal.
Hits
The FT projects A-Rod for 3,232 career hits, which would place him 15th on the all-time list, between Nap Lajoie (3,243) and Cal Ripken Jr. (3,184). As you may have already surmised, A-Rod would almost certainly have notched his 3,000th career hit in the season to come. 
Home Runs
According to James's FT, A-Rod would be headed for 693 career home runs absent the full-season spanking that came his way on Saturday, which would put him ahead of Willie Mays on the all-time time list and behind just Barry Bonds, Hank Aaron and Babe Ruth. He'd have a 27-percent chance of reaching 700 and no mathematical shot at overtaking Bonds's all-time record (762). 
Runs Scored
He'd get to 2,063 runs scored. That would put him just ahead of Mays (by a margin of one run), just behind Pete Rose and in seventh place all-time. Chances of catching Rickey Henderson and his record 2,295 runs on the board? No chance whatsoever, sayeth the favorite toy. 
RBI
A-Rod would become the fourth player ever to tally 2,000 or more RBI (joining Aaron, Ruth and Cap Anson), but the FT gives him no chance of overtaking Aaron's record mark of 2,297 runs plated. A-Rod's projected total: 2,107.
***
We already knew A-Rod -- in a vacuum, it bears repeating -- has some of the most impressive "compiling" stats in the history of the game. The FT career forecasts only reinforce this fact.
Also keep in mind that A-Rod's contract runs through 2017 and will pay him $20 million during that final season. He'd be unlikely to leave that much money on the table, no matter how diminished his health and skills, and the Yankees wouldn't figure to cut him loose and thus pay him that much to do something other than play baseball. As such, feel free to tack on a few more under each category, since the FT projections say he won't play through the end of his deal. It wouldn't be enough to break any of the hallowed marks noted above, though.
What's obvious is that A-Rod won't be remembered as what he could've been in the absence of his misdeeds: an inner-circle, all-time great.
Jonathan Singleton was suspended after a third positive test for a drug of abuse

Rodriguez will join Jessica Mendoza and Matt Vasgersian on the "Sunday Night Baseball" boo...

Jeff Wilpon talked about payroll on Tuesday, and it won't make any Mets fan happy
Yelich's agent recently asked the Marlins to trade him before the spring

I've only been in the BBWAA three years, but here's what my ballot would've looked like this...

In the last two votes, Clemens has gained nearly 17 percent in Hall of Fame voting