Adam Eaton wrongly receives Adam Eaton's checks
D-Backs farmhand Adam Eaton recently received over $120,000 in checks for a different Adam Eaton.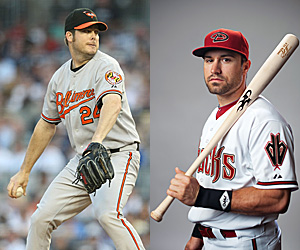 Remember starting pitcher Adam Eaton? He went 71-68 with a 4.94 ERA in 10 seasons, playing for the Padres, Phillies, Rockies, Rangers and Orioles. He last pitched in 2009 for the Rockies. So these days he should be an afterthought, right?
Well, he
should
be.
Enter Adam Eaton. A different one (on the right in the split photo to the, um, right). This one is a 23-year-old Diamondbacks outfielder. He hasn't played above Double-A -- where he hit .302/.409/.429 in 56 games last season. Yet the younger Eaton got an envelope containing
MLB
licensing checks worth over $120,000 total this spring,
reports azcentral.com
. And they, unfortunately, weren't meant for him.
"Cody [Ransom] was like, 'Those aren't yours,'" Eaton recalled (
azcentral.com
). "I'm like, 'What do you mean they aren't mine? They're in my name.' He goes, 'That's the other Adam Eaton. Do you live there?' It had the address on the front. 'No.' I go, 'Do I have to give them back?' He's like, 'Yeah. You have to give them back.' I thought it over and I'm like, 'Yeah, I've got to give them back.'"
The younger Eaton went on to tell the Arizona reporter that he gets "a lot of fan mail" for the older Eaton.
The most amazing part of this story is that a wildly mediocre (at best) pitcher for a decade is still getting fan mail and six figures in licensing checks. He's a man who made over $25 million in his playing days, too. As if we needed any more, it puts a pretty decent perspective on just how much money is in professional sports.
Keep tabs on the top 50 free agents right here

Your one-stop shop for all things MLB Winter Meetings-related

The Angels knew about the first-degree sprain and still wanted to sign the potential ace, of...
The run on relievers continues with two more signings

The Yankees added Giancarlo Stanton in a blockbuster trade, though they now have openings at...

Smyly is currently on the mend from Tommy John surgery