Alex Gordon plans to exercise 2016 player option, delay free agency
Alex Gordon has the opportunity to become a free agent after next season, but he plans to pick up his 2016 player option and stay with the Royals for another year.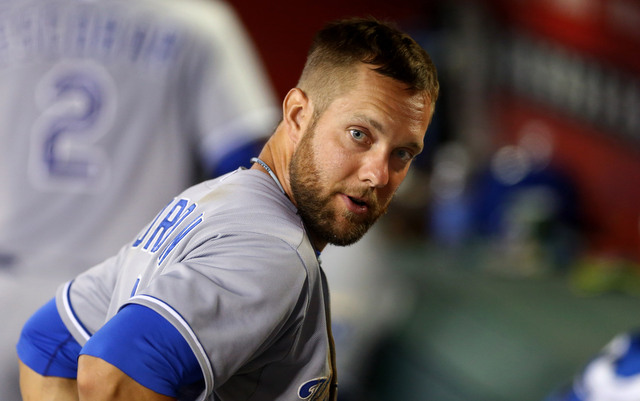 Royals outfielder Alex Gordon has become one of the best all-around players in baseball in recent years, and he has the opportunity to become a free agent after next season. The free agent market isn't what it once was, so a player of Gordon's caliber would surely get a massive contract on the open market.
Instead, Gordon plans to pass on free agency next offseason and exercise the 2016 player option in his contract, reports Andy McCullough of the Kansas City Star. The $13.25 million option is part of the four-year, $37.25 million contract extension he signed three years ago.
"Casey's not the boss of me," said Gordon to McCullough when asked if agent Casey Close would approve of his decision to delay free agent by a year. "I'm sure he'll have things to say and whatnot. But when it comes down to it, it's my decision."
McCullough polled personnel around the league and came up with a range of four years and $52 million to seven years and $130 million for Gordon on the open market. The first thought that jumped to my head is the five-year, $90 million deal the Giants gave Hunter Pence. Either way, Gordon would be in line for much more than $13.25 million.
The risk of delaying free agency is obvious and significant -- he could get seriously hurt or see his skills suddenly decline, which would crush his earning potential -- so much so that I expect him to reconsider the player option before officially exercising it. There would be too much money on the table not to think twice about it.
McCullough reports the Royals and Gordon have not had any talks about a new long-term contract even though he's made it clear he would like to remain with the team. "I made it well-known that I wanted to be in Kansas City," he said. Gordon is a semi-local product from Lincoln, Nebraska.
Gordon, 30, is hitting .282/.357/.446 (122 OPS+) with 29 doubles, 14 home runs and 56 RBI in 121 games this season while playing elite defense in left field. He has a 122 OPS+ since his breakout 2011 campaign.
Maxwell joins a growing movement across sports

The Yankees punched their ticket to the playoffs with a win over the Blue Jays on Saturday

Sabathia's stance seems to be an increasingly popular one among athletes
Plus the A's and Brewers have hope, Giancarlo goes deep again, and much more

Matt Chapman and Matt Olson give the A's hope

Despite an awful month, the Dodgers are again NL West champions