All-Time Single-Season Team: Minnesota Twins
Our look at the best single-season teams in each franchise's history continues today with the Minnesota Twins.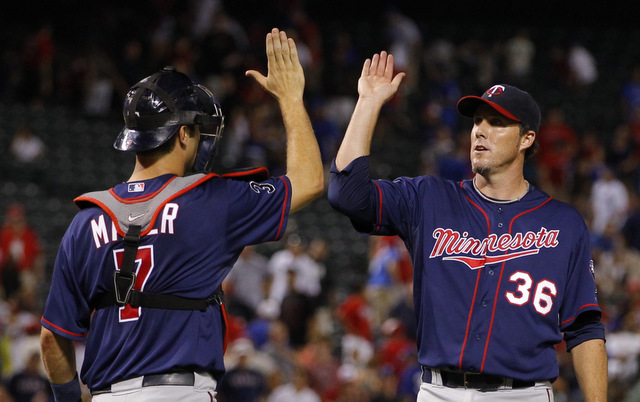 All-Time Single-Season Teams: CHC | STL | MIL | CIN | PIT | CHW | DET | KCR | CLE
Our series looking at the best single seasons at each position for all 30 clubs continues with another entry today. What's this series all about, you ask? Here's the explanation:
Obviously, the term "single-season" implies that we're focused on brilliance within the confines of one campaign and not, say, career value or even value across a handful of seasons in the same uniform. While this is no doubt a largely subjective undertaking, please bear that in mind before airing objections. Or not. Whatever.

Also, we're largely limiting the selections to those of modern era (i.e., from 1900 onward) in large part because the "primordial soup" days of the sport bear only the most basic resemblances to the game played today. That's more a general principle than hard-and-fast rule, though. As well, a player can appear only once on the team in question. So even those who excelled at multiple positions over the years will be assigned one spot and one spot only.
Today we're going to cover the Minnesota Twins, who came into existence in 1961. They were the Washington Senators (1901-60) before that. Both Twins players and Senators players are eligible for this post.
CATCHER -- 2009 Joe Mauer
You weren't expecting someone else, were you? Mauer is far and away the best catcher in franchise history -- his fifth best season is better than any other Twins catcher's best season. During his MVP year in 2009, Mauer led the league in batting average (.365), on-base percentage (.444), slugging percentage (.587), OPS (1.031) and OPS+ (171) while swatting 28 homers and driving in 96 runs. He also walked (76) more than he struck out (63) and played Gold Glove level defense. Easy call here and no serious competition.
FIRST BASE -- 1967 Harmon Killebrew
We could have gone with several Killebrew seasons at first, but his MVP winning campaign seems like the logical choice. He hit .276/.427/.584 (177 OPS+) that year while leading the circuit with 49 homers and 140 RBI. Killebrew had eight 40+ home run seasons long before they became cool in the 1990s and early-2000s.
Other first base notables include 1964 Bob Allison, 1984 and 1988 Kent Hrbek, and 2006 Justin Morneau.
SECOND BASE -- 1975 Rod Carew
This was a two-horse race between Carew and Chuck Knoblauch. Both guys had several outstanding years and, frankly, it's a toss up between '85 Carew and '96 Knoblauch in my book. Here, look:
Knoblauch: .341/.448/.517 (143 OPS+), 197 H, 35 2B, 14 3B, 13 HR, 72 RBI, 45 SB
Carew: .359/.421/.497 (157 OPS+), 192 H, 24 2B, 4 3B, 14 HR, 80 RBI, 35 SB
Tie goes to the Hall of Famer even though Knoblauch has the defensive edge.
It's worth noting Carew's best season with the Twins came in 1977, when he was named MVP. The problem: he was a full-time first baseman by then. That 1977 campaign is easily the best first base season in franchise history, but Carew played way more games at second for Minnesota, so he's here.
SHORTSTOP -- 1930 Joe Cronin
We're going back to the Washington Senators days at short. Cronin managed a .346/.422/.513 (135 OPS+) batting line with 41 doubles, 13 home runs, 126 RBI, 17 steals, 72 walks and 36 strikeouts during the franchise best shortstop season. He had an excellent seven-year run with the Senators and his 1931-33 seasons were worth consideration as well. Same goes for Zoilo Versalles' MVP-winning 1965 effort.
THIRD BASE -- 1986 Gary Gaetti
I didn't expect to see Gaetti's name during this series, but here we are. The 1986 season was the best of his wholly adequate career, a season that saw him hit .287/.347/.518 (131 OPS+) with 34 home runs, 108 RBI and 14 steals. Yeah, the hot corner has not been kind to the Twins over the years.
Had he not spent more time at first base in his career, Killebrew would have been eligible at third and an easy call. 2001 Corey Koskie is right there with Gaetti and also worthy of the single-season title. Could have gone either way.
LEFT FIELD -- 1928 Goose Goslin
It is Goslin and everyone else in left field, for the most part. His best season with the Senators came in 1928, when he won the batting title (.379) and also posted stellar on-base (.442) and slugging (.614) percentages. Goslin drove in 102 runs while swatting 17 homers and stealing 16 bases, good enough to finish sixth in the MVP voting. His 1924-27 seasons were outstanding as well, ditto Ed Delahanty's 1902 effort.
CENTER FIELD -- 1988 Kirby Puckett
Puckett is the obvious call in center, but which season? Four stand out:
1986: .328/.366/.537 (142 OPS+), 223 H, 37 2B, 6 3B, 31 HR, 96 RBI, 20 SB
1987: .332/.367/.534 (132 OPS+), 207 H, 32 2B, 5 3B, 28 HR, 99 RBI, 12 SB
1988: .356/.375/.545 (153 OPS+), 234 H, 42 2B, 5 3B, 24 HR, 121 RBI, 6 SB
1992: .329/.374/.490 (139 OPS+), 210 H, 38 2B, 4 3B, 19 HR, 110 RBI, 17 SB
Four very similar seasons, so we're picking out of a hat. I'm going to go with '88 over '86, trading some homers and steals for a higher on-base percentage and more hits in general. No lose situation here.
RIGHT FIELD -- 1963 Bob Allison
Tony Oliva dominated right field for the Twinkies for the better part of two decades during the 1960s and 1970s, but Allison manages to sneak in there with the franchise's best season at the position. He hit .271/.378/.533 in 1963, good for a league-leading 151 OPS+ and 7.4 WAR, Allison also swatted 35 homers and drove in 91 runs. Just about any Oliva season from 1964-71 deserves a mention.
DESIGNATED HITTER -- 1996 Paul Molitor
Another easy call. The Hall of Famer led the league with 225 hits during his first year with his hometown Twins, hitting .341/.390/.468 (116 OPS+) overall. He drove in 113 runs thanks to 41 doubles, eight triples and nine homers. He even stole 18 bags at age 39.
We could make a strong argument for 2010 Jim Thome, who posted a 182 OPS+ for the Twins. Thome did it in only 340 plate appearances though, roughly half a season. Not enough in my book.
STARTING PITCHERS -- 1913 Walter Johnson, 1959 Camilo Pascual, 1973 Bert Blyleven, 1988 Frank Viola, 2004 Johan Santana
It's a good thing the rules say we can only use a player once per team, otherwise we'd fill two rotations with Walter Johnson before getting to anyone else. The Big Train isn't just the best pitcher in franchise history, you could add the second, third and fourth best pitchers together and still not equal him (152.3 vs. 130.4 WAR). That's nutso. Anyway, onto the stats:
Johnson: 36-7, 1.14 ERA, 259 ERA+, 0.78 WHIP, 346 IP, 243 K, 38 BB
Pascual: 17-10, 2.64 ERA, 149 ERA+, 1.14 WHIP, 238 2/3 IP, 185 K, 69 BB
Blyleven: 20-17, 2.52 ERA, 156 ERA+, 1.12 WHIP, 325 IP, 258 K, 67 BB
Viola: 24-7, 2.64 ERA, 154 ERA+, 1.14 WHIP, 255 1/3 IP, 193 K, 54 BB
Santana: 20-6, 2.61 ERA, 182 ERA+, 0.92 WHIP, 228 IP, 265 K, 54 BB
This group includes two Cy Young (Viola and Santana) and one MVP (Johnson) seasons. It's amazing how Blyleven and Santana are distant No. 2 and 3 starters in the team's all-time single-season rotation.
RELIEF PITCHERS -- 1979 Mike Marshall, 1980 Doug Corbett, 2008 Joe Nathan
Marshall's 1979 season is the mother of all bullpen seasons. He threw 142 2/3 innings (!) across a league-leading 90 appearances, and during that time he pitching to a 2.65 ERA (166 ERA+) with league-leading 32 saves. The guy pitched all the time and he was almost always effective.
The same can be said of Corbett, who managed a 1.98 ERA (221 ERA+) in his 136 1/3 innings back in 1980. Nathan worked a wimpy 67 2/3 innings in 2008 by comparison, though he did record 39 saves with a 1.33 ERA (316 ERA+). These modern relievers have it real good, don't they?
Among the many other notable relief seasons in Twins' history are 1958 Dick Hyde, 1969 Ron Perranoski, 2000 LaTroy Hawkins and 2002 J.C. Romero.
---
THE LINEUP
1975 Rod Carew
1988 Kirby Puckett
2009 Joe Mauer
1967 Harmon Killebrew
1928 Goose Goslin
1963 Bob Allison
1930 Joe Cronin
1996 Paul Molitor
1986 Gary Gaetti
Wednesday: Arizona Diamondbacks
The Angels knew about it and still wanted to sign the potential ace, of course

The Tigers asking price is supposedly very high, though

Your one-stop shop for all things MLB Winter Meetings-related
Bryan Mitchell also heads to San Diego in the reported deal

The super agent is aiming high for free-agent starting pitcher Jake Arrieta's payday

Marcell Ozuna figures to be the next Marlins star on the move