Before becoming a Brave, Maddux rejected larger offer from Yankees
Greg Maddux is going into the Hall of Fame as a Brave, but he had to turn down more money from the Yankees to get to Atlanta in the first place.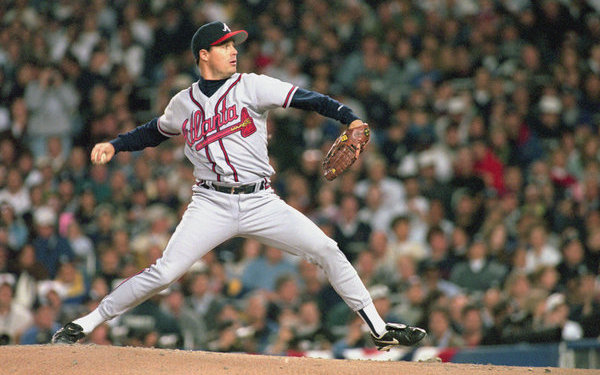 More MLB: Maddux, Glavine, Thomas elected to Hall of Fame | Vote totals
It is not all that often the Yankees lose out on a top free agent. The most notable recent example is Cliff Lee, who rejected their offer during the 2010-11 offseason to return to the Phillies. Aside from him though, the Yankees tend to get the players they want.
That was not always the case, however. Once upon a time, wooing top free agents to the Bronx was not as easy as pulling out the checkbook and making an offer that was too good to refuse. The Yankees tried that approach during the 1992-93 offseason and still lost out on the top free-agent pitcher: new Hall of Famer Greg Maddux.
"If we are going to step out [of our comfort zone], we're going to step out for this guy," said then-Yankees GM Gene Michael in December 1992 (New York Times). "He's the best pitcher available, and he knows our offer is serious. There is no scare in this kid."
Maddux was only 26 at the time and he was the best pitcher in baseball. He won the NL Cy Young Award with the Cubs in 1992 after going 20-11 with a 2.18 ERA (166 ERA+) in 268 innings, his second straight year over 260 innings and fifth straight over 235. Maddux was an elite workhorse and, most importantly, still years away from his 30th birthday.
But the Yankees were not good back then. They went 76-86 in 1992 and had lost at least 86 games every year from 1989-92. Owner George Steinbrenner was banned from the team's day-to-day operations after paying Howie Spira $40,000 to dig up dirt on Dave Winfield, who was feuding with the club. The Yankees weren't just losing, they were losing and dysfunctional. Luring top free agents was going to be hard work.
The Yankees made Maddux a standing contract offer: five years and $35 million. A pittance by today's standards but it would have made him the highest-paid pitcher in baseball by roughly $1 million per year. There was more to free agency than money for Maddux, as he told Bill Madden of the New York Daily News following his Hall of Fame election:
"What I told Gene at the time was that money won't necessarily decide this," Maddux said. "The fact was, I wanted to stay in the National League and I wanted to go with a team that had a chance to win. The Braves had just gone to the seventh game of the World Series where [the Twins'] Jack Morris outdueled Smoltzie [John Smoltz], but while they'd showed interest in me, they hadn't made me an offer."
The Yankees wined and dined Maddux. Michael showed him and his wife around New York City and the suburbs in New Jersey, then took them to a fancy dinner and a Broadway play. Recruiting 101, really. When you're the Yankees and you want a big-name free agent, you pull out all the stops and use the city to your advantage.
"When I dropped him off at the [Plaza Hotel] after the play, I remember Greg saying to me he was going to call [his agent] Scott [Boras] and tell him to make him a Yankee," Michael said.
That didn't happen. As Maddux and his wife returned to their home in Las Vegas, the Braves made Boras a five-year, $28 million offer. They were able to free up some cash by trading lefty Charlie Leibrandt, according to Madden. The Yankees revised their offer to include an up-front signing bonus of $9 million, but it wasn't enough. Maddux took considerably less money ($7 million) to go to the Braves.
"This one hurts," Michael said soon after Maddux agreed to join Atlanta (New York Times). "He's the best one out there. I never thought I could say this, but he's a steal at $28 million. He's a steal."
Michael traded for lefty Jim Abbott and signed lefty Jimmy Key to bolster his rotation after being spurned by Maddux. Maddux, meanwhile, went on to win the next three NL Cy Youngs and help the Braves to the 1995 World Series title while forging his Hall of Fame path. The Yankees didn't return to the postseason until that 1995 season but they did go on to win four World Series in five years from 1996-2000, including two over the Braves. Key beat Maddux in the deciding Game 6 of the 1996 Fall Classic.
Things obviously worked out wonderfully for Maddux, who will be inducted into Cooperstown this July and wear a Braves cap on his plaque. But does he ever think about what could have been had he joined the Yankees rather than Braves in December 1992? Here's what he told Madden:
"I've thought about that a lot," Maddux said. "As I said, my priorities were to stay in the National League and pitch for a team that had a chance to win. I got to do that with the Braves when we won it all in 1995. Had I had a crystal ball, I could have won four World Series with the Yankees!"