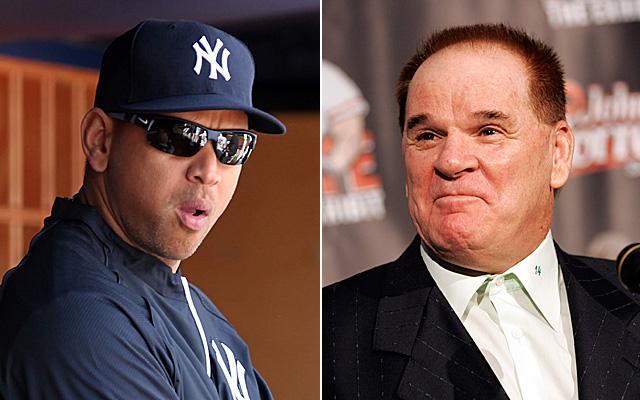 Related: Braun suspended for rest of season | A-Rod, Cruz, Peralta, among 13 suspended
Putting aside feelings for the players involved, the process of the suspensions and only looking objectively at scandals that rocked Major League Baseball, we've just witnessed one of the biggest in the history of the game in the Biogenesis suspensions.
We're talking about 14 suspensions -- Ryan Braun and the 13 from Monday's announcement -- including an MVP (Braun), a three-time MVP with all-time great career numbers (Alex Rodriguez) and three other All-Stars (Jhonny Peralta, Nelson Cruz, Everth Cabrera). This all came without positive drug tests -- other than Braun's but he won his appeal -- and instead was uncovered through an MLB investigation that was spurred on from a local Miami report this past spring. The fact that this happened after baseball has spent the past decade trying to clean up the game -- and the image of the game, to be clear -- makes it even bigger when viewed through that lens.
Not only that, but Bartolo Colon, Melky Cabrera and Yasmani Grandal were suspended last season for failing tests stemming from drugs they received from Biogenesis, the MLB has found and announced.
So that's 17 players, seven of whom have been an All-Star at least once, involved in this scandal. That's pretty big.
But where does it rank on the list of all-time scandals in big-league history?
I believe it's in the top five. Here are the other four:
White Sox throw World Series in 1919
Due to discontent from being underpaid by owner Charles Comiskey, several members of the heavily-favored White Sox decided to throw the World Series against the Reds. Chick Gandil was the kingpin among players while Eddie Cicotte, Lefty Williams, Happy Felsh and Swede Risberg were all definitely in on the fix, according to historical accounts. Fred McMullin caught wind of the fix and joined in while Sleepy Burns was also added to the fray. Third baseman Buck Weaver heard about it but didn't take part and Shoeless Joe Jackson was lumped in with the fix, though his involvement has long been disputed.
Regardless, the "Black Sox scandal" got the aforementioned eight players banned from baseball for life. Weaver was busted not for tanking, but for knowing about the fix and not reporting it. This decision basically ended a decade-plus of gambling and game-fixing problems for Major League Baseball. Not only that, but it was the impetus to elect a commissioner, with Judge Kenesaw Mountain Landis taking the helm and handing out the punishment to the "Eight Men Out." In my opinion, this is the biggest scandal in baseball history and would be pretty tough to top.
Pete Rose banned for life for betting on baseball
Three days after Bart Giamatti became baseball's commissioner in 1989, he hired John Dowd to investigate reports that Pete Rose had bet on baseball. The Dowd Report found that Rose had bet on 52 Reds games in 1987, when he was the Reds' manager. Rose was banned from any involvement with Major League Baseball on a permanent basis. He's since admitted he did bet on Reds games, but has maintained he was only betting that his Reds would win -- which, by the way, still carries a lifetime ban under MLB rules.
The Bay Area Laboratory Co-Operative (BALCO)
This scandal spread to many other sports, but if we limit it to baseball, BALCO was connected to a handful of basball players, including superstars Barry Bonds and Jason Giambi. The laboratory was supplying athletes with performance-enhancing drugs known as "the cream" and "the clear," which could be used in a cycle that was undetected in most drug tests. Due to this scandal, MLB increased the penalties for positive tests to 50 games for the first violation, 100 for the second and a lifetime ban for the third positive.
Owner collusion
Throughout baseball's history, there have been several instances where players claimed collusion by the owners in holding down player salaries. The biggest issues came in the mid-to-late 1980s, when arbitrators found the owners guilty of collusion in three different cases, resulting in a settlement of $280 million. It's entirely possible the fallout from the collusion cases had an impact on the 1994 strike, which resulted in the World Series being cancelled -- and, some might argue, the Montreal Expos franchise falling apart, but that's a different discussion for a different day.
---
I believe I'd rank Biogenesis second behind the Black Sox scandal. There's nothing bigger than the sport's biggest event of the year being essentially staged like a professional wrestling event. Nothing could possibly undermine the integrity of the game more than that.
In terms of Pete Rose vs. the Biogenesis scandal, I think Biogenesis has a much bigger impact on the game for two reasons. First of all, Rose was already retired from playing, so the on-field impact was much less than the Biogenesis fallout. Secondly, Rose's gambling on the game was much more isolated than the use of performance-enhancing drugs. It was just one guy. As for BALCO, that's close, but it didn't lead to massive suspensions to the players accused like this did. For example, Jason Giambi has never been suspended for PED use even though he apologized in an interview without saying what he was apologizing for.
Some other big scandals in MLB history:
Cocaine in mid-1980s, Pittsburgh and more: Rampant cocaine use -- and other drugs like amphetamines, aka "greenies" -- went through baseball in the 1980s and it came to a head in 1985 with the Pittsburgh Drug Trials. A number of Pittsburgh cocaine dealers were busted after being connected to the Pirates' clubhouse in Three Rivers Stadium. In terms of Major League Baseball, seven players were suspended for the entire 1986 season: Dave Parker, Keith Hernandez, Lonnie Smith, Joaquin Andujar, Jeffrey Leonard, Enos Cabbell and Dale Berra. Of course, they were allowed to play as long as they donated salary to drug-related community service, submitted to random drug testing and performed community service. I rank this below the above scandals because it was more an off-field problem than one that affected the integrity of the game. And, again, the players didn't actually serve their suspensions, so the on-field product was minimally affected.
Leo Durocher suspension: Still paranoid over gambling of any sort, MLB suspended the Dodgers manager for the entire 1947 due to allegations that he had rigged a game of craps, which allegedly screwed an active MLB player out of a decent chunk of money.
Steinbrenner-Spira-Winfield: Yankees boss George Steinbrenner was suspended for life from Yankees day-to-day operations by commissioner Fay Vincent for hiring paying investigator Howard Spira to dig up some dirt on Yankees outfielder Dave Winfield -- after Winfield sued the Yankees for not contributing money to his foundation, which was part of his contract -- before eventually trading him in 1990. Steinbrenner was allowed to continue owning the Yankees and he was fully reinstated in 1993.
---
I didn't include stuff like Marge Schott or John Rocker being suspended because racist comments aren't really a scandal. They're pure ignorance, not scandals.
So, what say you? Where does the Biogenesis scandal rank in the history of Major League Baseball?