Bobby Jenks arrested on DUI, more
Red Sox relief pitcher Bobby Jenks was arrested early Friday morning on charges of DUI, property damage and hit-and-run.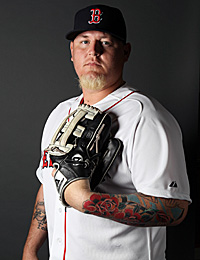 Red Sox relief pitcher
Bobby Jenks
was arrested early Friday morning on charges of DUI, property damage and hit-and-run, according to a
Lee County Sheriff's Office report
.
He was arrested at 3:43 a.m. and released at 8:45 a.m. There are five charges in all, all five of which are misdemeanors.
More information can be learned from the police report (via
WEEI.com
). Here are the main details. Again, this is all directly from the police report:
• Jenks was pulled over after his Mercedes crossed over all three lanes and up onto a sidewalk at one point. When Jenks was asked if he knew why he was pulled over, he replied, "probably because I was all over the road back there."
• Jenks said he was driving that way because he "took too many muscle relaxers."
• The police officer noted Jenks was "shaking uncontrollably and he had a difficult time speaking." EMS was called and found Jenks to not be having any sort of medical condition.
• When asked if he took anything besides the muscle relaxers, Jenks' reply: "I'm going to be honest with you, I was just leaving Babes because I hit a car. I just had to get out of there."
• Jenks agreed to taking field sobriety exams, but said to the officer, "I'm going to fail it."
• Back at Babes, a bouncer described a Mercedes with a driver that fit Jenks' description smashing into a parked car. The bouncer asked the man to get a cab and the driver instead drove off.
• After being transported to the jail and waiting a 20-minute observation period, Jenks took a breath test and it measured .000 BAC.
Jenks, 31, was already set to miss around half of this season -- he's on the 60-day disabled list -- after having a pair of offseason back surgeries.
Jenks is set to make $6 million this season, the final year of his two-year, $12 million contract signed prior to the 2011 season.
The Red Sox have released the following statement: "We have been made aware of a situation regarding Bobby Jenks and take such matters seriously. We are gathering information and will refrain from further comment at this time."
For more baseball news, rumors and analysis, follow @EyeOnBaseball on Twitter, subscribe to the RSS feed and "like" us on Facebook.
The O's need rotation help, and Cobb is available for hire

The Red Sox and Cardinals are expected to make trade offers next

The free agent first baseman may be a fit in St. Louis
The front office changes in Atlanta continue

The Marlins are more likely than you think on our list

Judge finished a distant second in the balloting and he paid respect to the winner