Bobby Valentine calls Rays' coaches 'unprofessional'
After Tampa Bay manager Joe Maddon had strong words for the Red Sox staff, Boston manager Bobby Valentine fired back Saturday calling the Rays' staff "unprofessional" and "out of control."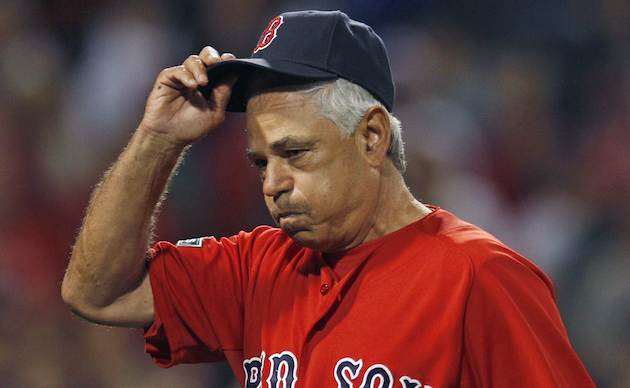 After Friday's near brawl in Boston, Joe Maddon had plenty to say about the
Red Sox
targeting his players -- and
Luke Scott
heavily hinted that Red Sox manager Bobby Valentine was to blame for him being hit in the ninth inning.
Saturday, Valentine struck back, calling the
Rays
' coaches "unprofessional."
"They seemed immature, out of control," Valentine told reporters (
via the Boston Herald
). "Coaches are supposed to stop this from happening and their coaches were aggressive, agitating and instigating."
Here's the video of the incident:

Friday night Maddon said
it wasn't the fault of the Red Sox players, but "someone flexing their muscles on the other side that really needs to put them in their back pocket and understand they could really hurt their team by doing something like that." He also tweeted that it was "ridiculous, absurd, idiotic, incompetent, cowardly behavior."
Maddon refused to comment on Valentine's exact comments on Saturday, but add some to his comments from Friday by complimenting the Red Sox players and, by omission, getting his point across about Valentine and the Red Sox staff.
"The thing I would like to cover today, if I may, is how much respect I have for the Red Sox players," Maddon told reporters (
via the Providence Journal
). I've been doing this now for seven or eight years in the American League East and I've had a strong feeling for the professionalism of the Red Sox players that entire time. Guys like [David] Ortiz, [Dustin] Pedroia, [Kevin] Youkilis, [Josh] Beckett, who's pitching tonight. My respect goes out to them."
As if this series didn't have enough juice already, these two teams meet 11 more times this season.
For more baseball news, rumors and analysis, follow @EyeOnBaseball on Twitter, subscribe to the RSS feed and "like" us on Facebook.
Judge and Sanchez played huge roles in the Game 4 comeback

The Yankees trailed by four going to the bottom of the seventh and still won
The Yankees rookie was caught stealing vs. the Astros in Game 4 of the ALCS, but he took the...

The Cubs are facing a right-handed starter for the first time in the NLCS

The Red Sox should probably just lay low on Twitter for a while