Braun: 'I'll just let my work speak for itself, as every artist should'
Disgraced slugger Ryan Braun knows he will booed following his PED suspension, but he isn't concerned about that.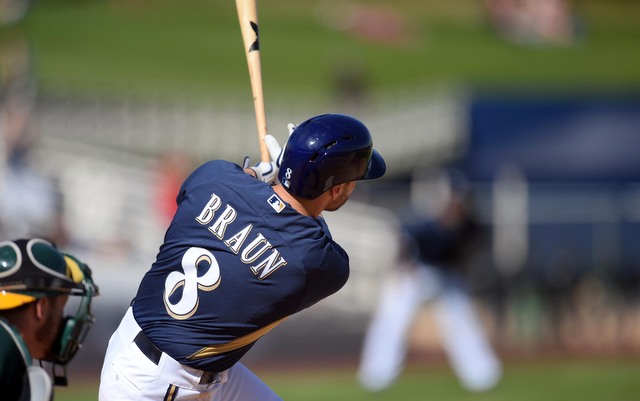 MORE: Spring Training | Scoreboard | FA tracker: hitters | FA tracker: pitchers
With Alex Rodriguez suspended for the season, I'm not sure there is a more hated active player right now than Ryan Braun. He served a 65-game suspension for his ties to Biogenesis last year, but not before beating a failed performance-enhancing drug test in an appeal during the 2011-12 offseason and dragging several people through the mud along the way.
The boos and nasty chants have already started in spring training, but Braun told Bob Nightengale of USA Today they don't bother him:
"Dude, say what you want about me, but I am strong,'' Braun says in an exclusive interview with USA TODAY Sports. "Mentally, and emotionally, I am strong.

"This doesn't bother me. People may have something new to yell now, but it's really no different than anything I've gone though. I've never gone to Chicago and had them cheer for me. I've never gone to St. Louis and had them say, "I hope you do great.' Nobody's fans have ever cheered for the opposing team's best player.

"I'm sure it will be a bit adventuresome at times this year, but if anything, it's probably better now. Normally, you go to Philly and Chicago, and they're talking about your mom, your sister, your girlfriend, whatever. So, now, it will be just about me.''
Braun, 30, is 7 for 11 with two doubles, two homers, three walks and one strikeout in six spring training games so far. He heard "M-V-P-E-D" chants earlier this spring according to Nightengale -- I applaud the creativity -- and is regularly heckled not just while at the plate, but while in the field and the on-deck circle as well.
Still, Braun is not concerned about what he hears from the fans because he can't control it. He is focused on getting back to being one of the best players in the world.
"I'm one of the league leaders in confidence,'' says Braun, who is hitting .636 this spring with two homers. "If I perform like I've always done, I'll be one of the best players in this game. I don't need any added motivation of drama at work.

"I'll just let my work speak for itself, as every artist should.''
An artist, huh? No, I would not say confidence is a problem for Braun at this point.
Colon wants to break a Dennis Martinez record

The Twins have been rumored to be interested in Darvish all winter

Rolen is one of the best third basemen of all time, but you wouldn't know it based on this...
Neither Josh Donaldson nor Brian Dozier have talked about a new contract extension

Francisco leads the Dominican Winter League with seven home runs

Thome deserves enshrinement and here's why the case against him does not hold up