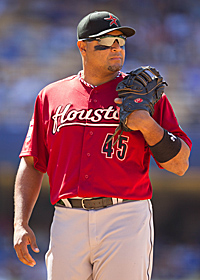 Astros first baseman Carlos Lee has been traded to the Miami Marlins, the Astros announced in a press release.
In return, the Astros have acquired minor leaguers Matt Dominguez and Rob Rasmussen.
"Carlos has been an important part of our team and our community in Houston for almost six seasons and he will be missed," said Astros general manager Jeff Luhnow in a statement. "We made this move with an eye towards the future, and are very excited about adding Dominguez and Rasmussen to our talent base. Both players have a bright future."
Lee quickly departed the Astros. "Lee's locker has been cleaned out and he is gone," tweeted Astros beat writer Brian McTaggart. Lee started Wednesday's game against the Pirates and then was removed from the lineup in favor of Matt Downs after his third at-bat.
Lee, 36, entered Wednesday hitting .286/.336/.412 with five homers, 29 RBI, 23 runs and 15 doubles in 65 games this season for Houston. He can still be a productive offensive player, but he's a free agent after the season and is making $18.5 million this year. As the Astros are in rebuilding mode, he was really only of use to them in terms of what he could bring back or save them in salary.
As for salary, evidently the answer is nothing. Ken Rosenthal of Fox Sports reports that Astros are picking up all but the league minimum of what remains on Lee's salary for this season. As for the reported return, here it is:
Dominguez, 22, is a right-handed third baseman. He's hitting .234/.291/.357 with seven homers, 46 RBI, 27 runs and 14 doubles for Triple-A New Orleans. He was a Baseball America top-100 prospect in baseball before the 2009 and 2011 seasons, but his stock has fallen a bit.
Rasmussen, 23, is a left-handed starting pitcher. Through 16 High-A starts this season, he is 4-7 with a 3.90 ERA, 1.36 WHIP and 75 strikeouts in 87 2/3 innings.
Lee had been traded to the Dodgers last week, but as he took a few days to decide whether or not to accept the deal, the Dodgers pulled the plug. Multiple reports Wednesday surfaced that the Marlins weren't on Lee's no-trade list, so the same problem didn't arise this time around.
As for the Marlins, they've been struggling to get offensive production from first base all season, as Gaby Sanchez came into Wednesday hitting .194/.240/.283 with just two home runs. Lee serves as an upgrade immediately. In fact, Sanchez was optioned to Triple-A immediately after the Marlins win Wednesday.
"He should blame himself," Guillen said of Sanchez's demotion (via Joe Capozzi). "We gave him plenty of opportunities."
One final note: Lee played for Guillen as a member of the 2004 White Sox.
For more baseball news, rumors and analysis, follow @EyeOnBaseball on Twitter, subscribe to the RSS feed and "like" us on Facebook.