Chris Carpenter to officially retire
After thoracic outlet syndrome issues prevented veteran starting pitcher Chris Carpenter to throw at all in the majors in 2013, he has decided to officially retire.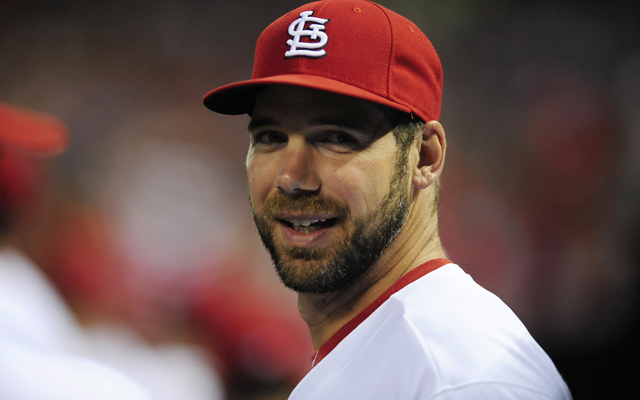 Back in early February, Cardinals pitcher Chris Carpenter was ruled out for the season and the Cardinals painted the picture that retirement was his most likely outcome after the 2013 season.
Wednesday, Carpenter told the Cardinals that he is, in fact, retiring (via Derrick Goold of the St. Louis Post-Dispatch).
Carpenter did work toward a comeback throughout the 2013 season, hitting enough road blocks that he never made his triumphant return to the hill. And now, a very good pitching career is over. He could have been even better -- maybe even making it into Hall of Fame discussions -- if not for a litany of injuries.
Throughout different points in his career, Carpenter dealt with a torn shoulder labrum, a torn ulnar-collateral ligament (which leads to Tommy John surgery) and thoracic outlet syndrome -- his current issue that leads to nerve problems in his neck and shoulder. These injuries caused him to essentially miss entire seasons. He was only able to make seven starts combined in 2003, 2007-08 and 2012-13 combined. He also only made 13 starts in 2002.
Still, through all that turmoil, Carpenter went 144-94 with a 3.76 ERA (116 OPS+) and 1.28 WHIP. He accumulated 1,697 strikeouts in 2,219 1/3 innings. He won the 2005 NL Cy Young, the 2009 NL Comeback Player of the Year and made three All-Star teams.
Carpenter's postseason resume is impressive, as he went 10-4 with a 3.00 ERA and has two World Series rings.
A first-round pick of the Blue Jays out of Trinity High School (Manchester, N.H.), Carpenter debuted with Toronto in 1997 and was with the Jays through the 2002 season. After said season, the Blue Jays removed him from their 40-man roster, Carpenter elected free agency and ended up with the Cardinals, where he would cement his legacy in St. Louis.
With the Cardinals, Carpenter went 95-44 with a 3.07 ERA (133 ERA+).
Carpenter made almost $100 million in his playing career ($98,592,956 per baseball-reference.com) and is married with two children. There's been speculation of him eventually going into the coaching ranks or sticking around with the Cardinals in some front office capacity, but it's also possible he'll take some time off in the next few years.