Curt Schilling on cancer, financial problems: 'I brought this on myself'
In a candid interview with ESPN Boston, Schilling blamed his cancer and financial problems on himself.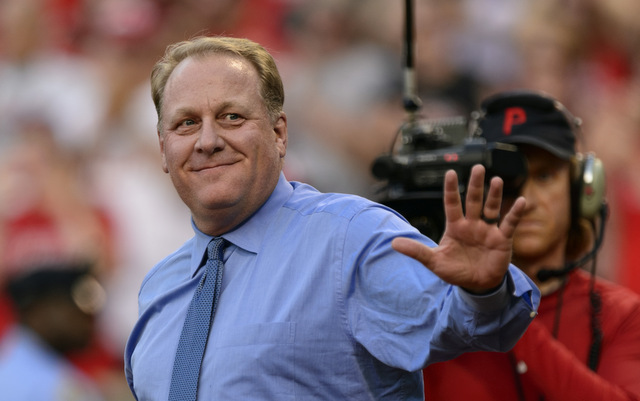 After retiring as arguably the best postseason pitcher in baseball history following the 2007 season, Curt Schilling has battled cancer as well as financial problems due to the collapse of his video game company 38 Studios. He beat the cancer but still lives with the after effects on a daily basis.
In a candid interview with Jackie MacMullan of ESPN Boston, Schilling discussed his cancer and financial problems while blaming no one but himself. He attributes the cancer to using chewing tobacco throughout his career. Here's a snippet:
"I brought this on myself," Schilling said in a lengthy interview in Kansas City earlier this week. "For the last two years I've had to stand in front of my wife and kids and explain to them, 'I lost $50 million and my company went bankrupt, and it was all my fault.'

"Then I had to stand in front of them and tell them, 'I have cancer because I dipped.'

"They are conversations I wouldn't wish on anyone."
Schilling battled numerous infections and twice had pneumonia during his cancer treatment. His salivary glands have been destroyed -- "I still want (to dip). Right now. But the beautiful thing for me is my salivary glands have been destroyed by the radiation, so I can't. I've wanted to dip a couple of times, but I literally can't," he said -- and he is unable to swallow properly, so his meals of choice are Ensure and Boost.
Despite his cancer, Schilling does not necessarily want baseball to ban players from using chewing tobacco.
"It's a challenge for me," he admitted. "I'm not going to sit here and tell you not to do it, but I am going to tell you what will happen to you if you do.

"It's not an 'if', it's a 'when.' You don't see people who are 75 years old dip. That's because they die well before 75. There's a penalty to pay, and you will pay it."
Hall of Famer Tony Gwynn passed away at age 54 earlier this year following a battle with salivary gland cancer. He attributed his cancer to his chewing tobacco habit, though doctors said studies haven't shown a link.
Schilling, 47, is now a television analyst with ESPN.
CBS Sports HQ Daily Newsletter
Get the best highlights and stories - yeah, just the good stuff handpicked by our team to start your day.
Please check the opt-in box to acknowledge that you would like to subscribe.
Thanks for signing up!
Keep an eye on your inbox for the latest sports news.
Sorry!
There was an error processing your subscription.
Here's what's buzzing around baseball for Tuesday

Spider-Man and Piazza both know about having great power

The top of next offseason's free-agent class is quite strong
What caused Harper to be less than his usual self in 2018 and will it last?

Don't plan on Bryce Harper AND Manny Machado winding up in Philly

Sanders is one of few athletes who's been in Murray's shoes