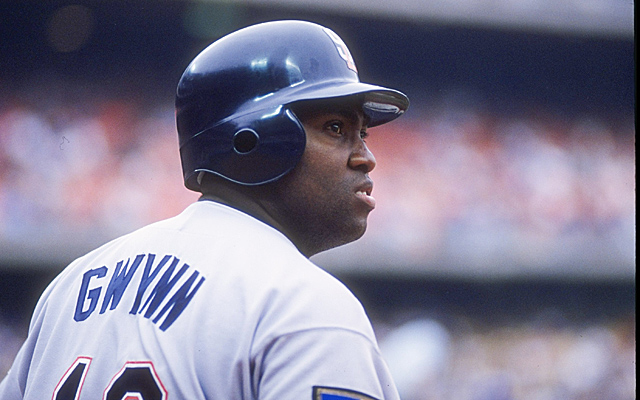 MORE: Gwynn dies at age 54 | Leaderboarding: Gwynn's insane contact numbers
This year marks the 20th anniversary of one of Major League Baseball's bigger black eyes: The 1994 season. Specifically, it was a season that never saw a World Series. After the game action on August 11, the players went on strike and play wouldn't resume until next season.
Among the storylines were the great Montreal Expos -- who were the best team in baseball with a 74-40 record -- and Matt Williams possibly making a run at the home run record (he had 43 homers in 112 games).
And, of course, there was the late, great Tony Gwynn and his batting average. No one has hit .400 in a season since the legendary Ted Williams hit .406 in 1941. The strike of 1994 meant Gwynn would end the season at .394.
So it's worth wondering if Gwynn could have made it. To hit that well and to continue doing so is incredibly difficult, but Gwynn was as locked in as he ever was that season. He was on his way to a career high in homers (he'd end up with 12, his career high at the time was 14) while walking 48 times to just 19 strikeouts.
What's more, Gwynn was actually on a hot streak when the season abruptly ended. In his last 29 games, he was 49-for-115 (.426) with just four strikeouts. In the Padres' 10 games in August, Gwynn was 19-for-40 (.475) with seven multi-hit games and three three-hit games.
He was as consistent as possible that season, with his average never dipping below .376 after April. In fact, the low point in July and/or August was .382.
The Padres had 24 home games left on the schedule compared to 21 on the road. Gwynn was hitting .403 at home that season, compared to a road mark of .387.
Gwynn's average on balls in play that season was an abnormally-high .389, but his career mark was .341 and, really, this stat probably doesn't need to be leaned upon when talking about Gwynn. The simple reality is that he could put the ball where he wanted to more than anyone else in the history of the game. That season was his best, too.
And if the climate would have allowed the games to continue being played in 1994, Gwynn could well have broken the .400 barrier for the first time since World War II.