Dodgers have yet to start talks with Kershaw, who has new representation
Los Angeles is understandably focused at the moment on Ryu Hyun-Jin, the Korean lefthander they hope to sign, plus free agent Zack Greinke and others.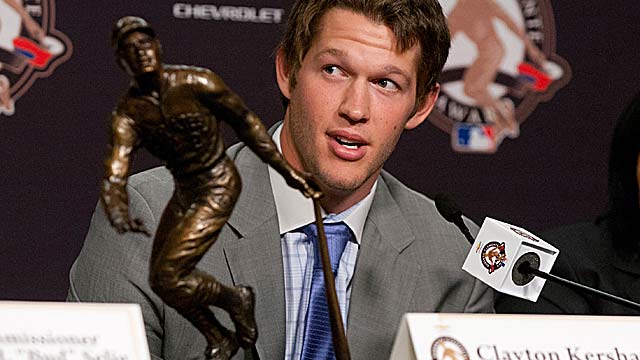 Clayton Kershaw finished second in the NL Cy Young voting this past season after winning it in 2011.
(Getty Images)
The Dodgers, focusing on more immediate pitching concerns, have yet to begin talks on a possible new long-term deal for star lefthander Clayton Kershaw, who finished second in the N.L. Cy Young voting this year after winning the award in 2011, sources said.
Though Dodgers GM Ned Colletti has said Kershaw is on their winter agenda and it's hard to imagine baseball's new biggest spenders letting one of baseball's best starting pitchers get away, Kershaw has beefed up his representation, as he's moved with longtime point man J.D. Smart from Hendricks Sports to Excel Sports. Veteran New York-based agent Casey Close, who will assist Smart in talks, oversees Excel's baseball department.
Kershaw has long been repped by Smart, who left Hendricks Sports for Excel a few months ago, Liz Mullen of Sports Business Journal reported. Kershaw remained with Smart after the move, sources say.
Kershaw, who went 14-9 with a league-leading .253 ERA and 229 strikeouts, is to make $11 million in 2013 as part of a two-year deal signed while with Hendricks. The 2012 Roberto Clemente award winner is a free agent after 2014.
The Dodgers are focusing at the moment on more immediate pitching concerns now, such as the negotiations for Korean lefthander Ryu Hyun-Jin and the pursuit of another free-agent starter, with Zack Greinke, Anibal Sanchez and possibly Kyle Lohse on their radar after Hiroki Kuroda remained with the Yankees. LA won the bidding for Ryu with a $25.7-million bid and has three weeks left to sign him.
Close, like the Dodgers, is quite busy. He represents Greinke, the top free-agent pitcher, as well as other free agents, including Scott Hairston and Casey Kotchman.
Close/Excel also now have veteran Yankees star Andy Pettitte after hiring agent Jim Murray, Pettitte's longtime point man at Hendricks. The Hendricks Agency, long known for repping baseball stars, especially ones near them in Houston (Roger Clemens is their most famous client), has been depleted by staff defections this year.
Pettitte is expected to decide by sometime next week whether he will return for another season with the Yankees. The team expects he likely will come back though it hasn't heard from him officially.
A beardless Wilson says that he tried to outrun the police on the second day he had his driver's...

The Diamondbacks outfielder was not impaired, he was just going way too fast

MLB can unilaterally implement rule changes, which will also include limits on mound visit...
If the MLBPA wants to repair MLB's salary structure, it should push for more money for young...

Fans aren't happy Gerrit Cole and Andrew McCutchen have been traded away

Acuna is arguably the best prospect in baseball