Dodgers shortstop Hanley Ramirez has rib fracture, status questionable
Potentially bad news for the Dodgers, as their best hitter is dealing with a limiting injury.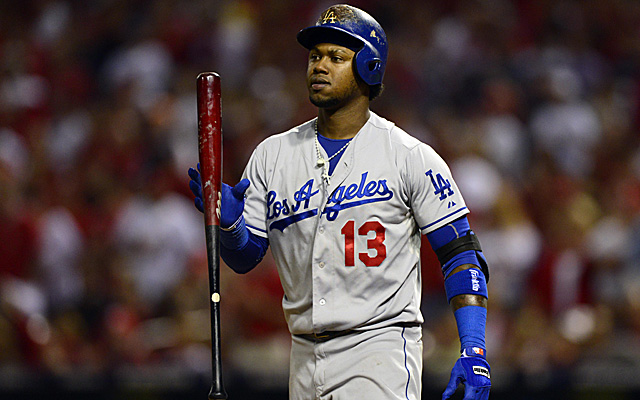 MORE: NLCS Game 3 preview
LOS ANGELES -- Consider Dodgers shortstop Hanley Ramirez highly questionable for the time being. Ramirez, of course, was plunked in the ribs in Game 1 of the NLCS between the Dodgers and Cardinals and wasn't able to play in Game 2. Initial x-rays showed no fracture, but a subsequent CT scan indeed revealed a hairline break. 
During his presser before Monday's Game 3 at Dodger Stadium, LA manager Don Mattingly said Ramirez isn't ruled out and that his injury is not such that it would be worsened by playing. However, his ability to swing a bat is uncertain at this writing, and his status -- along with the status of oufielder Andre Ethier (ankle) -- won't be determined for Game 3 until each attempts to take batting practice later on Monday.
When healthy, Ramirez has been the Dodgers' best hitter in 2013, as he authored a regular-season batting line of .345/.402/.638 and has put up an OPS of 1.528 thus far in the postseason. If he's unable to go in Game 3, he'll likely be replaced by Nick Punto, as was the case in Game 2 in St. Louis. 
Mattingly went on to say that he doesn't think the plunking of Ramirez was intentional and doesn't anticipate any retaliation. 
The coveted right-hander would certainly be a fit in Milwaukee

We rate the best mustaches from random baseball cards because, why not?

Colon wants to break a Dennis Martinez record
The Twins have been rumored to be interested in Darvish all winter

Rolen is one of the best third basemen of all time, but you wouldn't know it based on this...

Neither Josh Donaldson nor Brian Dozier have talked about a new contract extension