Dodgers wasting no time throwing around big bucks
The Guggenheim group spent $2.15 billion for the Dodgers and it's showing it isn't shy in throwing more money around since taking over the team.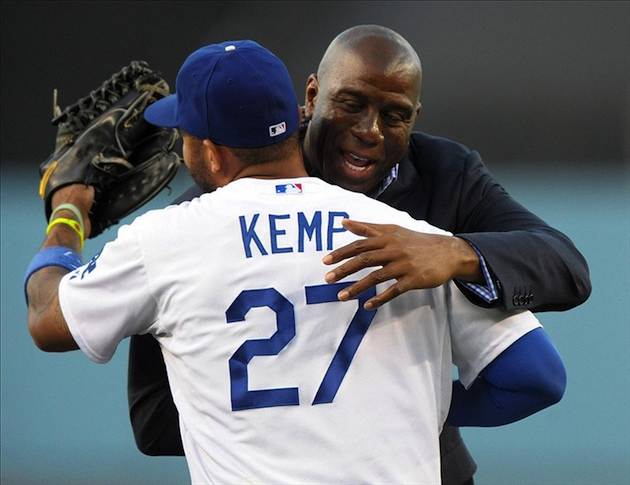 Magic Johnson is the face of an aggressive Dodgers ownership group. (US Presswire)
If you pay $2.15 billion for a baseball team, you're probably not going to start pinching pennies once you have the team.
The new owners of the Dodgers didn't wait until the offseason to remake their team and spend money. With Friday's nine-player trade that brought Adrian Gonzalez, Josh Beckett, Nick Punto and Carl Crawford to Los Angeles, the Dodgers may have an almost entirely new infield from opening day, plus two big additions to the rotation.
Since the takeover of the team by the Guggenheim Group with Magic Johnson as the face and Stan Katsen as the brains, the Dodgers have signed outfielder Bobby Abreu, traded for Hanley Ramirez, Randy Choate, Brandon League, Shane Victorino and Joe Blanton, in addition to the players acquired  from Boston. And those are just the players they got -- Carlos Lee used his no-trade rights to block a deal to the Dodgers and the team also put in a waiver claim on Cliff Lee and his monster contract.
While Carl Crawford won't play again this season after Tommy John surgery, he will be back next year and can take over left field from Victorino, who is a free agent. Also free agents among the newly acquired players are League, Choate and Blanton.
The four former Red Sox have a total of $262.5 million left on their contracts after this season, while Hanley Ramirez has two more years on his contract for a total of $31.5 million. Matt Kemp and Andre Ethier are also signed long-term for $148 million and $85 million, respectively. As well, CBSSports.com Insider Jon Heyman has reported that the Red Sox will send a modest figure of only about $12 million to the Dodgers as part of the blockbuster. 
While even the Yankees have started bristling at paying the luxury tax and have talked about keeping spending down, the Dodgers appear to be the new big-money player in the game. It's not that it's surprising -- they've made it known they'd spend -- but the timing is impressive.
For more baseball news, rumors and analysis, follow @EyeOnBaseball on Twitter, subscribe to the RSS feed and "like" us on Facebook.
Gallardo spent the first eight years of his career in Milwaukee

MLB revenues are at a record high right now, but teams aren't spending it on players

Chicago added Tyler Chatwood earlier this offseason but might not be done adding to the ro...
The Dodgers and Braves pulled off a whopper on Saturday

Sabathia will reportedly spend a 10th season in the Bronx

Fowler suffered a knee injury at Chicago's Guaranteed Rate Field