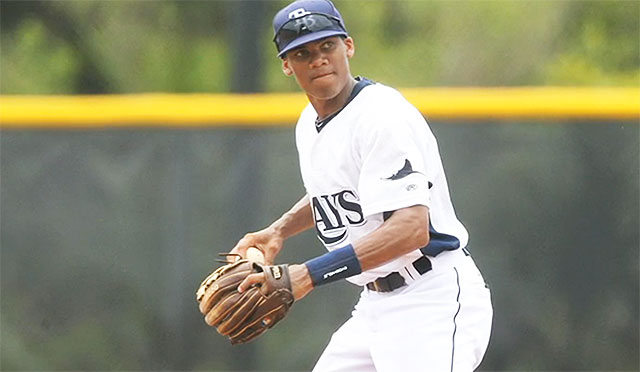 Two years ago, shortstop Brandon Willie Martin was playing in the low minor leagues for the Tampa Bay Rays after being drafted in the first round in 2011. On Friday morning, he was in Corona, Calif. police custody in connection with the shooting deaths of two men -- including his father -- and the grave wounding of his uncle, the Riverside Press Enterprise reports.
Martin, 22, was captured by police after a pursuit that included the K-9 unit. How his capture went down reads like a TV police drama. But it is all too real:
Found dead Thursday were Michael Lee Martin, 64, of Corona, the suspect's father; and Barry Swanson, 62, of Riverside, a subcontractor for ADT security who was at the Winthrop Drive home. Badly injured in the shooting was Ricky Lee Anderson, 51, of Corona, the suspect's uncle, who remained on life support.

On Friday, an off-duty Corona police officer on his way to work when he spotted Brandon Martin in a white Ford F150 that belonged to one of the victims, said Corona police Sgt. Paul Mercado.

The officer alerted patrol officers, who tried to pull Martin over on Mountain Gate Drive and Lincoln Avenue. The suspect refused to stop and led them about a mile north to the Derby location. During the pursuit, officers attempted two PIT maneuvers that both failed, Mercado said.

Martin -- who on Tuesday had been detained for a mental health evaluation -- got out of the car and ran into a home on Derby Street. It was unknown when he was released from the hold.

Mercado also said police don't know how Martin got into the home – where a woman, who was unharmed, was in the shower.

The suspect then ran through the house and jumped out of a second-story window into the backyard of the home, where he was taken down and bitten by a K-9, Mercado said. Martin was taken away from the scene on a stretcher and brought to a nearby hospital. He will be booked once he's cleared.
Taken down by a police dog. A turn of events in a life that seemed to have much going for it not so long ago. Although he did not appear to develop as a prospect with his bat, the Rays picked Martin 38th overall in 2011 out of Santiago High School in Corona because of his defensive abilities, it was said at the time. It was the same draft where right-hander Gerrit Cole went first overall to the Pirates, and Francisco Lindor, Jose Fernandez, Sonny Gray and Joe Panik followed. Two picks after Martin, the Red Sox took Jackie Bradley Jr.
Though his defensive skills were lauded, Martin hit .211 with 23 stolen bases and a .652 on-base plus slugging percentage in 628 career plate appearances. The Rays apparently still own his rights -- there's not an obvious transaction listing him as being released -- but he has not played since the '13 season. His debut in 2013 was positive, even great: He hit a home run in both ends of a doubleheader.
The Rays have had some difficult developments with some of their draft picks and minor leaguers. Most notably, the tragedy of Matt Bush. Martin's story, which is still developing, appears to be the worst of all.