Glove oiled, David Ortiz on the DH, pitchers hitting and October thrills
The World Series shifts to the National League, which means pine time for either David Ortiz or Mike Napoli (it will be Napoli in Game 3) and Allen Craig. As the Red Sox and Cardinals prepare for the next clash, David Ortiz wonders, who wants to watch pitchers hit, anyway?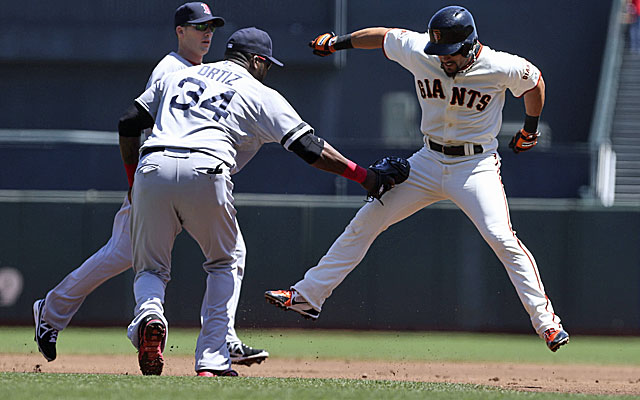 ST. LOUIS -- The Red Sox without David Ortiz in October? Think Boston without Paul Revere. The Boston Harbor without the Tea Party.
But that's where the Red Sox could be in a day … or two … or three. The World Series now shifts to St. Louis, where the National League treats the designated hitter like something your dog left in the backyard. Eight men bat. Then the pitcher.
Don't get the man who now arguably is the greatest DH in history started.
"Who the hell wants to watch the pitcher hit?" Ortiz asked Friday as the Red Sox worked out.
All who agree, raise your hands. The lack of a DH will dramatically affect both teams over these next three days.
The Red Sox will be forced to sit either Ortiz or Mike Napoli. Manager John Farrell intends to play Ortiz at first base in Game 3 and go from there. With right-handers Joe Kelly, Lance Lynn and Adam Wainwright lined up, barring injury, do not be surprised to see Ortiz start all three games at first (even though he only started six there all year, and never as many as three in a row), with Napoli coming in for defense in the late innings.
The Cardinals likely will relegate cleanup hitter Allen Craig to pinch-hitting status. Though the stretched ligaments in his left foot healed enough for him to DH in Games 1 and 2 after sitting out for six weeks, playing first base right now seems, well, a stretch. "Unlikely," Cardinals general manager John Mozeliak said.
"Do you have fun watching the pitcher hit?" Ortiz asked. "Tell me about it. I'll tell you what. The insurance companies, they're going to be mad as hell about the pitchers in the National League, to cover up their contracts, if they're hitting out there and trying to run the bases and doing all the stupid things that we do out there as players.
"I don't have fun watching the pitchers hit. Most of the time, when pitchers come up to hit, it's always with the game on the line. You've either got to put up another guy to pinch-hit for them, or you've gotta stick with the plan because they guy's doing real well.
"I'm like, pitchers are supposed to face hitters. Not pitchers. So I don't know how long it's going to take them to execute that in the National League."
This was after Ortiz, stocking cap protecting him from the 45-degree afternoon chill, spent time fielding ground balls at first base in Busch Stadium. And smacking several balls over the fence, including one (not-so-Green) monster shot that cleared the bullpen in right field and disappeared down a ramp underneath the right-field bleachers. And dancing -- yes, dancing – behind the batting cage with ex-teammates Kevin Millar, Sean Casey and Mike Lowell.
At least, they appeared to be dance steps. Maybe he was simply practicing his first-base footwork.
Funny, talking about things other than Big Papi's big bat. Like, his range at first base.
"Anything around here, I got it," he said, smiling broadly, making a half circle with his hands, down toward his feet, that incorporated the radius of maybe a large take-out pizza. "The hands? Still soft, you know. I can throw some leather out there. …
"I just try not to go too crazy, because that's when you screw things up. I know what to do out there. Trust me. I know what to do.
"I don't try to overdo things. And the communication with the rest of the guys is very important."
He cited Dustin Pedroia in particular, noting that he basically keeps in constant contact with Boston's second baseman when he's in the field, tries to stay out of his way and listens closely as Pedroia tells him before things happen "what he's thinking about doing."
Ortiz played only six games in the field at first base this summer, seven last year and just 19 since 2010.
But if you've watched Ortiz hit this fall, you understand why the Red Sox would outfit him in a goalie's mask and shin guards to play in the field, if that's what it took. With the Tigers' Miguel Cabrera ailing because of that groin injury, Ortiz unquestionably is the most feared hitter to pick up a Louisville Slugger during this entire postseason.
He belted two home runs against the Rays in the first round, the Grand Slam Heard 'Round the World in Game 2 of the ALCS against Detroit and two more (so far) in the World Series.
His opposite-field Monster shot against Michael Wacha on Thursday put Boston on top 2-1, briefly appeared as if it would be a game-winner and elicited his latest October curtain call.
"Obviously, David's bat, at all costs, needs to be in the lineup, and I'm sure John will address that," Jake Peavy, Boston's Game 3 starting pitcher, said Friday.
Farrell confirmed that Ortiz will be in the field behind Peavy, continued to say he will take things day-by-day and then went on to pretty much hint that this definition of day-by-day well could include Games 4 and 5, too.
"Given the right-handed matchups, and take away the matchups, David has got a long career that we all lean on," Farrell said. "And the success that he's having on this postseason [is something] to take advantage of."
At 37, Ortiz can feel winter coming. He's earned a well-deserved reputation as Mr. October, Senor Octubre … pick your language, this is his month. He has 17 homers and 59 RBI over 78 postseason games. He is every bit as October in Boston as Reggie Jackson is in the Bronx.
"Hey, it's hard to get to October, man," Ortiz said. "Especially in the division that we play in, playing in October is the craziest thing to do. So once you're here, man, it's like a dream come true. That's the way I see it.
"I mean, I'm here today. I don't have that much longer in my career left. I don't know when I'm gonna be back here. So I'm definitely gonna enjoy this."
Ask Wacha, or Joaquin Benoit, how much Ortiz is enjoying himself.
Or, just sit back and listen to Ortiz spray one-liners to all fields, as he did when asked what October means to him.
"Right now, nothing. When I'm done playing baseball, I'll probably make some money off of it," he quipped.
Then, he turned nostalgic.
"October's special, man," he said. "Every player brings everything they have, even if things don't go your way. But you see guys trying hard out there. And I'm not going to lie to you, a lot of us put pressure on ourselves, and that works against you. Some moments where you've got to execute, and if you put pressure on yourself it's not going to work that way."
He does not have the exact specs of his own blueprint for not overly applying pressure to himself when the leaves are falling and the games are on the line. But he has a pretty good idea.
"I grew up playing in this – probably, that's why," he said. "Have you ever been to the Dominican watching winter ball? It's like playing in October. Every game. EVERY game. I mean, you want to perform, you want to make sure that the fans go home happy. I don't know how to describe it. Pressure is not my number one option."
But applying pressure to rival pitcher is.
"David is a game-changer," Peavy said. "He's as clutch as anybody I can remember playing with or against.
"It just seems like he has a flair for the dramatic."
There is no telling where that will lead in Busch Stadium, or if it will lead anywhere. That's the most impressive thing about Big Papi's big flair for the dramatic: He makes it look so much easier than it is in real life. For most hitters this autumn, St. Louis pitching has been like attempting to scale Mt. Everest.
So here come the Red Sox and Cardinals on a collision course with NL rules with this World Series deadlocked at 1-1. Ortiz's bat, as ever, remains cocked. Only now, he comes lugging his glove to the scene. Don't be surprised if someone is dusting for fingerprints later.
His temperamental Achilles tendons are fine, he said ("You saw me running from first base the other day"). And, yes, whether he plays in Game 4 will depend on how his wheels (and other assorted body parts) emerge from Game 3.
Whatever they need from me in the field, Ortiz said early in the conversation. One game, two games, three games.
"I'm just an employee," he quipped.
Just like the Mississippi River flowing just beyond the Arch is just another river.
Then he came clean some 20 minutes later.
"Trust me, I'll be fine," Ortiz said. "This is the World Series. There's not excuses. I can be limping and everything. I'm going at it. … Trust me, if I've got to play 10 [in a row at first base], I will.
"I want to win. I want to give this team the opportunity to win. That's how it is in the World Series."
It also is like this: After Game 3, when Farrell consults with Ortiz about his physical well-being before Game 4?
"If he asks me," Ortiz said, "I've got to be dead to say no.
"I'm telling you right now."
Now can we please get this split-personality DH rule figured out, for once and for all?
Another team rumored to be interested in Stanton has confirmed their interest

Chris Woodward has spent the last two seasons with the Dodgers

We heard about it being awful for years, but was it?
Then again, three trades in four days might be behind Jerry Dipoto's usual pace

Ohtani is arguably the best hitter and pitcher in Japan

The O's need rotation help, and Cobb is available for hire