Happy 100th Birthday, Wrigley Field
The first game ever played at Wrigley Field was exactly 100 years ago (April 23, 1914). Here's an ode to my favorite ballpark.
More: Some fun, lesser knowns facts about Wrigley Field
Wrigley Field, the venerable, longtime home to the Chicago Cubs, is now a century old. The first game ever played in the historic venue took place on April 23, 1914. So everyone please wish Wrigley Field a happy 100th birthday. Do it. Now.
Here is a video birthday card:
I'd like to take it a step further.
Wrigley Field is still my favorite ballpark in all of baseball. It was the first place I ever saw a game and it's the place where I've gone most frequently to view baseball in my life. I'm far from alone. Generations upon generations of fans have flocked to Wrigley Field to watch Cubs baseball.
What makes Wrigley unique is what makes it great. There's the inning-by-inning, manual, old-school scoreboard in center field (image via USATSI):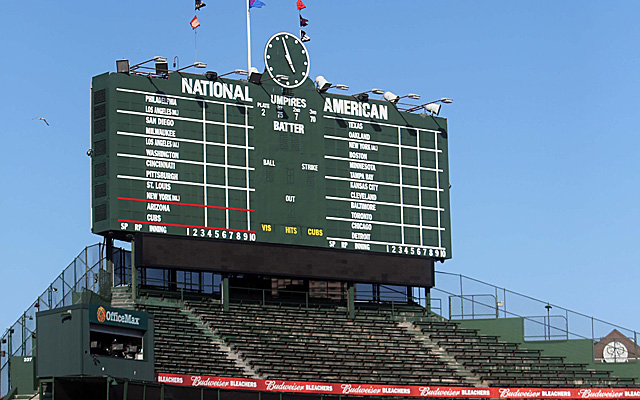 How about the beautiful red facade out front (image via USATSI)?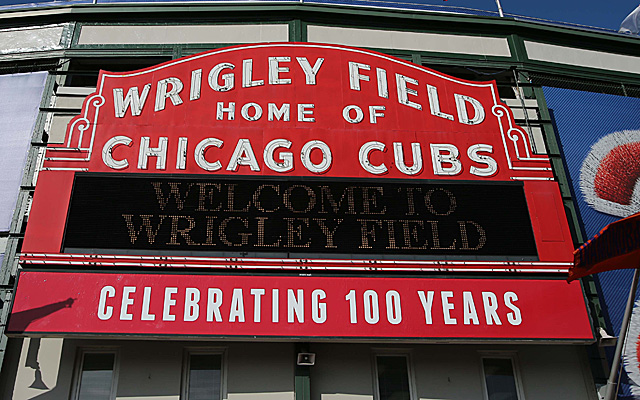 If we could leave the business end out of things, the across-the-street rooftop gatherings are also part of the equation.
And, of course, there's the ivy on the brick outfield wall, which isn't yet grown out this season, given that it's still April. By the middle of the summer, though, the ivy will be a full, beautiful green, just as it has been since Bill Veeck decided to plant ivy out there all the way back in 1937.
Those features alone are worth a visit for non-Cubs fans at least once. Wrigley is a bucket-list type stadium.
Every baseball stadium has a potpourri, but Wrigley's is so endearing. It's like a mish-mash of peanut shells, stale beer, brick dust, freshly-mown lawn, hot dogs, popcorn and hope. Yes, hope. Our good friend Andy Dufresne taught us hope was a good thing long ago and Cubs fans would be wise to embracing this mantra years later in the great Wrigley Field. Hope is a good thing, Red, maybe the best of things. And no good thing ever dies.
For generations of Cubs fans, though, it's so much more than the look and smell and even, yes, the necessary hope. Wrigley Field is a shrine. It's home, in a way. It's where we first heard bleacher bums chanting "left field sucks!" and "right field sucks!" in taunting fashion directed at each other. The view of the outfield when first emerging from a tunnel in the grandstand with the ivy and scoreboard as the backdrop on a beautiful summer day cannot possibly be described or matched. It's just so perfect; so gorgeous. 
Each of us has a childhood memory that stands out above the rest -- mine being that I saw an Andre Dawson homer that didn't count in his MVP season (the game was rained out before the fifth inning was completed and eventually restarted from the top). I went home and made sure to grab No. 8 in Little League because I wanted to be like the Hawk.
Similar stories could be told through the years about players like Gabby Hartnett, Ernie Banks, Ron Santo, Ryne Sandberg, Mark Grace, Derrek Lee and a host of others. Or pitchers like Fergie Jenkins, Greg Maddux and Kerry Wood.
I also almost fell into the outfield basket when retrieving a batting practice home run off the bat of Reds star Eric Davis. Sure, it's a BP ball, but that's pretty cool for a 10-year-old. The basket. Yes, it's another feature that makes Wrigley so great.
I could go on and on and, again, I'm not even remotely alone. Memories are established and then the experiences are passed along from great-grandparents to grandparents to parents to kids for legions of fans everywhere regarding the fun had in Wrigley. It's a special place for many and I urge any readers who have personal stories to share those as well.
Happy 100th Birthday, Wrigley Field. You are truly a special place for many of us. Here's to another 100 years.
The Twins have already fortified the bullpen with Addison Reed, and now they want to address...

The Orioles likely want pitching, and the Indians have plenty of it

Halladay died in a November plane crash off the coast of Florida
The power-hitting outfielder is headed to Toronto

Martinez could add some power to a Boston lineup void of it

It's almost that time of the year again, time for the Tebow madness to return