In Koji Uehara, Red Sox stumbled into elite closer
In attempting to find their next closer after Jonathan Papelbon left, the Red Sox cycled through at least four pitchers before trying Koji Uehara. And now he's as dominant as anyone.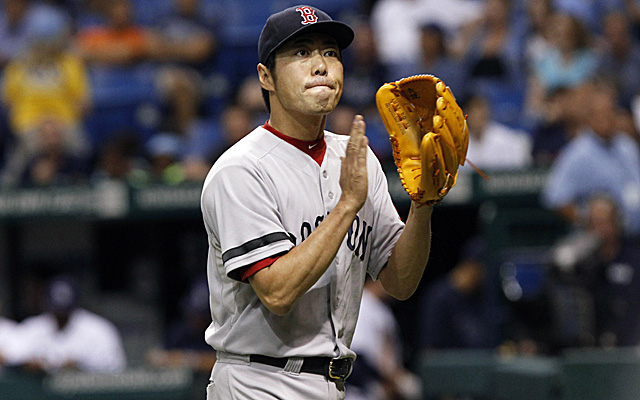 Related: Red Sox clinch playoff berth
The Red Sox had a stud closer in Jonathan Papelbon for six full seasons, 2006-11. When he walked via free agency prior to the 2012 season, it would eventually be a blessing in disguise, though the Red Sox wouldn't find out until about halfway through the 2013 season. That's when the emergence of Koji Uehara as a top-echelon closer emerged. 
In the aftermath of Papelbon leaving, the Red Sox traded for oft-injured Andrew Bailey. They also acquired Mark Melancon from the Astros. Bailey has been mostly ineffective when healthy and hasn't been healthy much (only 49 outings in two seasons). Melancon was a disaster before being shipped back to the NL.
Then, this past offseason, the Red Sox acquired Joel Hanrahan to serve as the closer. He got off to a terrible start before suffering a season-ending injury.
So it was down to the fourth attempt -- if we include Melancon, who was the backup plan to Bailey -- to finally replace Papelbon: Koji Uehara.
And he's been absolutely masterful.
Uehara currently sports an unbelievably gaudy rate-stat line of 1.16 ERA, 0.56 WHIP, 12.4 K/9 (strikeouts per nine) and a whopping 10.67 K/BB.
Let's spell out the latter for proper effect: Uehara has 96 strikeouts and just nine walks this season. That is insane.
When Uehara coughed up the go-ahead run Tuesday night against the Orioles, it marked his first loss of the season and it also broke a streak of 33 2/3 scoreless innings. What's more, Danny Valencia's triple was the first batter to reach base against Uehara in since Aug. 17 -- as he had previously retired 37 straight hitters.
The funny part about how that all went down is that one could argue it was caused by something out of Uehara's control. While Valencia put a charge into his triple, Red Sox center fielder Shane Victorino just missed the ball. He held up his glove and simply missed it. Not only that, injured Jacoby Ellsbury is the regular center fielder and has better range than Victorino, so he likely puts that ball in his hip pocket.
Regardless, both streaks were over and we don't get asterisks or do-overs.
If the Red Sox did, they would have long ago made Uehara the closer. But, hey, better late than never as Boston heads to the postseason with an elite closer who is much more dominant right now than Papelbon ever was.
There's no reason to run over the cases for and against Bonds, so let's have fun instead

The coveted right-hander would certainly be a fit in Milwaukee

We rate the best mustaches from random baseball cards because, why not?
Colon wants to break a Dennis Martinez record

The Twins have been rumored to be interested in Darvish all winter

Rolen is one of the best third basemen of all time, but you wouldn't know it based on this...