Indians closer Chris Perez blasts Cleveland fans
After recording his 13th save of the season on Saturday, Indians closer Chris Perez said, "I'm tired of getting booed at home." He wasn't booed on Saturday, but he has been recently, and he also noted the Indians are last in attendance, despite being first in the AL Central standings.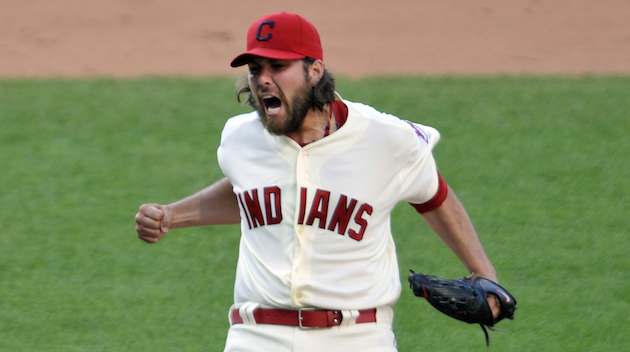 Indians
closer
Chris Perez
was cheered as he walked off the field at Progressive Field on Saturday -- but that seemed to just get him worked up.
After Saturday's 2-0 Indians victory over the
Marlins
, Perez vented about Cleveland's fans.
"I'm tired of getting booed at home," Perez told reporters (
via MLB.com
). "So I figured I'd throw some strikes today. You can quote that."
Perez needed just 10 pitches to strike out all three batters he faced in the ninth inning, picking up his 13th save of the season and lowering his ERA to 3.31.
Perez blew a save on opening day, but that's his only blown save of the season. In a tumultuous season for closers in Major League Baseball, he's been as good as anyone. He did pick up a loss on May 8, but other than those two outings, he's been very good. That, apparently, hasn't kept the Cleveland fans from booing their closer and their first-place team.
Thursday, Perez came into a tie game with the
Mariners
in the 10th inning and gave up a single and walk, which was greeted by boos. Perez was still upset about it on Saturday.
"It doesn't bother me. It [ticks] me off," he said (
MLB.com
). "I don't think they have a reason to boo me."
He also noted the team has the worst average attendance in the big leagues, despite leading the American League Central.
"Guys don't want to come over here, and people wonder why," Perez said (
MLB.com
). "Why doesn't
Carlos Beltran
want to come over here? Well, because of that. That's part of it. It doesn't go unnoticed -- trust us. I'm not calling out the fans. It's just how it is. … Nobody wants to play in front of 5,000 fans. We know the weather [stinks], but people see that. Other players know that.
"You had a choice of playing in
St. Louis
where you get 40,000 like Beltran chose to do, or you can come to Cleveland. It's going to take more money to get him to come to Cleveland. That's just how it is. That's another thing that you have to go against. It's not only the payrolls of the East teams, but that kind of stuff."
It sounds harsh -- but I'm not sure he said anything that wasn't true.

Gallardo spent the first eight years of his career in Milwaukee

MLB revenues are at a record high right now, but teams aren't spending it on players

Chicago added Tyler Chatwood earlier this offseason but might not be done adding to the ro...
The Dodgers and Braves pulled off a whopper on Saturday

Sabathia will reportedly spend a 10th season in the Bronx

Fowler suffered a knee injury at Chicago's Guaranteed Rate Field