Jack Clark wants to take dueling lie-detector tests with Albert Pujols
Jack Clark was fired from his radio show after saying he knows for a fact Albert Pujols uses PEDs. Now, Clark has challenged Pujols to a lie-detector test.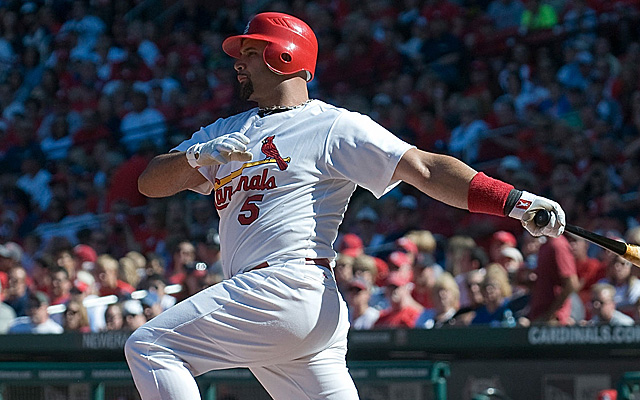 One might recall that back in August, former Cardinals slugger Jack Clark alleged that he knows "for a fact" that former Cardinals slugger Albert Pujols is a "juicer" on his radio show.
Clark ended up being fired for the comments and the St. Louis radio station upon which he made the comments offered up a swift retraction and apology.
One of Clark's assertions was that former Pujols trainer Chris Mihlfeld told him in confidence about shooting up Pujols with PEDs and Mihlfeld has since denied the claim.
Now, Pujols is suing Clark for defamation -- a pretty strong rebuttal -- but Clark won't back down. In fact, Clark is digging in his heels, because his attorney has sent a letter to Pujols' representation with a challenge.
The details, from stltoday.com:
In the letter from Clark's attorney Al Watkins, Clark proposed settling the lawsuit by both sides submitting to polygraph tests.

Pujols would be asked if "he is being deceptive when he asserts that he has never used steroids or performance enhancing drugs while in the minor and major leagues." 

Clark would be asked if he is being deceptive about Mihlfeld telling him that Pujols "juiced."

The letter laid out various remedies pending the outcome of the polygraphs. All of them involved one party or another apologizing. 

Watkins said his client already has admitted to a poor choice of words for claiming he knew for certain that Pujols used steroids. Clark had that information only secondhand, Watkins said.
If Pujols bringing a defamation lawsuit was strong, Clark's move is even stronger -- at least in terms of grandstanding for the public. Pujols is now in a pretty bad spot. If he takes the polygraph, he chances slipping up -- and the polygraphs aren't reliable enough to be admissable in court, for example. If he turns down the offer, he looks guilty. His only way to win is if he takes the (again, possibly unreliable and definitely inadmissable in court) test, passes it and Clark fails it.
Your move, Albert.
The former Tigers teammates were voted into Cooperstown by the 16-person Modern Era Commit...

The Yankees still have room for a good-sized signing even after Saturday's trade with Miam...

St. Louis gets some much needed help for their bullpen
Keep tabs on the top 50 free agents right here

Morrow thrived with the Dodgers last season

Boston needs a power bat, among other things