Japanese high school pitcher throws 391 pitches in four-day span
Japanese high schooler Tomohiro Anraku has thrown 391 pitches in a four-day span this week during a tournament.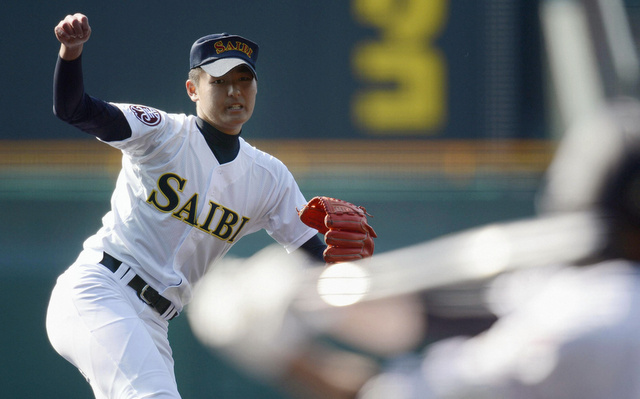 "Spring Koshien" is Japan's major high school tournament and often a coming-out party for the country's top amateur players. Daisuke Matsuzaka and Yu Darvish both starred in the tournament once upon a time. Last year, Shohei Otani made a name for himself at the event.
This year's pitching sensation is right-hander Tomohiro Anraku, a 16-year-old sophomore at Saibi High in Ehime Prefecture. As Ben Badler of Baseball America notes, Anraku has thrown 391 pitches across 22 innings over the last four days. Saturday's nine-inning, 159-pitch start came after a 13-inning, 232-pitch (!) effort on Tuesday. Saibi won both games.
Earlier this week, Badler provided a scouting report on Anraku:
At his best, Anraku's fastball ranged from 88-94 mph. His 74-78 mph curveball is still inconsistent, but he shows feel to spin the pitch and it could become an above-average offering in the future. He's 6-foot-1, 185 pounds with a drop-and-drive delivery, excellent flexibility and coordination. Like many Japanese pitchers, he wraps his wrist in the back of his arm action and his control is still erratic, but it's a scouting report that makes him one of the best 16-year-old pitchers on the planet.
On Saturday, Badler said Anraku was throwing 84-89 mph early in the game with the occasional 91. He was able to reach back for 94 later on, and his final pitch registered at 92. Anraku struck out eight and allowed three runs in the complete-game win at Koshien Stadium in Nishinomiya.
This goes without saying, but 22 innings and 391 pitches in a four-day span is an insane and dangerous workload for any pitcher, let alone a 16-year-old who is still developing physically. That said, extreme workloads (by our standards) are common for Japanese high schoolers. Anraku is the only pitcher that Saibi has used in the tournament. Their next game is Monday.
As legend has it, Dice-K threw 413 pitches in a three-day span at the tournament in 1998. He threw a complete game the first day, 17 innings the next day, then worked an inning and got the save on the third day. Anraku is younger than Matsuzaka was then, however.
Boston wants to add two big bats to their lineup, not just one

Even more relievers signed on the final day of the Winter Meetings

Keep tabs on the top 50 free agents right here
The league is not happy Ohtani's medical information leaked

Kansas City and Baltimore were quite busy at the Rule 5 Draft

Piscotty's mother was diagnosed with ALS earlier this year