Justin Verlander to get opening day nod for Tigers
Max Scherzer won the Cy Young last season, but Justin Verlander will still get the nod as the Tigers' ace on opening day this season.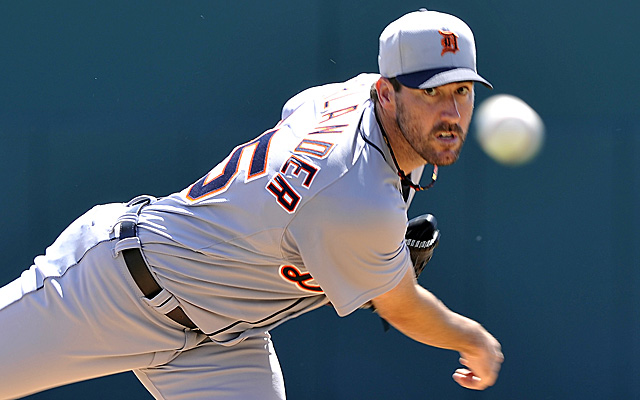 MORE: Spring Training | Scoreboard | FA tracker: hitters | FA tracker: pitchers
Tigers starting pitcher Justin Verlander is going to be the club's opening day starter, and it's actually newsworthy this time around.
For the past several years, there wasn't really a question, but this time around Max Scherzer is the reigning AL Cy Young winner and Verlander is coming off core muscle surgery. This nugget comes via sports researcher James Smyth:
Max Scherzer will be the first reigning Cy Young to not start on opening day since 2005. Brad Radke over Johan Santana, who pitched game two

— James Smyth (@JamesSmyth621) March 17, 2014
This will be Verlander's seventh consecutive opening day start for the Tigers. Not that he's taken it for granted.
"I'm always grateful to pitch on opening day," said Verlander (detroitnews.com). "I know what the day means to Tigers fans. It is like a holiday and I never take it for granted."
Verlander, 31, went 13-12 with a 3.46 ERA, 1.32 WHIP and 217 strikeouts in 218 1/3 innings last season. He made his sixth All-Star Game, but it was a down year by his lofty standards. He did finish hot and thus far in the spring has thrown 8 2/3 shutout innings while striking out six and allowing only two hits.