Leaderboarding: Best relievers at stranding inherited runners in 2013
For this installment of 'Leaderboarding' -- a new series! -- we'll look at the top 10 and bottom three relievers in terms of stranding inherited runners. Sean Doolittle of the A's takes top honors.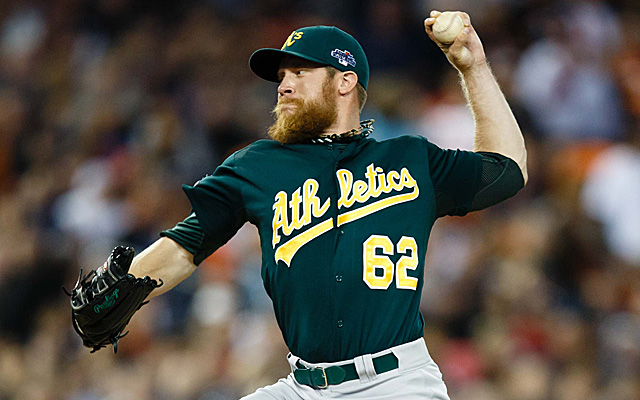 Previous Leaderboarding: Who threw most triple-digit pitches last season
Judging middle relievers on ERA is really tough. In fact, sometimes it's entirely misleading. Much of the time a reliever entering the game in the fifth, sixth or seventh innings does so with runners on base. If he allows those runs to score, they are charged to the previous pitcher(s) from that frame. So a guy could enter the game with two outs and the bases loaded, allow a bases-clearing triple before getting out of the inning, and his box score would show zero earned runs in 1/3 of an inning -- but it was actually an objectively terrible outing.
With this in mind, one of my favorite stats to check for effective middle relief types is the percentage of inherited runners that are stranded. That is, what percentage of runners did a relief pitcher leave on the bases after entering the game. So that's our subject for our latest installment (second overall!) of Eye On Baseball's Leaderboarding.
In order to cut out small sample sizes and show the truly great strand artists of the 2013 season, we've limited our scope to relievers who inherited at least 25 runners this year. A total of 102 relievers qualify, and here are our top 10, with a huge hat-tip to the indispensable baseball-reference.com's play index (click through for the entire list).
[Sorted by "strand rate" in percentages, rounded to tenths. "Strand rate" is used traditionally to talk about something completely different, but for the sake of brevity, we're using it here.]
Pitcher, team


Inherited runners


Inherited runners scored


Strand rate (%)


Appearances


Innings pitched


Sean Doolittle

,

Oakland Athletics




32

2

93.8

70

69

Shawn Kelley

,

New York Yankees




40

4

90

57

53.1

Javier Lopez

,

San Francisco Giants




57

6

89.5

69

39.1

Sam LeCure

,

Cincinnati Reds




27

3

88.9

63

61

Drew Smyly

,

Detroit Tigers




26

3

88.5

63

76

Seth Maness

,

St. Louis Cardinals




58

7

87.9

66

62

Vin Mazzaro

,

Pittsburgh Pirates




32

4

87.5

57

73.2

Joe Thatcher

,

San Diego Padres

/

Arizona Diamondbacks




55

7

87.2

72

39.1

Joel Peralta

,

Tampa Bay Rays

30

4

86.7

80

71.1

Brian Matusz

,

Baltimore Orioles




37

5

86.5

65

51
For those curious who didn't click through to the whole list, here are the three worst:
102: T.J. McFarland of the Orioles allowed 55.56 of his inherited runners to score.
101: Ryan Cook of the A's allowed 15 of his 30 inherited runners to score.
100: Mike Gonzalez of the Milwaukee Brewers only stranded 52.6 of his inherited runners.
A quick takeaway is that Cook's 2.54 ERA shows he's a good-to-great reliever. Allowing half of his inherited runners shows he wasn't nearly that good in 2013. As I said in the intro, reliever ERA can be misleading if the pitcher inherits a decent number of runners and lets a decent percentage of those guys to score.
The man who most stands out to me on the positive end is Javier Lopez. Over the course of his career, he's stranded 80 percent of his 454 inherited runners. He doesn't cough up many of his own, either, as he had a 1.83 ERA last season to go along with a 1.07 WHIP and 8.5 K/9. He rarely allows homers (0.4 HR/9 in career, 0.2 last season) and is left-handed. The low innings pitched compared to number of appearances show that he's more often than not brought into ridiculously high-leverage situations with little margin for error and nearly always succeeds. He has experience closing (albeit limited), setting up and playing the middle man. He's a free agent and teams looking for relief help could do much, much worse.
That isn't to say the rest of the list isn't impressive. There are some great, underrated relievers in there. Coming in with multiple men on base in the seventh inning of a close game is harder than being the closer sometimes.