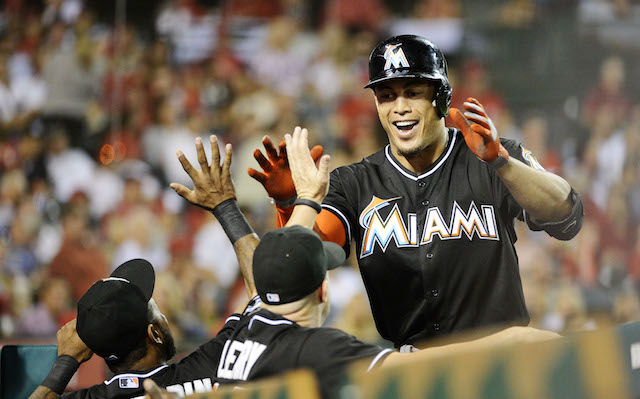 As our own MLB insider Jon Heyman has already reported, the Marlins and Giancarlo Stanton are moving toward a deal that would pay the 25-year-old slugging outfielder $325 million over 13 years. After consulting with various online personal finance calculators, I feel confident in saying that's a lot of money. 
How much money? Well, that contract, provided it's finalized, would rather easily be the largest contract in MLB history. And that tantalizing prospect brings us to this episode of Leaderboarding, in which we run down the 10 biggest contracts in MLB history. We're in a state of presumption for the top spot, as, yes, we'll be assuming Stanton's $325-million pact-to-be gets finalized, signed and possibly even notarized at a local currency exchange. 
To the (very large) numbers ... 
Largest contracts in MLB history 
Player, team
Contract parameters
Years
1. Giancarlo Stanton, Marlins
$325 million, 13 years
2015-27
2. Alex Rodriguez, Yankees
$275 million, 10 years
2008-17
3. Alex Rodriguez, Rangers
$252 million, 10 years
2001-10
4. Miguel Cabrera, Tigers
$248 million, 8 years
2016-23
T-5. Albert Pujols, Angels
$240 million, 10 years
2012-21
T-5. Robinson Cano, Mariners
$240 million, 10 years
2014-23
7. Joey Votto, Reds
$225 million, 10 years
2014-23
8. Clayton Kershaw, Dodgers
$215 million, 7 years
2014-20
9. Prince Fielder, Tigers
$214 million, 9 years
2012-20
10. Derek Jeter, Yankees
$189 million, 10 years
2001-10
Note: Figures you see above don't count any vesting options on the back end, which could increase the value of some of these contracts. Also, that implied overlap between A-Rod's two contracts is because of his opting out of his first deal after the 2007 season. 
Lots of money, that. In fact, the 10 largest contracts in MLB history add up to more than $2.2 billion in guaranteed dollars. Just missing the list? Joe Mauer's $184-million deal that runs through 2018. 
What's immediately striking is the extent to which Stanton's deal, provided it comes to pass, will top the loop. Specifically, it tops A-Rod's Yankees contract by more than 18 percent. That's ... substantial. Adjust A-Rod's $275-million deal for inflation, and it comes to roughly $315 million in today's dollars. Giancarlo still rules all.
As recently noted in this very space, teams hand out these deals knowing they're likely to be drastically overpaying the players in question in the latter years. However, the idea is to extract a surplus of value from the front end, when the player is in his prime in reasonable proximity to his prime. 
As for how these worked out, it's too soon to pass judgment on some of them. That said, Pujols's deal with the Angels certainly looks like a mounting disaster, and A-Rod's second contract has turned out be ill-advised. Fielder's is bad from the team perspective, and Cabrera's, given that it will begin with his age-33 season, looks like it will be an absolute boondoggle. 
On the other hand, some of those were and might yet be value investments for the team. A-Rod's first deal certainly was. From 2001 through 2007 (at which point he opted out, as mentioned), he batted .304/.400/.591 (154 OPS+), never played in fewer than 154 games in a season and averaged 47 homers per year. All that while providing plus fielding at short and then third. As well, Jeter's contract shaped up nicely for the Yankees (his subsequent three-year, $51-million deal was much less advisable).
The best of all might wind up being Kershaw's. He's the top pitcher in baseball right now, and, best of all from the Dodgers' standpoint, his deal expires after his age-32 season. That's typically a nice time to cease one's financial obligations to a player.
As for Stanton, given that Mike Trout's locked up to a value $144.5-million deal, he's likely to sit atop this list for some time. It's a nice list to sit atop of, as it turns out.