Mariano Rivera says he's coming back
Yankees closer Mariano Rivera, who suffered a season-ending knee injury while shagging flies before Thursday night's game against the Royals, says his career isn't over.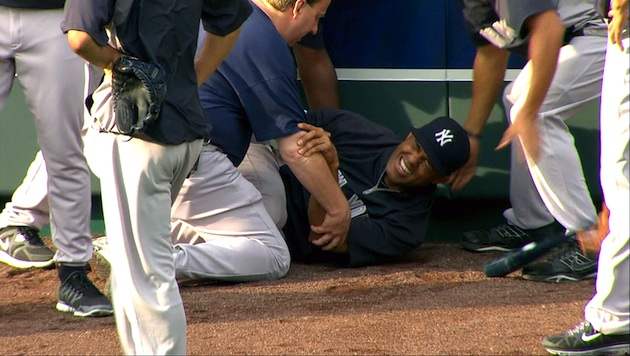 The fear was that the last image we'd have of the great
Mariano Rivera
is
his writhing in pain on the Kauffman Stadium warning track
with a shredded knee. But that won't be the case. Bryan Hock of
MLB
.com tweets
Rivera's resolute words
:
"I'm coming back. Write it down in big letters. I'm not going out like this."
More on Mariano Rivera
Related links
Rivera, age 42, had previously hinted that this might be his last season, and such a serious injury seemingly increased the chances that he'd never pitch again, even though his skills are very much intact. Thankfully, though, Rivera's not inclined to call it a career.
Time tables for his return from that torn ACL vary, of course, and what's ahead for Rivera remains to be seen. But if his playing career has taught us anything, it's that he's not short on determination. The safe assumption is that we'll see Mariano Rivera pitch again. Regardless of how you feel about the pinstripes, that's a wonderful thing for baseball fans.

J.D. Martinez is reportedly headed to Boston on a free-agent contract

Keep tabs on the top 50 free agents on the market right here

Arizona didn't waste much time turning to its fallback option following Martinez's deal with...
The former AL MVP has been one of baseball's best players in recent years

The free-agent slugger will join the Red Sox after all

Harper would prefer if reporters respect his wishes