Mark Buehrle and his annual 'disease'
Once every spring Mark Buehrle skips a start and tries to convince reporters it's because he has "Dutch Elm Disease."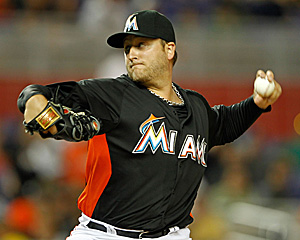 New Marlins pitcher
Mark Buehrle
has a new crowd of beat writers this spring, his first ever for a club other than the White Sox. So when he had a start skipped this week, he had the perfect opportunity to use his apparently long-running joke.
Joe Capozzi of the Palm Beach Post reports
that Buehrle told him he was suffering from "Dutch Elm Disease," but the lefty was unable to keep a straight face long enough to be convincing.
The joke began with the Chicago beat writers.
"I told them, 'They say I have Dutch Elm Disease. Don't know much about it.' I had to be dead serious. I'm trying to hold back," Buehrle said (
Fish Tank blog
).
Buehrle didn't invent the disease, but it's, uh, not human. Upon looking it up, I found that Dutch Elm Disease afflicts elm trees and is spread sexually by beetles. OK then ...
I'm equal parts laughter and confused as to how Buehrle had ever even heard of it. Either way, it's good to see the subtle sense of humor Buehrle is going to bring to the amazingly colorful Marlins.
For more baseball news, rumors and analysis, follow @EyeOnBaseball on Twitter, subscribe to the RSS feed and "like" us on Facebook.