Nationals' cartoonish pitching success steamrolling all in their path
After Tuesday's series-opening win in San Diego, Nationals' starting pitchers have thrown 20 consecutive scoreless innings and lead the majors with a 1.72 ERA in leading club to best start since moving to D.C. in 2005. ...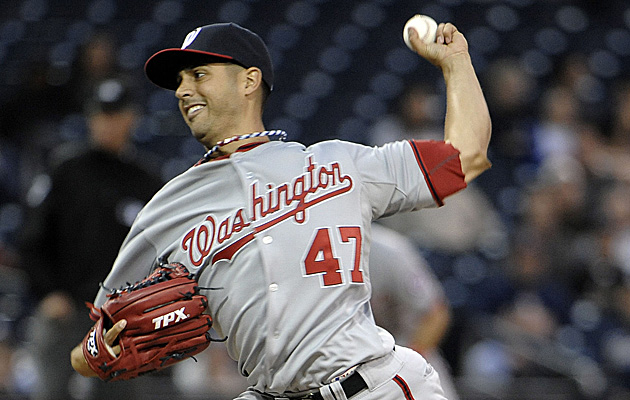 SAN DIEGO -- True facts about the
Nationals
:
-- Their starters' ERA is so low, it has to reach up to tie its shoes.
-- Their staff's opposing batting average is so miniscule, advance scouts need a high-powered telescope just to read it.
--
Stephen Strasburg
once played the
Six Million Dollar Man
on television.
OK, so maybe that last one isn't quite so true. But the Nationals are producing such outrageously cartoonish numbers, at this point, who'd argue? Even the man in charge of overseeing the best pitching staff in the game -- so far -- can't help but marvel and shake his head.
"I'm the best pitch-counter in the big leagues right now," Nationals pitching coach Steve McCatty cracks. "That's all I do, sit there and count pitches."
There is precious little advice to dispense. Very few trips to make the mound. If not for counting those pitches, the way this group is going, McCatty could hang a "Do Not Disturb" sign and disappear into a cat nap each evening.
Strasburg,
Gio Gonzalez
,
Jordan Zimmermann
,
Edwin Jackson
and
Ross Detwiler
have combined for a 1.72 ERA through the season's first 17 games, easily the best rotation ERA in the majors. Make that,
laughably
the best ERA in the majors.
The Cardinals are next at an excellent 2.57, which is still nearly a full run behind Washington's.
In throwing six shutout innings during the Nationals' 3-1 win in San Diego on Tuesday, Gonzalez pushed the starters' streak to 22 consecutive scoreless innings, and his own to 20.
Starters have worked at least six innings in 12 of Washington's 17 games so far, and the Nats have scored scoreless starts from their starters in seven of 17 games (41 percent).
Mix in the relievers, and the Nationals' staff leads the majors in opponents' batting average (.202), OPS against (.562) and Fielding Independent Pitching (2.20).
The hard-throwing, hard-charging Nats have surrendered just three homers all season, also a major-league low.
"Incredible," center fielder
Rick Ankiel
says. "It's unbelievable.
"You almost have to tell yourself to stay in there and be aggressive defensively, because they dominate so much."
Says veteran reliever
Brad Lidge
: "It's been fun to watch, I can tell you that. I'm seeing five guys rear back and let their fastballs go, challenging hitters, not scared of anybody."
There was a buzz surrounding this team during the spring, with the general understanding that these Nationals were closer to winning than they've been in years.
Now that buzz has turned to a roar. Behind this stunningly good pitching, at 13-4, the Nationals have gotten off to their best 17-game start since moving from Montreal to D.C. in 2005.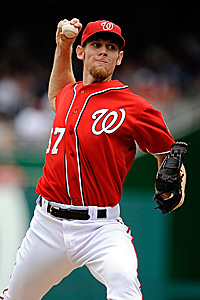 Strasberg, 23, Washington's opening day starter, is 2-0 with a 1.08 ERA. He's whiffed 25 hitters and walked only six in 25 innings. He looks fully recovered from Tommy John ligament transfer surgery, and smarter than ever. Like the rest of the staff, Strasburg is making it a point to pitch to contact so he can be more economical with his pitch counts -- and, thus, have more staying power.
"It's unique to have Strasburg, who can hit 100 miles per hour, willing to pitch at 95, 96 and have guys put the ball in play," McCatty says.
Here, the pitching coach catches himself and laughs when he realizes how ludicrous that sounds. A guy who is
willing to pitch at 95, 96
? What a sacrifice that must be.
From a distance, Hall of Famer Tony Gwynn, Strasburg's coach at San Diego State, watches his former ace and thinks he's back at full strength.
"I'm not surprised," Gwynn says. "I would not be surprised if he's in the All-Star Game this year in Kansas City."
"He's a lot more polished than I thought," Lidge says. "You get a guy that hyped, normally it's because he throws cheese, but he usually doesn't have command and all that other stuff. He does. The curve. Change-up.
"It's pretty fun to watch. Sometimes, with his pitch sequences, you feel sorry for the hitter."
Gonzalez, 26, the lefty acquired from Oakland over the winter, is getting 2.4 ground balls for every fly ball, chipping up opposing hitters like a blender through ice.
Zimmermann, 25, is 0-1 despite a 1.29 ERA and an opponents' batting average of .181. "Great stuff, and very quiet," McCatty says. "I call him the silent assassin."
Jackson, who authored a no-hitter back in 2010, has been the most inconsistent of the quintet -- but though he's 1-1 with a 4.26 ERA, opponents are only hitting .188 against him.
Detwiler, 26, has been the biggest surprise. He's 2-0 with a 0.56 ERA. Opponents are hitting .193 against him.
A string-bean at 6-5 and 192 pounds, Detwiler has the zip at 95 m.p.h. to put hitters away and the changeup to keep them from sitting on the heat. He's not afraid to pitch in, either.
The Nationals' first-round pick (sixth overall) out of Missouri State University in 2007, Detwiler mostly has been pitching on the fringes for the Nationals since '09, yo-yoing between the majors and the minors.
"Det's worked extremely hard," McCatty says of the left-hander. "There were some things he needed to do."
Though his fastball touched 96 when he was drafted, he had a funky, across-his-body delivery that eventually sapped his velocity. Eventually, his heater was a pedestrian 89-91. McCatty and the Nats had a sitdown with him, explaining that he needed to "get on line" and use his legs.
He's done that, and his power fastball has returned. He's back to 95, 96 and making opponents' ears bleed.
"We're young and very talented, and we play with a lot of heart," Strasburg says. "We're still in the process of finding our identity. ... We're learning how to adapt and perservere."
From his perch in center field, Ankiel watches with a knowing familiarity. Once one of the most hyped young pitching phenoms in the game himself, Ankiel has walked where Strasburg is walking. He's toed the rubber Zimmermann is toeing. He's lit up the radar guns Detwiler is lighting up.
"I understand what they're going through," Ankiel says. "It's fun to watch guys who are young who know how to pitch, who are making pitches, not walking guys, pounding the zone, making those guys have to hit it."
From his seat in the bullpen, Lidge watches a whole new phenomenon after spending last season on the same staff in Philadelphia as Roy Halladay, Cliff Lee and Cole Hamels. He sees a resemblance.
"No question, talent-wise," Lidge says. "That being said, the way Cliff, Cole and Roy can manipulate a baseball, that's a unique talent unto itself.
"If you're talking fastball velocity, these guys are up there with anybody."
Start talking. Velocity. Dominance. Shutout innings.These Nationals right now have answers.
From his view in the dugout, McCatty sees flashbacks to that talented and crazy 1981 Oakland A's rotation under manager Billy Martin that included himself, Rick Langford, Mike Norris, Matt Keough and Brian Kingman that combined for 60 complete games -- 27 more than next-closest Cleveland and Detroit -- in a strike-shortened, 109-game season. The flashbacks don't involve the complete games -- who throws those anymore? -- but they do involve the intra-staff competitiveness.
"I'd go 8 2/3 innings and the other guys would ask me, 'Why couldn't you go nine?'" McCatty says. "You didn't want to be the guy who didn't go nine.
"It's a motivating factor. It's a competition.
"Nobody wants to be the weakest link."
deGrom is set to become a free agent after the 2020 season

Perkins missed most of the last two seasons due to injury

Jonathan Singleton was suspended after a third positive test for a drug of abuse
Rodriguez will join Jessica Mendoza and Matt Vasgersian on the "Sunday Night Baseball" boo...

Jeff Wilpon talked about payroll on Tuesday, and it won't make any Mets fan happy

Yelich's agent recently asked the Marlins to trade him before the spring