On this date in 1995: Yankees name Joe Torre new manager
On this date in 1995, the Yankees named Joe Torre their new manager. He led the team to four World Series championships from 1996-2000.
Twenty years ago today, the Yankees hired Joe Torre to be their new manager. The team and manager Buck Showalter split "under amicable terms" following their ALDS loss to the Mariners in 1995.
Torre, then 55, had previous managerial stints with the Mets (1977-81), Braves (1982-84) and Cardinals (1990-95). He had just one division title (1982 Braves) and zero career postseason wins. Torre's career record was 891-1,003 (.470) at the time.
The day after Torre was hired, the New York Daily News ran this now infamous back page cover: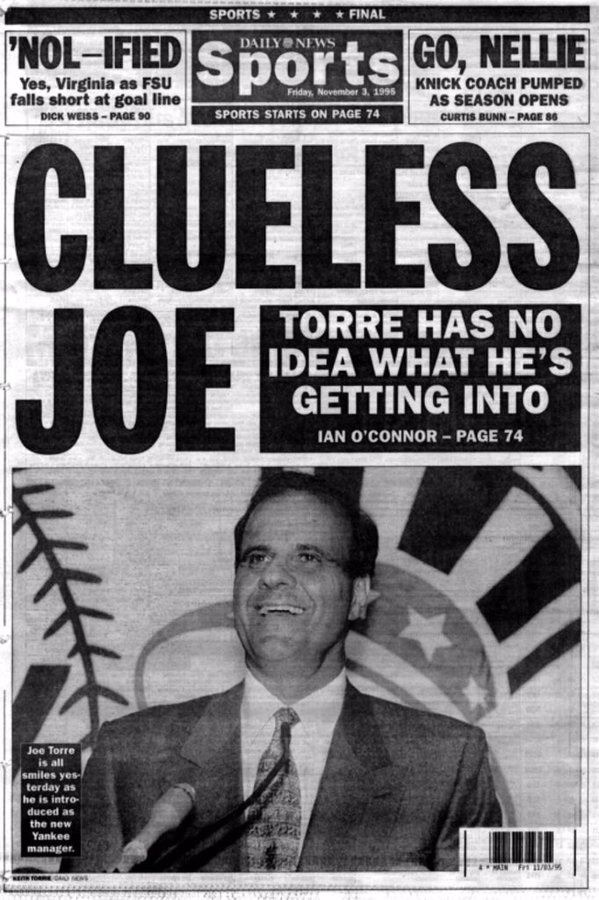 Torre, of course, led the Yankees to the 1996 World Series title, in his first year at the helm. He then led them to the 1998 World Series title. And then two more titles in 1999 and 2000 as well.
The Yankees won four World Series titles in Torre's first five years as manager, and overall they won four championships, six pennants and 10 AL East titles in his 12 years with the team. They went 1,173-767 (.605) under his watch. The Yankees played at a 98-win pace in Torre's 12 years as manager.
Torre was voted into the Hall of Fame by the Expansion Era committee in 2013. He had an excellent playing career but was elected as a manager, specifically for his work with the Yankees.
Hosmer recently signed an eight-year contract with San Diego, and his usual No. 35 was spoken...

As part of the deal, Brandon Drury is reportedly headed to the Bronx

Stoneman Douglas caps will be worn during Friday's spring training games
Arrieta is the top starting pitcher left on the market

The Angels are lowering the fence from 18 feet to 8 feet, so we should see a jump in home...

Mathis is one of the best at something that cannot be measured but is valued