Prime Pedro vs. Prime Koufax is pretty close, seriously
How do Pedro Martinez's prime years (1997-2003) compare to Sandy Koufax's 1962-66 stretch? Pretty favorably.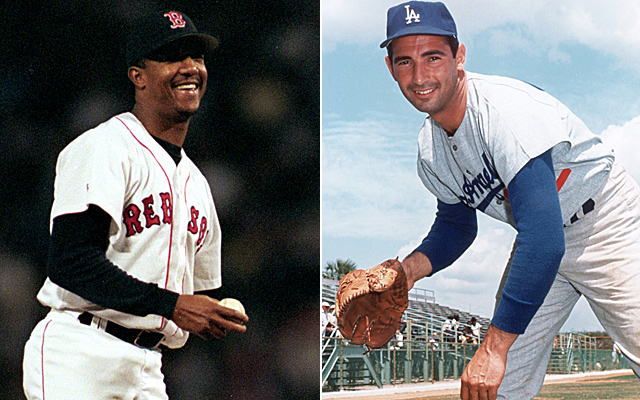 The 2015 Hall of Fame ballot was revealed Monday and there are some pretty intriguing names on it. We'll be discussing every one of them quite frequently over the course of the next six weeks. One storyline that immediately stands out to me is Pedro Martinez's prime, as it was possibly the best prime in baseball history among any pitcher.
[I'll pause while everyone freaks out]
I know, I'm not allowed to suggest anything quasi-contemporary even remotely compares to some of the all-time greats from the distant past. Heresy!
Let's do this to illustrate how good Pedro was in his prime: Compare him to Sandy Koufax. Koufax's final five seasons are generally considered the gold standard among pitchers dominating the league for a prime stretch. I can go to seven years with Pedro and make a pretty good case that he was just as good, though.
We're talking about Koufax from 1962-66 and Martinez from 1997-2003. One thing that'll bog down Martinez a bit is him only making 18 starts in 2001 due to injury. Otherwise, they compare favorably.
Koufax led the league in ERA all five seasons, Martinez led in five of the seven seasons. Each won three Cy Youngs in the highlighted period of time, with Koufax also finishing third once and Martinez adding three more top-three finishes.
Here's the average season for each pitcher in the prime years we discuss:
PM: 17-5, 2.20 ERA, 0.94 WHIP, 252 K, 45 BB, 201 IP, 5 CG, 2 SHO
SK: 22-7, 1.95 ERA, 0.93 WHIP, 289 K, 63 BB, 275 IP, 20 CG, 7 SHO
Again, Martinez's counting averages are brought down by the limited action in 2001, but he's still quite a bit from Koufax in innings pitched and complete games. That's a function of the era more than anything else. Martinez was actually in the top 10 in the league in innings each year from 1997-2000 and complete games in 1997, 1999, 2000 and 2003. He's still dwarfed by Koufax, though, because pitchers in the '60s worked a lot deeper into games and started more often than pitchers in the so-called "Steroid Era."
Speaking of which, Martinez's ERA+ was 213 while Koufax's was 167. This context matters because of the climate of the game. When Martinez had a 1.74 ERA in 2000, for example, the league ERA was 4.91. How ridiculous is that? He was more than three whole runs better than average. Koufax's 1.73 ERA in 1966 was also exceptional, with the league ERA was 3.61. The other prime years were similar for each Martinez and Koufax. As you can see, Martinez was a lot better at run prevention compared to the rest of the league than Koufax.
During Martinez's prime years, the MLB was experiencing the best offensive era in the history of the league. Since 1900, six of the 15 worst league-wide seasonal ERAs came during the aforementioned seven-year prime of Martinez.
From 1997-2003, the league average in runs per game, per team was 4.84. From 1962-66 it was 4.1. That's significant.
Put simply, Martinez in 1997-2003 was one of the most dominant pitchers in baseball history and he was doing it in the most dominant era of offense the MLB has ever seen. Put those two together and mull it over for a second. Is it really crazy to suggest that his stretch was better than Koufax's?
Now, we have to point out Koufax's utter dominance in the postseason in this stretch and, again, the wide gap in workload between the two in the prime stretches. I'll again note the difference in eras accounting for the innings pitched gap, but it's still noteworthy and a big plus for Koufax, as is the postseason dominance.
In all, I don't think we need to definitely pick one and I wouldn't even argue with those who say Koufax was better. The point is that there's enough here to say we can at least discuss the two side by side and that's enough to give Pedro Martinez near unanimous support for the upcoming Hall of Fame vote.
I imagine Martinez is a cinch to make the Hall of Fame on the first ballot and rightfully so, but he still might not get as much recognition as he deserves. Prime Pedro was stupid good.
Keep tabs on the top 50 free agents right here

The Padres have been heavily connected with Hosmer all offseason

The Twins needed rotation help, so the Odorizzi acquisition makes sense
The Rays pulled off a head-scratching move Saturday night

The Rangers will certainly be back in the market for a reliever

Watson will give the Giants a good left-handed reliever