Red Sox ready for Anibal Sanchez's kitchen sink approach in Game 5
Anibal Sanchez and his deep arsenal of pitches caught the Red Sox by surprise in Game 1. They'll have a better idea of what to expect in Game 5.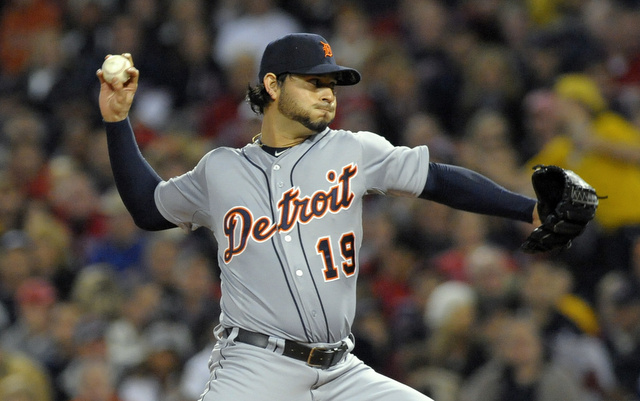 More ALCS: Peavy a 'little too excited' in Game 4 | Tigers respond to lineup changes
DETROIT -- Aside from Shane Victorino, the Red Sox went into Game 1 of the ALCS blind against Tigers right-hander Anibal Sanchez. Victorino had seen him plenty of times dating back to their Phillies-Marlins days, but the rest of the Boston roster had a combined 43 plate appearances against the veteran right-hander. There was very little history and it showed.
With his kitchen-sink approach, Sanchez held the Red Sox hitless for six innings in Game 1, striking out 12 in the eventual 1-0 win. He did walk six batters in those six innings, something he attributed to having a ton of movement on his pitches that night.
"My pitches moved really good that day," Sanchez said Wednesday. "When they didn't swing, the ball went down. ... I was ahead in the count, which helped me strike them out. I think that was the key. That helped me that day."
Sanchez threw a first-pitch strike to only 11 of 25 batters faced in Game 1 (44.0 percent), a rate that was well below his season average (61.5 percent). He did, however, mix his pitches very well. According to PitchFX, Sanchez threw his four-seam fastball, his cutter, his slider and his changeup at least 23 times (but no more than 31 times) each. He also mixed in seven curveballs.
That's what I was referring to when I said a kitchen-sink approach; it wasn't intended to be an insult. Sanchez has a deep arsenal and he's so effective -- he led the AL with a 2.57 ERA (163 ERA+) this year, which wasn't an accident -- because he'll throw any pitch at any time. Rotation mates Max Scherzer and Justin Verlander overpower hitters. Sanchez confuses them.
The Red Sox were unable to sit on anything in Game 1 because Sanchez was so unpredictable. There was only a one-in-four chance (or thereabouts) they would actually get the pitch they were looking for in a given situation. Add in that lack of experience against the right-hander and the problem was compounded. They didn't know what pitch was coming, nor did they know how it would look out of his hand or how it would move.
With one game now under their belts, there won't be that element of unfamiliarity. Red Sox batters have seen Sanchez at least once now -- recently, I might add -- and they'll have a better sense of what he tries to do in each situation. One game isn't a ton of experience, but it's better than none. Going in blind against a pitcher who throws pretty much everything is a tough assignment.
"All the time, I say every day is different," Sanchez said. "When we are on the mound, the pitcher has to [move the ball around] a lot or something like that. But [Thursday] I need to work more on throwing strikes. Last time I threw too many away and I don't want to do on my next outing."
The Red Sox deserve credit for being as successful against Sanchez as they were in Game 1. No, they didn't get a hit or a run off him, but they drew six walks and forced him to throw 116 pitches in those six innings. Their batters averaged 4.64 pitches per plate appearance against him, which is quite high. The AL average was 3.86 pitches per plate appearances in 2013.
"When you see a guy more than once, you feel better against a guy," Red Sox catcher Jarrod Saltalamacchia said. "But we're going to take the same approach. We're trying to get to the starting pitcher, get some runs on the board and get to the bullpen. ... We're going to try to be aggressive and get some good swings on the ball."
When you lead baseball (by a lot) with an average of 5.27 runs per game and score 57 more runs than any other team, you don't really have to change anything offensively. For the Red Sox, Game 1 was a perfect storm. Not only had most of their hitters never faced Sanchez before, but he's a guy who will throw just about any pitch in any count with no discernible pattern. Game 5 won't be as much of a surprise as Game 1, but Sanchez's pitching style ensures the Red Sox batters will have a tough time figuring out what's coming.
Kent had a good career, particularly with the bat

This would undoubtedly be the worst trade in Miami Marlins history

The Pirates recently shipped Gerrit Cole and Andrew McCutchen to Houston and San Francisco,...
Surely, Martinez and his agent are holding out for more

The reliever had a very good 2017 season with the NL Central champs

We don't need to discuss Chipper's Hall of Fame case, so let's have fun instead