Report: MLBPA may seek recourse for George Springer's service time
MLBPA and George Springer's agent may look into possible recourse regarding the way the Astros are manipulating his service time.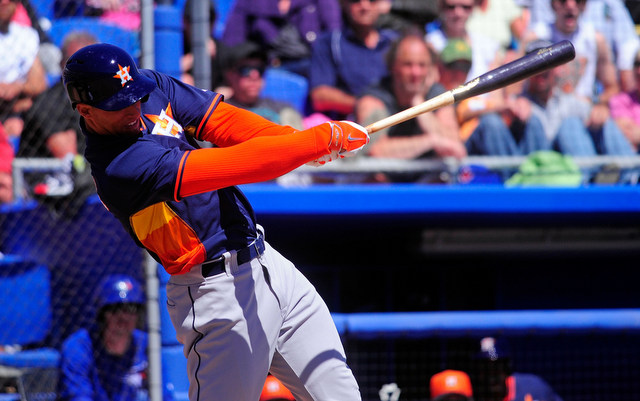 MORE: Spring Training | Scoreboard | Team previews
According to Evan Drellich of the Houston Chronicle, the players' union and agent Greg Genske may consider possible recourse against the Astros regarding the team's manipulation of outfielder George Springer's service time. Due diligence is being conducted but that does not necessarily mean action will be taken.
Springer is not on the 40-man roster and therefore not a MLBPA member, but the union can potentially contest the team's actions on his behalf since the central issue is whether the collective bargaining agreement was violated. The outfielder rejected a seven-year, $23 million contract in September and was reassigned to minor league camp earlier this week.
Here's more from Drellich:
Many disputes between players and clubs of any nature are settled before the stage of filing a grievance. The Players Association and MLB labor relations exchange information and the two sides can settle.

Those settlements arise frequently, even on small matters, such as fines for minor in-game violations. Most such instances are not made public.

Filing a grievance, which leads to an arbitration hearing, is not a quick process.

A matter of when a player is promoted requires at least some judgment of faith and intent, making it a particularly tricky matter, and one that is expected to be discussed in the next round of collective bargaining.
Even if the Astros did not do anything wrong, there is a case to be made that they are sending a poor message to their young prospects. Basically "agree to our terms or we'll keep you in the minors," something along those lines.
If Houston were to keep Springer in the minors until approximately the third week of April, they would push his free agency back one year. Keeping him in the minors until July would push his years of arbitration eligibility back as well. Teams manipulate service time every year, but none have done it after offering a player a long-term extension.
Springer, 24, hit .303/.411/.600 with 37 home runs and 45 stolen bases in 135 games split between Double-A and Triple-A last season. Had he signed the extension, his service time would not be a concern and it's likely he would have started the 2014 season in the big league team's outfield rather than back in Triple-A.
Clubs are not breaking the rules by manipulating service time, but they are bending them and an argument can be make that they are acting in bad faith. Until the rules are changed to prevent this, teams will continue to do it, especially non-contenders like the Astros. Springer would barely move the needle in 2014, but keeping him through 2020 instead of only 2019 could have a big impact on the organization.