Revelation from Tony La Russa's book: Nickelback?
Tony La Russa's latest book includes a Nickelback anecdote from the former Cardinals, A's and White Sox manager.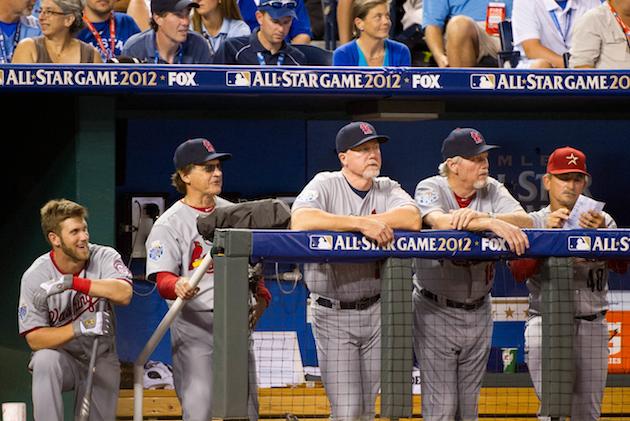 Bryce Harper may be laughing at Tony La Russa's musical tastes (or maybe not). (Getty Images)
Tony La Russa is no stranger to being second-guessed, but as a blogger, I'd be remiss if I didn't point out this awfulness from his upcoming book. I didn't get the book, but the Wall Street Journal's Tim Marchman did and passes along this questionable decision from the former manager of the Cardinals, Athletics and White Sox:
Scandal: New Tony La Russa book praises Nickelback. twitter.com/timmarchman/st…

— Tim Marchman (@timmarchman) September 16, 2012
Certain things can be overlooked and forgiven (like intentionally throwing at a team's best player or criticizing Nyjer Morgan), but Nickelback? That, my friends, is unforgivable (although based on the musical tastes I gather professional baseball players have, not something that would cause him to lose a clubhouse, sadly).
For more baseball news, rumors and analysis, follow @EyeOnBaseball on Twitter, subscribe to the RSS feed and "like" us on Facebook.
There's no reason to run over the cases for and against Bonds, so let's have fun instead

The coveted right-hander would certainly be a fit in Milwaukee

We rate the best mustaches from random baseball cards because, why not?
Colon wants to break a Dennis Martinez record

The Twins have been rumored to be interested in Darvish all winter

Rolen is one of the best third basemen of all time, but you wouldn't know it based on this...