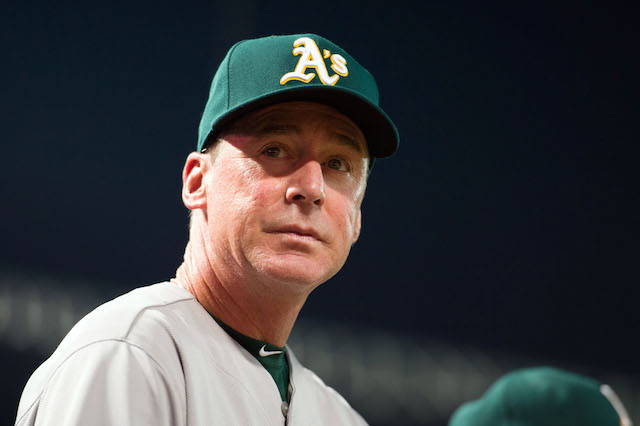 The Oakland Athletics' 2014 season has given up the ghost. Let us now solemnly eulogize their efforts
What went right
The A's made the postseason for a third straight year, and they did so despite ranking 27th in the majors in opening day payroll.

The front office of course moved boldly and bravely in July and added starters Jeff Samardzija, Jason Hammel and Jon Lester to the fold. Samardzija's under team control for next season, which helps their chances in 2015, obviously. 

Elsewhere, manager Bob Melvin again distinguished himself as one of the very best managers in baseball when it comes to maximizing use of the active roster. Josh Donaldson, once his tremendous defensive contributions are taken into account, enjoyed an excellent season and deserves some down-ballot MVP votes. Derek Norris was one of the most productive catchers around. Josh Reddick enjoyed a nice bounce-back season, and Brandon Moss put up a strong first half.

On the pitching front, the A's boasted the lowest rotation ERA in the AL, and they ranked second in bullpen ERA. Sonny Gray took the next step toward ace-dom, and Scott Kazmir proved a wise investment. On the whole, the A's had the best run differential in all of baseball.
What went wrong
The A's held 6.0-game lead on June 21 but were 11.0 games out by Sept. 12. Yes, despite the additions of those pitchers named above, Oakland went 29-38 in the second half and 22-33 since landing Lester at the non-waiver trade deadline. That's both, a, not good, and, b, contrary to expectations.
Maybe on the whole 88 wins and a playoff spot isn't any kind of disappointment for a team with such limited resources, but it is disappointing for a team that at one point was 72-44. That's how the story of the 2014 A's will be written. Of course, this story gets worse if Addison Russell, who was traded to the Cubs in the Samardzija-Hammel deal, realizes his substantial promise.

Elsewhere, the A's got miserable production from second baseball pretty much all season, which, you might argue retrospectively, is something they should have addressed at the deadline.

In a peculiar way, the A's agonizing loss in the wild card game was fitting cap on a season that won't soon be forgotten, for all the wrong reasons.
MVP: Donaldson. He's probably the best defensive third baseman in baseball, and at the plate he put up an OPS+ of 126 with 29 homers. 
LVP: Billy Beane. Beane remains one of the game's best GMs, so consider this a one-off criticism. However, he paid dearly to make a World Series run this season, and his team fell well short of that goal. Unfair or not, his legacy is slipping away from him. 
Free agents to be: INF Alberto Callaspo, DH Adam Dunn, OF Jonny Gomes, RHP Luke Gregerson, RHP Jason Hammel, LHP Jon Lester, SS Jed Lowrie, C Geovany Soto
Gameplan heading into the offseason
Upgrade the middle infield, consider locking up Donaldson long-term, add bat-first outfield depth.
Ridiculously premature prediction for 2015
There's still a lot in place despite the crushing disappointments of this season. The challenge will be filling those premium up-the-middle spots on a budget and with a trade-diminished farm system. Third place in AL West, winning season, no playoffs.