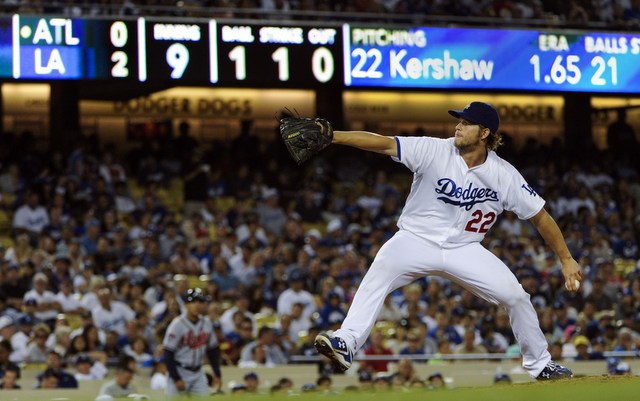 Dodgers left-hander Clayton Kershaw made history on Thursday night by being named the NL MVP. He's the first pitcher to win the NL award since Bob Gibson in 1968. He's also only the 11th player in history to win the MVP and Cy Young awards in the same season.
Of course, Kershaw winning MVP will only reignite the debate about whether pitchers should even be eligible to win the award. The most common argument says pitchers already have their own award in the Cy Young, so the MVP should be reserved for position players.
That is one way to argue the point. It just happens to be wrong. First and foremost, the MVP voting rules explicitly say pitchers are eligible for the award. Here are the voting rules straight from the BBWAA's site (emphasis mine):
Dear Voter:

There is no clear-cut definition of what Most Valuable means. It is up to the individual voter to decide who was the Most Valuable Player in each league to his team. The MVP need not come from a division winner or other playoff qualifier.

The rules of the voting remain the same as they were written on the first ballot in 1931:

1.  Actual value of a player to his team, that is, strength of offense and defense.

2.  Number of games played.

3.  General character, disposition, loyalty and effort.

4.  Former winners are eligible.

5.  Members of the committee may vote for more than one member of a team.

You are also urged to give serious consideration to all your selections, from 1 to 10. A 10th-place vote can influence the outcome of an election. You must fill in all 10 places on your ballot. Only regular-season performances are to be taken into consideration.

Keep in mind that all players are eligible for MVP, including pitchers and designated hitters.
The rules say pitchers are eligible. There is no room for interpretation here. It's in plain English. Yes, pitchers are eligible. So, then, any voter who declines to vote for a pitcher because they don't believe pitchers should be eligible to win MVP are flat out ignoring the rules, or worse, making up their own.
But let's forget about the rules for a second and look at it another way: most starting pitchers will have more impact over the course of the season than position players. Forget about 35 starts vs. 162 games. Look at the sheer number of plate appearances pitchers and position players are involved in. Here are the 2014 leaderboards:
Top 10: Plate Appearances & Batters Faced in 2014
Position Player
Plate Appearances
Pitcher
Batters Faced
Ian Kinsler
726
David Price
1,009
Nick Markakis
710
Johnny Cueto
961
Matt Carpenter
709
Corey Kluber
951
Freddie Freeman
708
James Shields
939
Hunter Pence
708
A.J. Burnett
935
Jose Altuve
707
R.A. Dickey
914
Brian Dozier
707
Felix Hernandez
912
Mike Trout
705
Max Scherzer
904
Evan Longoria
700
Mike Leake
902
Josh Donaldson
695
Sonny Gray
899
Kinsler led all position players with 726 plate appearances. Roberto Hernandez is closest to that number with 722 batters faced, the 74th most among all pitchers. 74th! Both position players and pitchers play defense, so that doesn't even things out. You can use that argument against DHs but not pitchers. They impact the game just as much (if not more!) than their position player counterparts.
Does that mean we should automatically value pitchers as much as position players? Of course not. It's different every year and some years there won't be any pitchers deserving of MVP votes. In fact, I'll argue that in the game today, with offense at such a premium, position players with big offensive numbers are more valuable than pitchers with big numbers.
Kershaw was named NL MVP on Thursday and deservedly so. He had the best pitching season in baseball since vintage Pedro Martinez in 1999-2000. His winning the MVP should not be controversial though. The BBWAA rules say pitchers are eligible for the award and they impact the game every bit as much as position players. Pitchers are eligible to win the award, just as they should be.